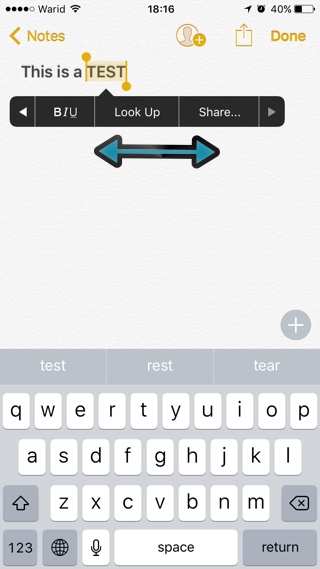 We have a simple tip to share with you that can make using the copy-paste pop up menu on iPhone or iPad a much better experience. If you have tried accessing other options found on the pop up menu such as BIU button, look up or define buttons then you would know that tapping on the arrow button to access these more options can be a hit and miss. More often than not you end up tapping on the wrong button, which can be annoying and time wasting.
What many users don't know is that they can easily get to the next section of the popup menu by simply swiping their finger on it. All you have to do is place a finger on one of the buttons and swipe left. This will take you to the next section of the menu, to return to the previous page simply swipe right. The swiping capability is not only available in the Notes app, as you can swipe anywhere a similar menu appears and has more than one sections.
Using the copy paste menu in this manner can help you avoid mistakes and save you some time.
Do let us know what you think about this simple tip in the comments section below.
Disclosure: iOSHacker may receive a commission if you purchase products through our affiliate links. For more visit our privacy policy page.