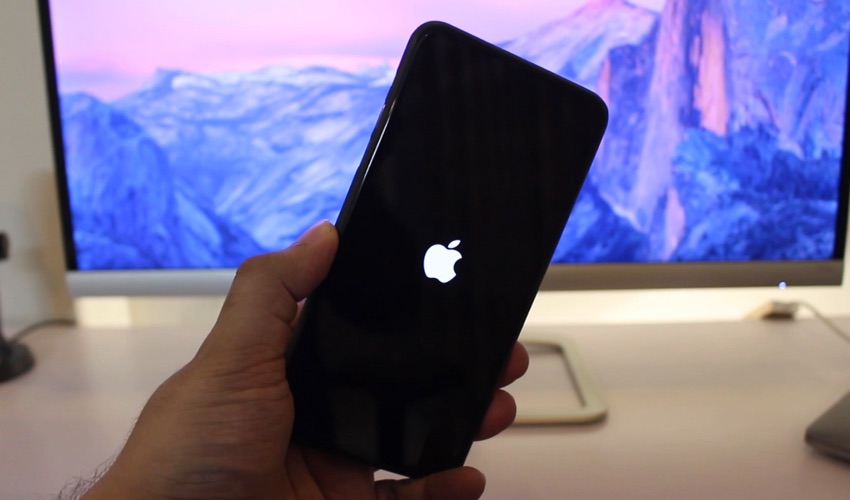 Are you experiencing the dreaded iPhone black screen issue or your iPhone won't turn on at all? If yes, then don't worry as we are going to share effective solutions that will help you in getting rid of these issues.
These problems are usually caused due to a software issue and can be easily fixed at home. However if the problem is related to hardware, then might need to have an expert take a look at the device. But before you do that, make sure you try to solve the software aspect of your device as more often than not these problems are fixable quite easily.
Basically there are two different methods of solving the iPhone black screen or iPhone won't turn on problems. One method involves iTunes or Finder if you are Mac user and the other one involves a third-party utility called Dr.Fone.
In this guide we are going to talk about both of these solutions and help you figure out which one you should use to fix your iOS device.
Difference between the two methods: 
The main difference between the two solutions for solving iPhone black screen problem is recovery of data. If you use iTunes or Finder method, you can very well fix your device but this method will cost you your data. If you have a fresh backup of your iPhone on iTunes or iCloud, then you would be fine. However if you don't then you will end up losing your data.
On the other hand using Dr.Fone will also help you in fixing the iPhone won't turn on problem. But the biggest difference with this method is that using this your iPhone or iPad's data will not be erased. This means when you gain access to your device again it will have all of your photos, videos, contacts, apps and other stuff intact.
You can find steps for solving both of these issues below.
Method 1: Use iTunes or Finder To Fix Black Screen Issue
Using iTunes to solve major software issues with your iPhone, iPad or iPod touch is very easy. You can do so by following these steps.
Connect your iOS device to your computer using a USB cable.
Click on your device to access its Summary page.
Once you are on the Summary page click on the 'Restore' button.
At this point iTunes will start downloading the most recent iOS version for your device and clean install it on your device. If you have already downloaded iOS IPSW, then you can also press the Option (Mac) or Shift Key (Windows) when click on the Restore button to manually point iTunes to an iOS IPSW.
Method 2: Using Dr.Fone – System Repair (iOS) To Fix iPhone Won't Turn or Black Screen Issue
The second method for solving iPhone won't turn on or iPhone black screen issue with an iPhone involves the third-party tool called Wondershare Dr.Fone. With this handy tool you can quickly fix your iPhone and gain access to it.
The main benefit of using Dr.Fone over iTunes is that with this method you can retain your iPhone's data. This is important for those users who don't have a fresh backup of their device and don't want to lose their precious data.
Follow these steps to use Dr.Fone – System Repair (iOS) and solve iPhone problems such as black screen of death, iPhone keeps restarting and more.
Download the Dr.Fone tool from the official website here.
After downloading launch the tool and connect your iPhone, iPad or iPod touch to your computer using a USB cable.
Once the device has connected click on System Repair option.
From the next screen click on the Standard Mode. Selecting this mode over Advance mode is important as this mode will make sure your iPhone's data is not lost.
Your iPhone should be detected by the tool, however if it is not, then place your device in Recovery Mode by following these steps.
After your device has been detected you will see your device model name and the iOS version that will be downloaded and installed on it. After verifying click on Start button.
Allow Dr.Fone to download iOS IPSW from Apple's Servers without disturbance. After it is done it will start fixing your device.
Note: While a free version of Dr.Fone is available on both Windows and Mac, Dr.Fone is a paid tool.
Once Dr.Fone has completed the fixing process, you will gain access to your iPhone or iPad once again. The iPhone black screen problem should now be fixed on your device. Your data should also be found on the device without any problems.
There you go folks, this is how you can fix the major iOS system problems with your iOS device. By following these two methods you should be able to solve problems with your device at home.
If your iPhone is still having issues and the problem persists, then we recommend that you book an appointment with Apple to have your device checked. Alternatively, you can visit the nearest Apple Authorized Repair Service to have them check and solve the issues with your device.
Disclosure: iOSHacker may receive a commission if you purchase products through our affiliate links. For more visit our privacy policy page.