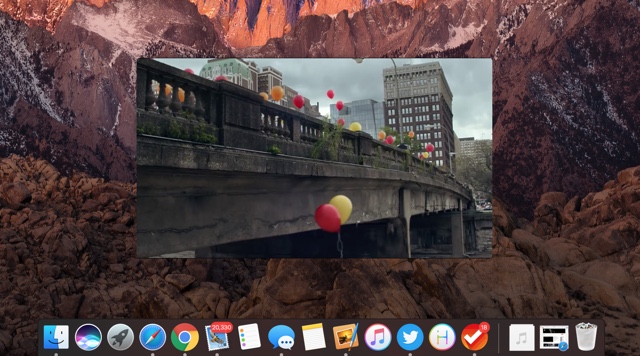 macOS Sierra brings a new Picture-in-Picture feature to the Mac, which allows users to watch their favorite videos in a window while performing any other task. We have talked about this feature before and how you need to right-click twice on a Youtube video in order to activate PiP on it. It seems like there's another handy trick related to the Picture-in-Picture feature that can make using it more fun for users. Those of you who use this feature would have noticed that you can only move the PiP video window to any corner of the screen. When you click and drag on it, it automatically fixes itself to any of the four sides of the screen. However it has turned out that you can also move it to the screen position of your choice, that is if you press a specific button from the keyboard while moving it. Learn about it below.
Move Picture-in-Picture video window to any position on macOS
1) First of all load up any video and right click on it. In the case of Youtube or similar site you have to right click two times.
2) Then click on 'Enter Picture-in-Picture'.
3) Once you are in PiP mode press and hold the 'Command' button from the keyboard and then click on the video window. Drag it anywhere on the screen.
4) After the video is in your desired position let go of the Command key and the cursor. The Picture-in-Picture window will stay fixed at that position.
The video should stick in its position and you can repeat these steps every time you want to move a PiP video at the position of your choice. Please note that video will automatically go to the corner of your screen as soon as you click on it.
Disclosure: iOSHacker may receive a commission if you purchase products through our affiliate links. For more visit our privacy policy page.