For many the stock Mail app is their most used application on iOS. The application is full of useful features necessary for a good email experience. Apple has also paid adequate attention to the Mail app, adding features to it with every major iOS release. Mail app has so many hidden tricks up its sleeves that sometimes it can be hard to keep track of all the features it has to offer. To make things easier we have rounded up 7 of our favorite Mail app features that everyone should be using on your iPhone, iPad or iPod touch.
1. Change length of Preview in Message List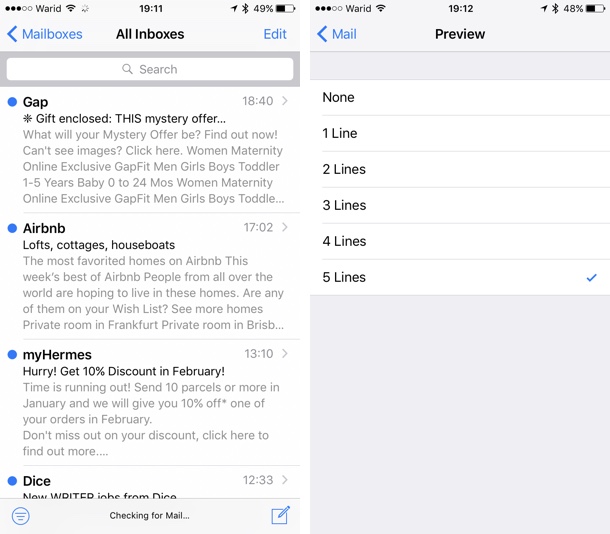 By default the Mail app only shows two lines of email's body text on the message list. While two lines are enough to get a preview of the message's content the app does offer users the ability to increase the preview length. From Settings > Mail > Preview you can increase the preview length from 2 lines to 3, 4 or even 5. If you want to reduce the preview length, then you can also select 1 Line option. Those users who don't want to see any mail preview can opt for the 'None' option.
2. Work on multiple messages at once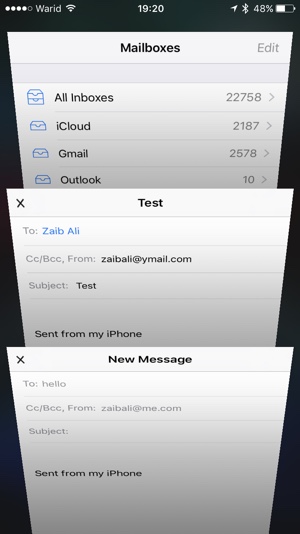 When composing an email you can save it as a draft. However Mail app also offers another cool feature that allows you to work on multiple emails at the same time. The app offers Safari like tab switching for emails you are working on. When writing an email you can swipe down on it to put it on hold (it should appear in the bar at the bottom of the screen) and then start working on another email. You can then return to the first email by simply swiping down the second email and then tapping on the draft bar that is visible at the bottom of the screen. You will see a switcher screen with all the drafts you are currently working on. Tap on the one you want to access while keeping others on hold.
Bonus tip: You can quickly access previously saved drafts by tapping and holding the compose button from bottom right side of the screen.
3. Delete or Mark Unread with 3D Touch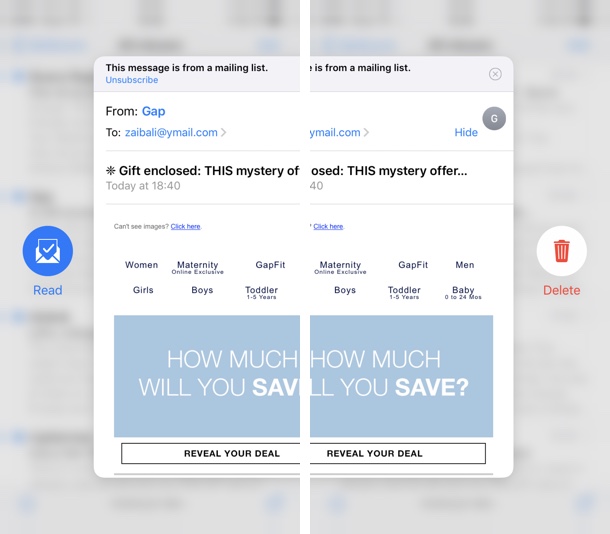 Everyone knows that you can preview whats inside an email by force tapping on it. However what many users don't know is that you can also mark an email as read or delete it quickly by swiping right or left while the mail's preview is being shown.
4. Customize what Swipe Gestures do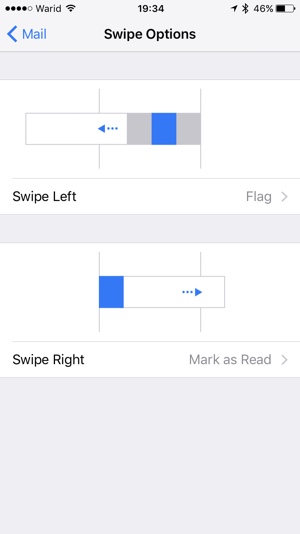 From the Message list screen you can swipe right or left on the message cell to perform some action on it. From Settings > Mail > Swipe Options you can change what these swipe gestures do. While Flag and Mark as Read are selected by default, you can also change them to Move Message, Archive or None. For swipe left Mail app offers two gesture types. When you swipe half way through you see flag, trash and more buttons, these cannot be changed. However with Swipe Options settings you can change the action for full swipe gesture.
5. Add or Remove Folders from Mailboxes screen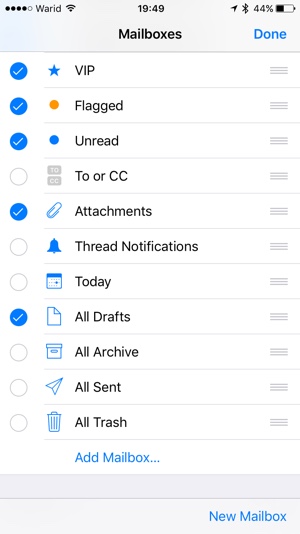 The Mailboxes screen acts as the main screen for Mail app, giving you access to different folders, filters and individual mailboxes. By tapping on the 'Edit' button you can not only choose which folders and filters appear on the Mailboxes screen but you can also rearrange the items on the list (by dragging the hamburger button), bringing what matters to you most to the top.
6. VIP Alerts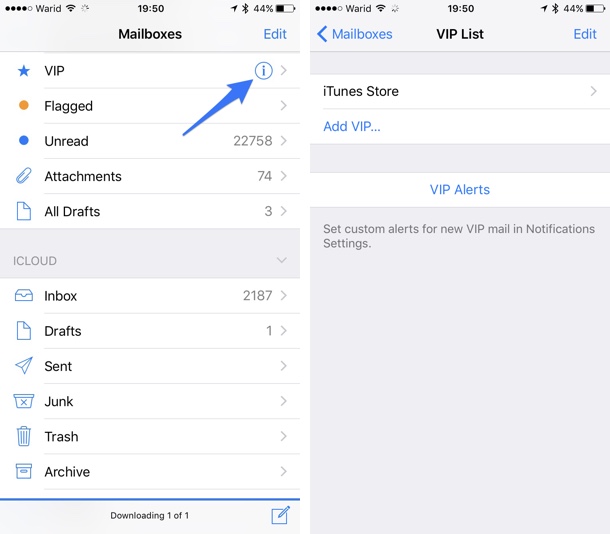 VIP alerts feature of the Mail app lets you add certain contacts to the 'VIP' list. Whenever you receive a new message from these special contacts the mail app will send a notification to let you know. To add someone to VIP list tap on the 'i' button and from the next screen hit the 'Add VIP…' option. You can also add someone to VIP by opening that users's contact and tapping on 'Add to VIP' button.
7. Notify Me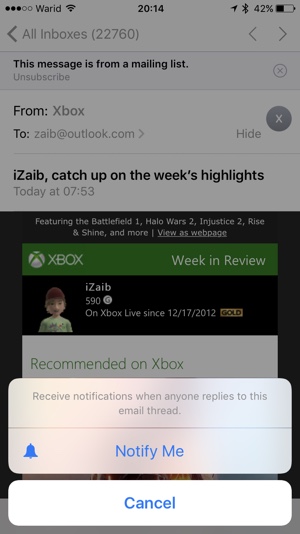 You can make the Mail app notify you with a banner and lockscreen notification whenever a particular thread receives a new message. To enable notify me for any email thread simply open the email and tap on the 'flag' button from the button bar. Then from the menu select 'Notify Me…' option. Once activated whenever someone replies to the email thread you will receive a notification.
So what do you think about these useful hidden features of Mail app? Do let us know about your thoughts in the comments section below.
Disclosure: iOSHacker may receive a commission if you purchase products through our affiliate links. For more visit our privacy policy page.