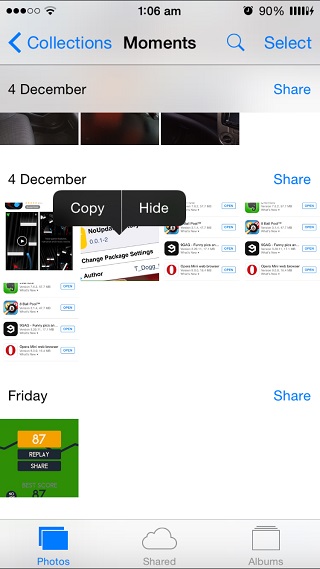 Have you ever wanted to hide photos from your library but not delete them? If yes, then you would be pleased to know that there's a feature in stock Photos app of iOS 8 that allows you to do exactly that. From the photos page you can temporarily hide an image, which then is removed from Years, Moments and Collections sections of the application. While the image is hidden it is certainly not deleted and you can still access as well as unhide it from the dedicated 'Hidden' folder found within Albums.
To hide any image simply tap and hold on it when in moments view. You can also do the same when preview of the photo is opened. Once you tap and hold on an image a pop up menu appears with 'Hide' option on it, tap on it After doing this that particular image will be gone.
Now to access the images you have hidden tap on the 'Albums' button from the bottom bar and then select the album named 'Hidden'.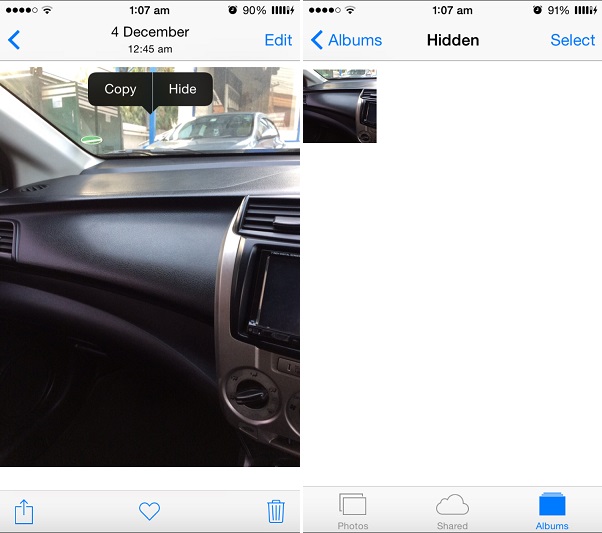 From the 'Hidden' album you can not only view the images you have hidden but you can also unhide them by tapping and holding on them. Similar to what you did before you have to tap 'Unhide' button from the pop up menu.
This is a handy feature since you can remove private pictures from different parts of the photos app without deleting them and access them whenever you like. This is especially useful when you are running a slideshow of your library and don't want to share certain images with others.