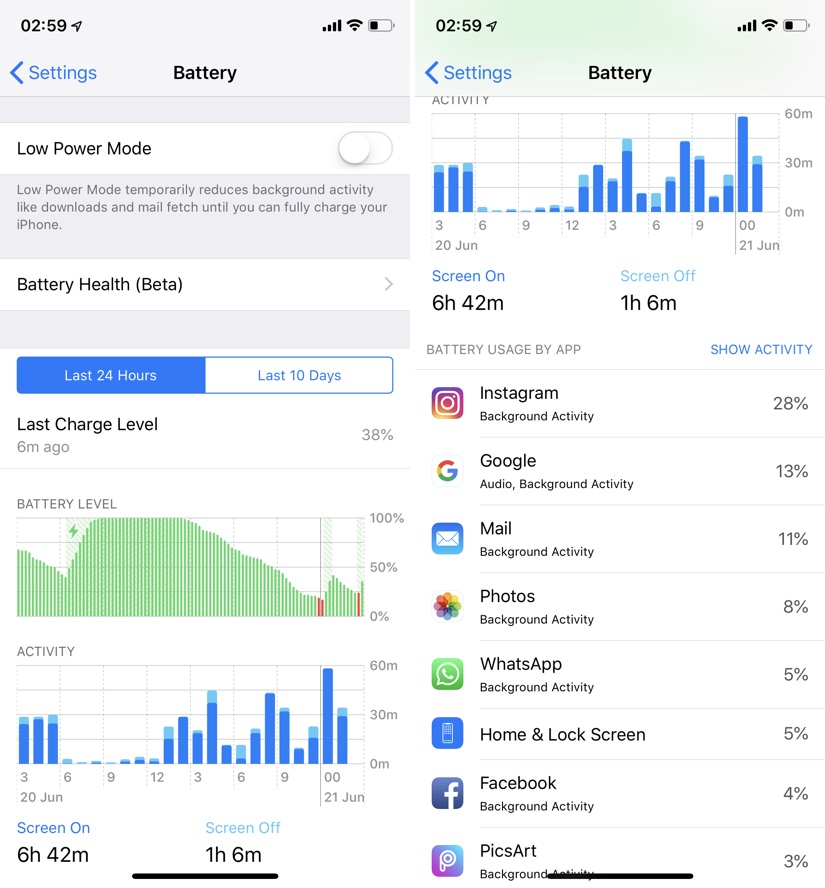 Following last year's performance throttling controversy Apple added new Battery Health features in iOS 11.3, that give users a better idea about their device's battery health and the ability to turn off throttling on older devices.
With iOS 12 Apple has taken the Battery Health feature to the next level and has added some useful new features that allow users to see detailed battery stats about their iPhone, iPad and iPod touch.
With these new battery stats users can get a better idea of how they are using their device, how their device's battery is responding to their usage and what apps are affecting their battery life the most.
Users can access the new Battery Statistics feature of iOS 12 by going to Settings > Battery. Once they are on the Battery page they will be greeted with an interactive graph that shows the battery usage stats for the last 24 hours as well as for the last 10 days. Users can switch between the two data sets by tapping on the tab.
The graph shows an hourly forecast of how your device's battery was used after it was removed from the charger. You will see the drops on hourly basis. Another interesting stat that is revealed on this screen shows the user how much battery was consumed while the screen was on and how much of it was consumed in the background while the device's screen was off.
iOS 12's Battery section also shows users which apps used the most battery life as it shows the percentage for each app. You can also tap on the 'Show Usage Time' button to switch to Time, in which case you will see for how much time the app was running, giving you a better idea of your usage habits and how it is affecting your device's battery life. With this feature you can also track and identify which apps are using the most battery and avoid using them when you are away from a charging source, such as during commutes.
The new Battery Statistics in iOS 12 are a welcome addition that we are sure all iPhone and iPad users will appreciate. You can ask any questions or voice your opinion about this new iOS 12 feature in the comments section below.