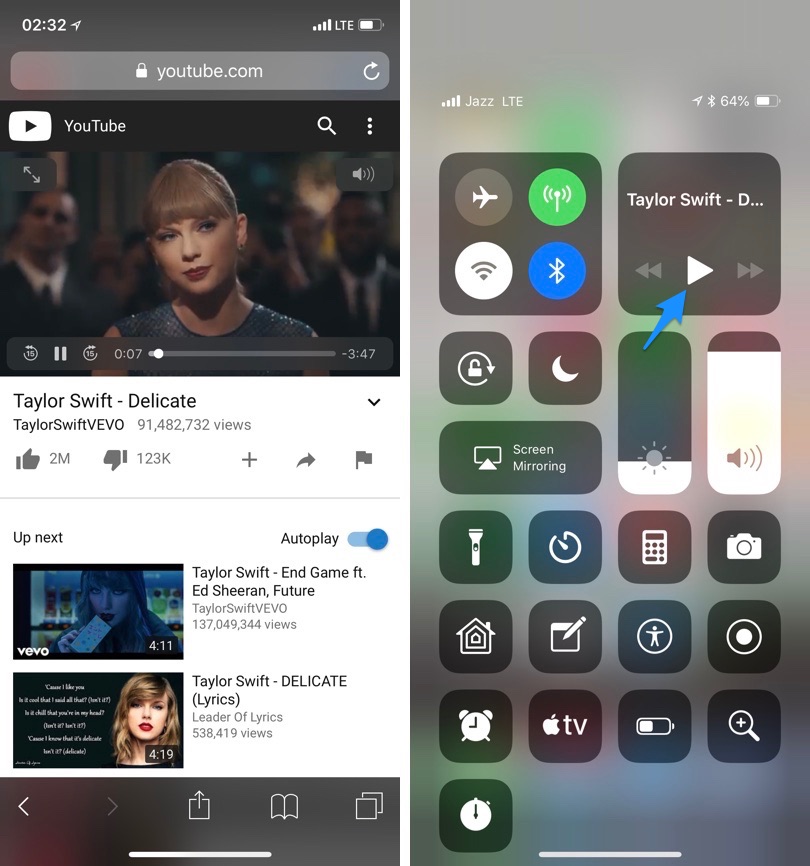 If you have updated your iPhone, iPad or iPod touch to iOS 11.3, then we have got a great tip for you. Turns out if you open YouTube.com in Safari and exit, you can still listen to audio from the video even while you are on the homescreen or in any other application.
YouTube typically blocks background audio from its official apps and mobile website, only those who have YouTube Red Subscription can enjoy YouTube audio in the background.
To listen to YouTube audio in the background, simply launch Safari and open Youtube.com. Then load up your favorite video and while it is playing exit Safari. Once you are on the Homescreen simply access the Control Center and from the music widget tap on the Play button. The YouTube audio should start playing in the background while you can do whatever in any app. You can even lock your device and audio will continue to play.
When you open Safari again, you will have to play music once again from Control Center after you exit. If you listen to playlists, then you will notice that AutoPlay feature also works in the background.
YouTube background audio is also functional when you switch between Safari tabs. The audio will continue to play after a brief pause of a second.
Listening to YouTube audio in the background can be very useful if you are watching talkshows, lectures and perhaps more importantly songs.
YouTube usually blocks the ability to play music in the background so while the feature is working in iOS 11.3 (and iOS 11.4 beta) right now, it might get blocked soon. Enjoy while it lasts!
Update: Youtube seems to have blocked the functionality once again as we are no longer able to play Youtube audio in the background. Is this still working for you? Let us know in the comments section below.