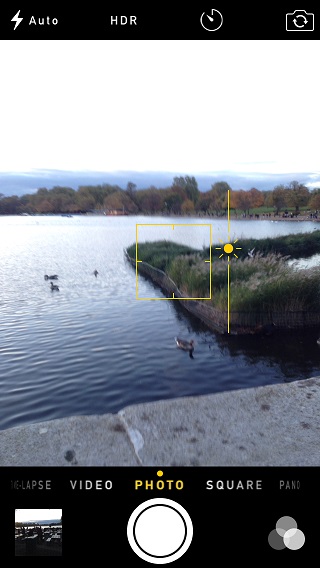 With the release of iOS 8 the stock camera app received major new features that allow users to take even better photos from their iPhone, iPad or iPod touch. One such feature allows you to manually adjust exposure for your photos before hitting the shoot button. Before the addition of this feature users could only adjust focus and exposure together, which didn't allow much freedom when taking pictures. To overcome this they had to rely on third-party camera applications. Now however they can adjust the exposure separately.
Using the new manual exposure feature is very simple, you have to tap on your screen to focus and then slide up or down on the camera view to make adjustments for the exposure. The camera app displays a sun icon and a slider indicating the current level of exposure. Sliding up will brighten the image while sliding down will make it darker.
If you are unhappy with the result and want to start over then tap on the screen again to focus and then adjust the exposure by sliding. It is a really nice feature that will surely make the life of iOS 8 users much easier and allow iPhonegraphers to take much better photos.
Learn about more iOS 8 tips here.