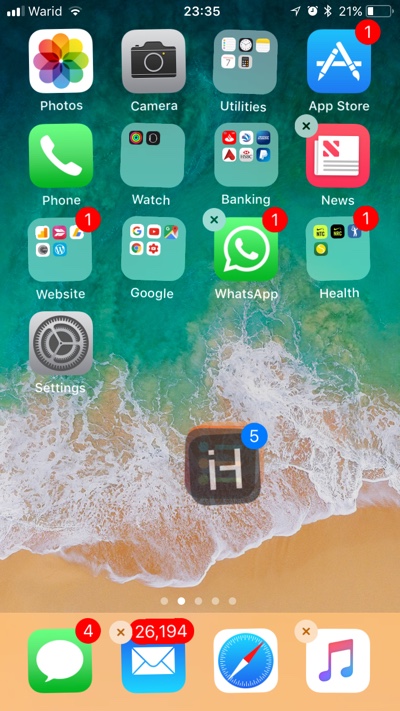 Rearranging app icons on iPhone or iPad has never been a simple task. If you wanted to move several apps from lets say page 1 to page 3, you will need to drag and drop each one of them separately. This took a lot of time and effort. Thankfully with iOS 11 Apple has made it super convenient to move app icons around on the homescreen. Now users can select multiple app icons at once, and move them on the homescreen at the same time.
The way to move multiple app icons at the same time on iOS 11 couldn't have been simpler. To do this all you have to do is enter the wiggle mode and then tap and hold on one of the app icons you want to move. Then without letting go of the first icon, use your other finger to tap on apps you want to include in the selection. You can tap on as many apps you like and they will be added in the selection. You will even see the number of apps that have been added to the selection in the form of a badge.
Once all apps are selected simply move your finger to where you want to move them, you can place them elsewhere on the same homescreen page, or go to next or previous homescreen page by moving your finger towards left or right sides. Let go of the icons at the place where you want to place them. You can also move multiple icons into a folder (or out of it) using this method.
That's it. On iOS 11 organizing icons and rearranging app icons will be super easy. Learn more about what iOS 11 has to offer here.