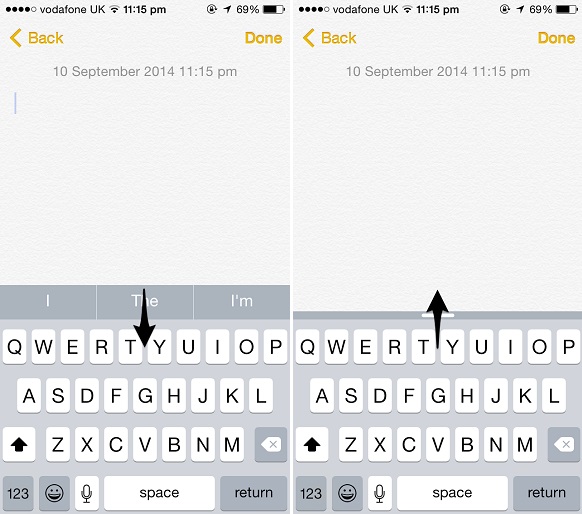 Among many other changes added in iOS 8 one very notable feature is its Predictive bar for the on-screen keyboard. This bar displays suggestions in real-time as you type in three boxes that appear right over the keyboard. The bar is surprisingly accurate and useful, and once you get used to it you cannot go back. While the Predictive bar is useful there are times when you simply want to get rid of it to get more room on the typing area, or when you are not using it.
Of course you can always turn the Predictive feature off and back on, however that solution is not suitable when you plan on using Predictive feature of iOS 8 again. Thankfully iOS allows users to easily hide the bar from their screen and even bring it back without leaving the app and getting disturbed.
To hide the Predictive bar from keyboard all you have to do is slide down. In order for this to work the slide down gesture should start from where the bar starts otherwise the slide will affect the app in the background.
Bringing the Predictive bar back is even easier as all you have to do is tap on the white button and slide up, as shown in the second screenshot above.
Disclosure: iOSHacker may receive a commission if you purchase products through our affiliate links. For more visit our privacy policy page.