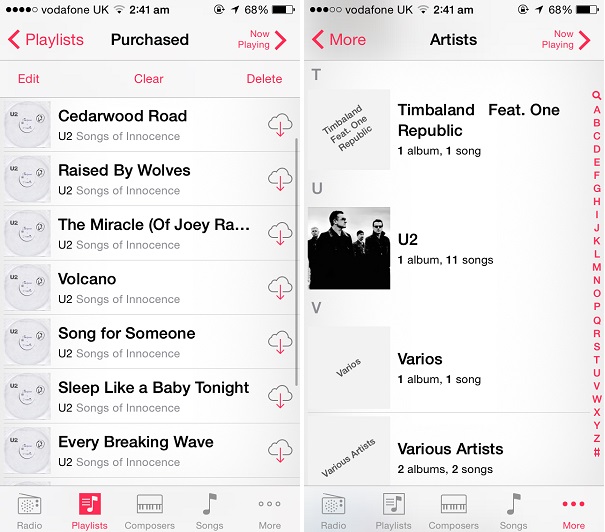 At the iPhone 6 event Apple announced that it will be giving away U2's new 'Songs of Innocence' album to all iTunes users. The company lived up to its promise and to the joy of U2 fans the new album has started showing up on everyone's iPhone, iPad and iPod touch. While U2 fans won't mind that, not all of us are excited about this new development. If your device is annoyingly showing the Songs of Innocence songs on your device then don't get angry as your iPhone or iPad device is completely innocent in this whole scene and you can remove them by simply flipping a switch from the Settings app.
Update:Use Apple's dedicated SOI Removal tool to delete U2's album from your iTunes account
To hide the unwanted U2 album from your device simply launch the Settings app and go to 'Music'. From the Music section look for the 'Show All Music'. Turn the toggle off. Once you have turned the 'Show All Music' toggle off, the album will instantly disappear from your device.
The reason why the album showed up on your device in the first place was because Apple made it available on your iTunes account, and due to your iCloud settings it was downloaded or at least started appearing on your iOS device.
While you can get rid of the songs (no offence intended to U2 or its fans) unfortunately there's no way for you to completely remove them from your Apple ID, which is shame. (TechCrunch)
Disclosure: iOSHacker may receive a commission if you purchase products through our affiliate links. For more visit our privacy policy page.