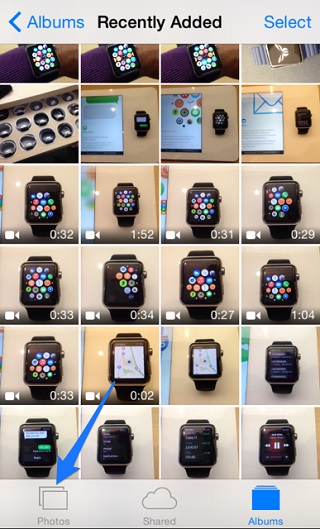 If you are like me then you might have hundreds or even thousands of Photos on your iPhone, iPad or iPod touch's Photos application. The new Photos app of iOS that was introduced back in iOS 7 makes it easier to scroll through 'Moments' and find the photos you are looking for, however even with the enhancements it can be a difficult task to scroll around the stock application. Your life can become a lot easier and you could save a lot of time and energy by using a simple Photos app feature that has been there all along.
Everyone knows that you can reach the top of the page by tapping on the status bar. This works in Photos, Safari, Mail etc. as well as most third-party applications. However in Photos app there's another useful shortcut using which you can instantly reach the bottom of the library. To do so all you have to do is tap on the 'Photos' button from the bottom bar. This even works when you are viewing individual albums, however in this case you have to tap on the 'Albums' button from the bar.
This little shortcut can save you a lot of time, since you don't have to scroll to reach the bottom of the Photos library.
Also read: 5 easy ways to backup your iPhone photos online