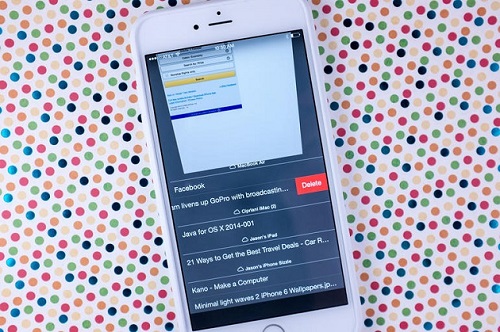 The mobile Safari has a neat little feature that lets you access any tab that is opened on iPhone, iPad or Mac on another device. This means if you have a website opened on your iPad or Mac and you shift to your iPhone for browsing then you can instantly access the tabs you had open on your previous device. To access the tab list all you have to do is swipe up on the tab switcher screen. If you have tabs opened on multiple devices then all of them will appear under relevant device's name. To make this work all you need is all the devices connected to the same iCloud ID.
Another good thing about this feature is that you can remotely close an open tab, which means if you left a web page opened on your Mac or iPad you can remotely close it from your iPhone if the first device is not around you.
Being able to close the tabs remotely gives power into the hands of the user and boosts the privacy, especially in cases when you had certain web pages opened that you don't want others on a shared device to see.
To do so simply access the tab switcher page and swipe up to access the open tab list.
Now swipe right to left on the tab you want to remotely close on another device.
Next tap the red 'Delete' button to get rid of it. Of course you can open the listed web page by simply tapping on it.
(Image courtesy of CNET)