Jailbreak users know how simple it is to use Cydia on their iPhone, iPad or iPod touch. However Cydia has its quirks, one of which is it has to respring the device whenever a new tweak is installed or removed. The respringing takes a few seconds to complete however things get worse when you want to remove multiple Cydia tweaks because if you are uninstalling them one by one then you will have to respring your device for each one of them, which is a frustrating thing to do.
Many Cydia users don't realize that there's a simpler and more efficient way of deleting multiple Cydia tweaks that requires a lot less time and effort. To remove multiple Cydia tweaks at once and to avoid multiple resprings all you have to do is take advantage of its 'Queuing' feature.
Here's how to remove multiple Cydia tweaks at once
Open Cydia and go to 'Installed' screen.
Look for the tweak or app you want to uninstall from your device and tap on it.
On the next screen hit 'Modify' and then 'Remove'. Now instead of tapping the 'Confirm' button, hit 'Continue Queuing'.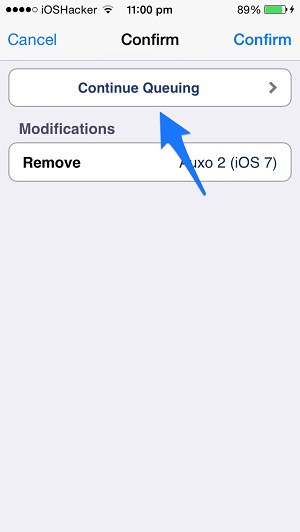 Next go back to the 'Installed' screen and do the same for any other tweak you want to delete from your iOS device.
Once you are done selecting tweaks for deletion, on the very last tweak rather than tapping the 'Continue Queuing' button hit the 'Confirm' button.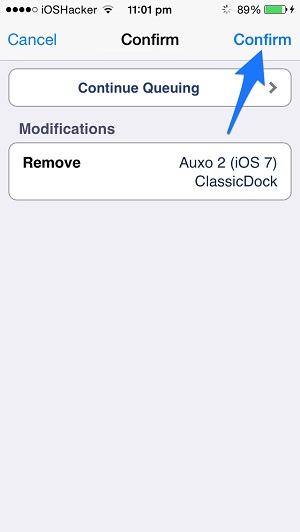 Now Cydia will get rid of all the selected tweaks for you. Once done it will ask you to respring your device.
You can also remove a tweak from the queue, here's how: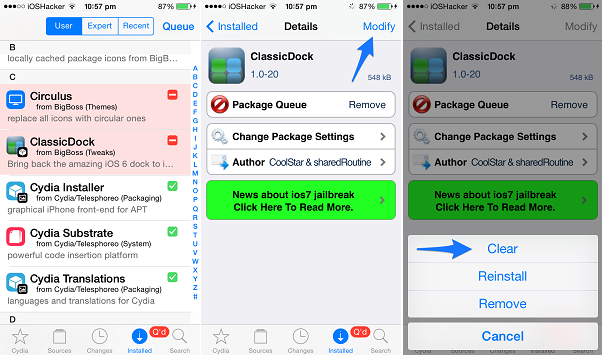 When in the 'Queue' mode hit the 'Installed' button from the bottom button bar. On the list of tweaks, the ones that are added in the queue by you will be highlighted in red color. Tap on the one you want to exclude from the queue and then hit 'Modify'. After that tap on the 'Clear' button, and then hit 'Continue Queuing'.
That's it!