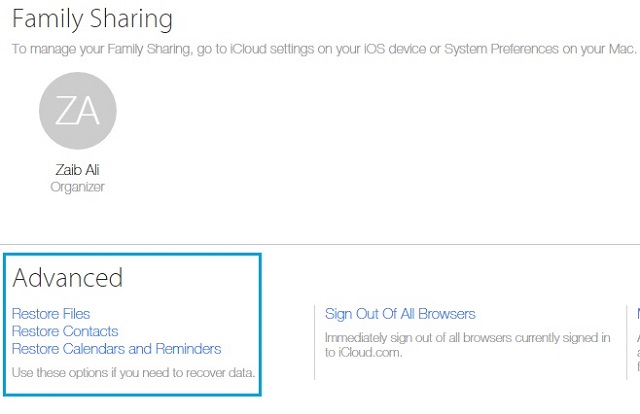 Apple has recently updated the Settings section of iCloud's website, adding a new feature that allows users to restore backups of contacts, calendars, reminders and files in case they get deleted accidentally. This is useful not only when you end up unintentionally deleting this data but also when it gets messed up. Restoring from iCloud is super easy and you get to choose from multiple backups that are created every few days. So for example, you can either choose to restore a backup created on 5th August or 13th August, depending on your circumstances.
Restoring Contacts from iCloud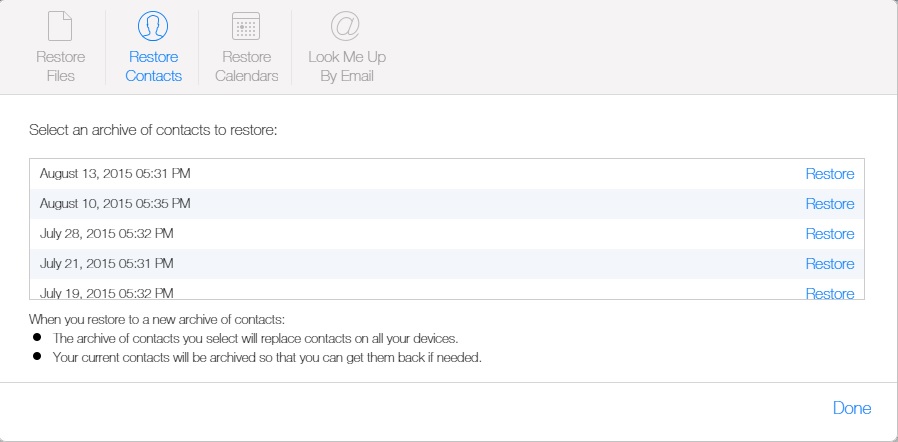 To restore a backup for Contacts you have to open the iCloud.com website on your computer and then click on the 'Settings' web app. Scroll down and under 'Advanced' setting click on the 'Restore Contacts' button. Afterwards click on the 'Restore' button next to the backup you want to restore.
Before restoring a backup do keep in mind that the backup will replace your existing contact list, which means if you added any new entries to your contact list after the creation of this back up, they will be removed. The new contacts are not lost completely though as iCloud creates a new backup of your current contact list before replacing it.
Restoring Calendars and Reminders from iCloud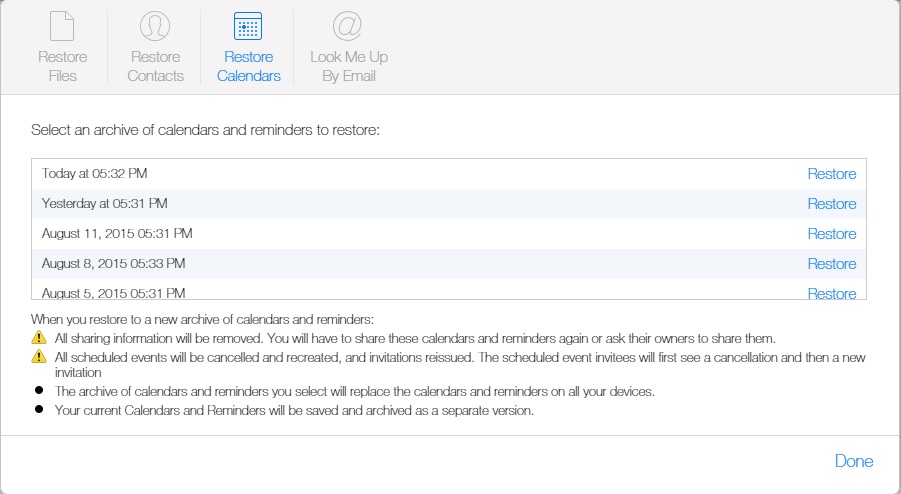 Similarly in order to restore your Calendars and Reminders from an iCloud backup you have to open the Settings web app from iCloud.com and then from the 'Advanced' section click on the 'Restore Calendars' option. You can select the Calendar backup you want and click on the 'Restore' button located next to it.
Before you restore a backup do remember that any sharing information associated with your Calendars or Reminders will be lost, so you will have to share them again or ask their respective owners to reshare them with you. This scheduled events will also be cancelled and recreated. Invitations will also be cancelled and reissued. Just like Contacts, iCloud will create a fresh backup of your current Calendar before restoring the old one, so you can get it back later.
Restoring Files from iCloud
Apple also allows users to restore backups of files deleted accidentally to iCloud Library. Option can be found under iCloud.com > Settings > Advanced > Restore Files. Files are deleted every 30 days and deletion time for each file is displayed next to its name.