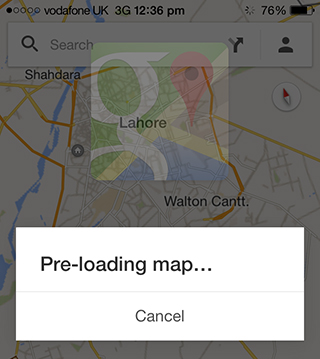 Google Maps is the best service when it comes to getting directions, interactive maps of any city, nearby food and entertainment places. It remained the stock app of iOS until the launch of iOS 6, and was replaced with Apple Maps. Later on Google released a standalone app for their maps. To browse all the features of Google Maps all you need is an internet connection either via Wi-Fi or carrier network. But what if we are lost at a place where there is no internet?
You can save the maps of an area for offline viewing by following the simple trick below:
Open the Google Maps app.
Tap the search bar at top, and type 'ok maps'
Now tap the 'Search' button.
Finally you will see a pop-up saying 'Pre-loading map…' (shown above), wait for app to complete the process and you're done.
Later on if you decide to delete the offline map data, simply tap on 'Clear application data' under 'Terms & Privacy' section located in the settings of the app.
Note: You might get an error in some situations, in that case zoom in to area/location you want save the maps of.