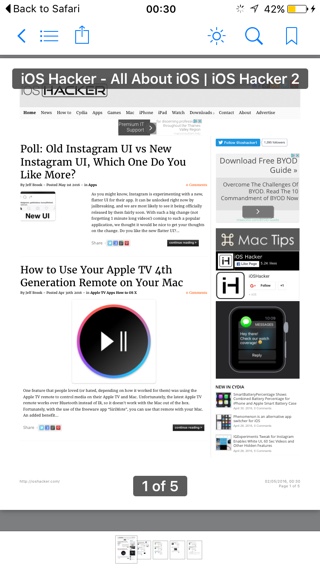 Do you know there's an easy way to save any webpage you can open in mobile Safari. iOS will not only let you save a useful webpage, which may contain your favorite article, images and whatnot but it will also save it as a PDF, so you can easily share it with friends over email. Saving a webpage can be useful when you want to save a webpage for offline use or want to share it with a friend, and don't want to send them a link. Read on to learn about how to save any webpage as a PDF on iPhone, iPad or iPod touch through mobile Safari.
Saving any webpage as PDF on iOS Safari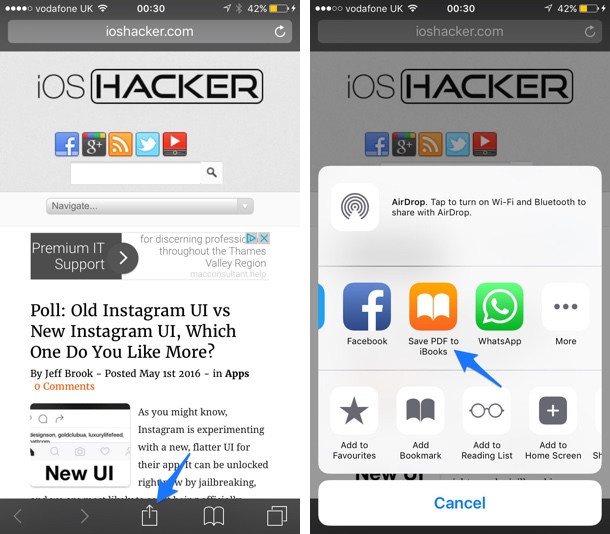 Open Safari and load any webpage of your choice. For this guide we will use iOSHacker.com.
Once the page has fully loaded tap on the 'Sharesheet' button from the bottom bar.
Now from the second row swipe left until you see 'Save PDF to iBooks' button, and tap on it.
iOS will now convert the page into PDF and save it to iBooks. iBooks app will be launched with your new PDF opened, you can now return to Safari or use the sharing features to email or print the the webpage you just saved.
The whole webpage will be downloaded and saved as a single document in the form A4 size pages, making it easier to go through them as well as print them. You can access the downloaded page through the iBooks app.
Also read: Export a webpage or document as PDF to any app using 3D Touch