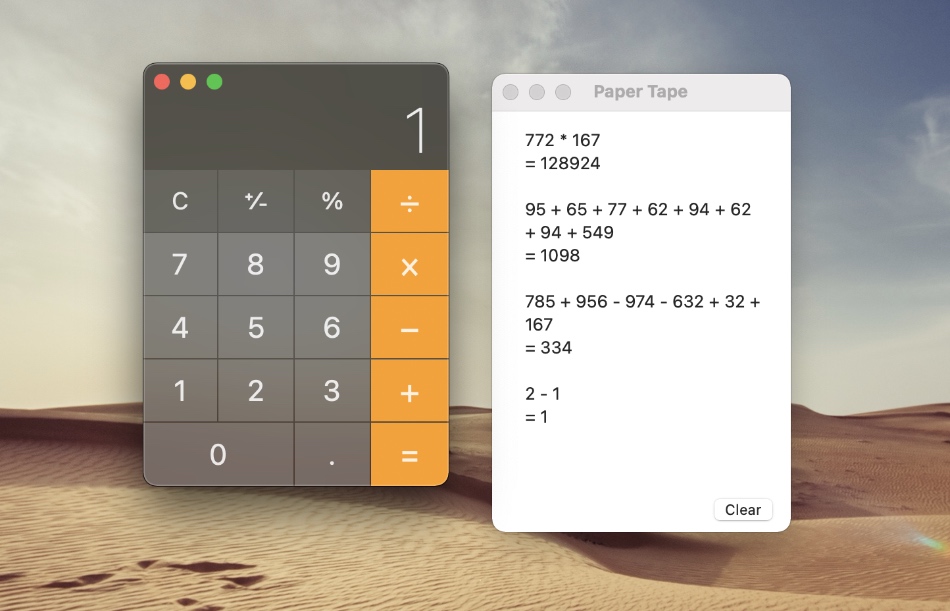 Unlike many third-party Calculator applications, the stock Calculator app on the Mac does not show previous calculations in results area.
However what many macOS users are not aware of is that Mac's Calculator app does in fact offer the ability to show previous calculations to the user through its Paper Tape feature.
Users can simply get the Paper Tape window by pressing Command ⌘ + T keys on the keyboard. Alternatively, they can get the same window by clicking on Window option from Mac's menu bar and then clicking on Paper Tape.
Once you have Paper Tape window showing on the screen you can start making calculations. As you do you will see that whatever you do on the Calculator also appears on Paper Tape window in list view. You can continue to work on the same calculation or even start new calculation, and your previous calculations showing in Paper Tape window.
Great thing about this feature is that you can also copy and paste your previous calculations by selecting the Paper Tape text.
As you're done and no longer need to see the record of your recent calculations you can click on the Clear button in order to clear the Paper Tape log.
There you have it folks, this is how you can see previous calculations in Mac's Calculator app. Having the ability to see your previous calculations on Mac's Calculator makes it easier for users to recheck their calculations and find out if they have made any mistake without performing the whole calculation again.
If you want to have a similar feature on your jailbroken iPhone, then you can check out the PerfectCalc tweak here.
More Mac tips: