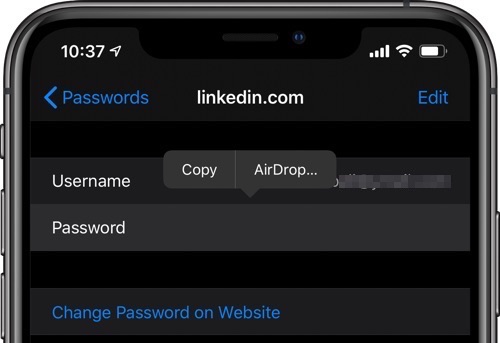 In iOS 13 Apple has made it much easier to share a password for an app or website with other Apple devices and users. Now you can share any password that is stored in your iCloud Keychain with another user using AirDrop.
This is a great feature that makes the process of sharing complex passwords with others a lot easier and secure. You can share literally any password that is stored in your iCloud Keychain with one of your other devices or with a family or friend's iPhone, iPad or Mac.
So next time when you want to share your Netflix password with a friend or family member, you don't have to say the complex password out loud or share it using an insecure medium like a text message. You can simply share the password through AirDrop in no time at all.
You can use this method to share passwords through AirDrop on Mac, iPhone and iPad.
On your iOS 13 powered iPhone or iPad open Settings.
Go go Password & Accounts and then tap on Website & App Passwords.
Authenticate with Face ID or Touch ID to access the list of passwords stored in your iCloud Keychain.
Look for the app or website password that you want to share and tap on it.
On the next screen tap on the Password field to access the popup menu with 'Copy' and 'AirDrop' options.
Simply tap on the AirDrop option to access the AirDrop interface.
Once you are in range other Apple device or user should appear in AirDrop, once they do tap on their name to share the Password with them.
Having troubles using AirDrop? Check our guide on how to fix AirDrop on Mac.
As soon as you tap on the user or device's name your selected password will be securely shared with them. If they accept to receive the password, then it will be stored in their iCloud Keychain automatically and they will be able to enter it with ease whenever they access the related website or app.
There you have it, this is how you can conveniently share any password with another Apple device or user. You can use this iOS 13 feature to quickly and securely share your password across your various devices or share your password with a friend.
Learn more about how to AirDrop from iPhone to Mac here. You can also add AirDrop icon to Mac's dock for quick access.