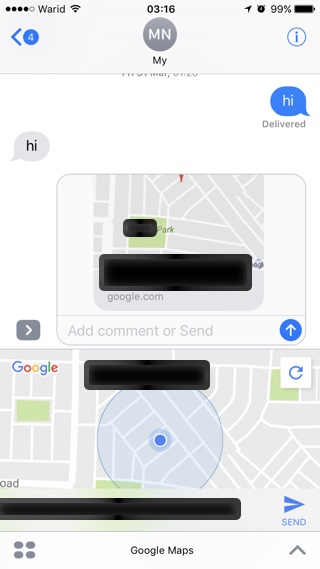 iMessage makes it fairly simple to share your current location with a friend however the service exclusively uses Apple Maps when sharing the location. If you would rather prefer Google Maps when sharing your current location, then you would be pleased to know there's a simple way of doing so. Google Maps app for iOS offers an iMessage app, which is installed automatically alongside the main Google Maps app.
You can use the iMessage extension to share your static location with any contact who is using iMessage. Friends can not only see the location in the conversation view but they can tap on it to open the Google Maps app with your location loaded. They can then also use the navigation feature to get to your current location. Read on to learn about how to access Google Maps location sharing feature for iMessage.
Sharing Google Maps Location On iMessage
Launch the Messages app and open any iMessage conversation.
Tap on the 'Apps' button. If the keyboard is showing then tap on the arrow button next to typing field and then hit Apps button.
Once the apps page opens either swipe until you get access to the Google Maps iMessage app or tap on the grid button to access the app easily.
Once the Google Maps app for iMessage has loaded it will find your location. Once it does tap on the 'Send' button and then hit the second send button located next to the text field.
That's it. Your location will now be shared with your friends.
Disclosure: iOSHacker may receive a commission if you purchase products through our affiliate links. For more visit our privacy policy page.