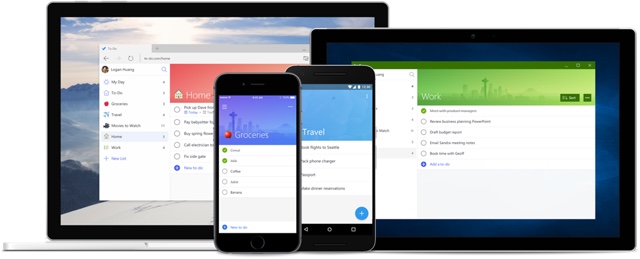 If you thought we have enough To-Do list apps in the App Store, then think again. Microsoft has released yet another productivity app that makes it possible for users to manage their daily tasks in a "simple and intelligent" manner. The cross platform To-Do App by Microsoft has been designed by the makers of popular Wunderlist app (which Microsoft acquired a few years ago). The bad news for Wunderlist users is that Microsoft will be killing the app in favor of To-Do.
To-Do app takes advantage of its intelligent features to give users smart suggestions on what they should be doing next. The app finds the most important tasks of the moment and lists them on the top. It even lists unfinished tasks from yesterday to help you complete them today. Since To-Do is available on multiple platforms all the tasks are synced across all applications, so you will have an up to date list no matter which device you are using.
While you can create new tasks with tap of a button, you also get to add reminders and due dates in just a few steps. You can add recurring tasks that you can tick off once you do them. You can set the repeat frequency for different tasks and they will automatically appear on your list when they are due. If you want to add more detail to certain tasks such as a note, address, phone number etc, then you can also do so by adding details for each individual task.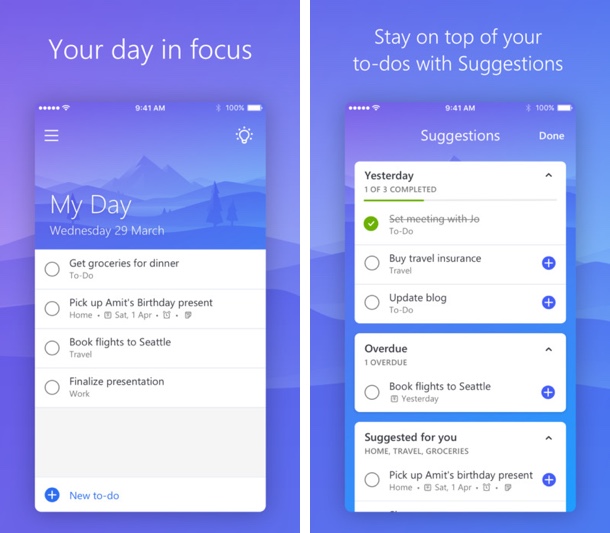 With To-Do you can create lists and put related tasks in them so it is easier for you to manage. You can even color code each list to make it convenient to identify tasks.
To-Do offers all the essential features and a simple design that make it a must try for anyone looking for a decent Todo list app. If you are a Wunderlist user, then you might also want to give To-Do a try since it is the app that will officially replace Wunderlist. You get customizable themes, smart suggestions, notes, due dates, reminders and more.
In addition to iOS, To-Do is also available for free on Android, Windows and on the web. Sadly Microsoft has not released a dedicated Mac client, which we hope will change in the future.