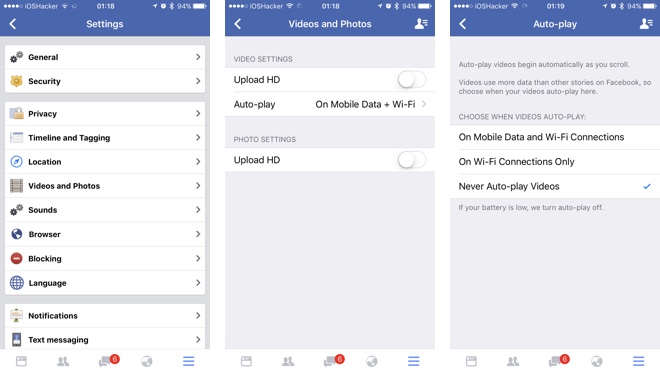 If you use Facebook app on your iPhone or iPad, then you would be familiar with the app's biggest quirk. The app plays any video that shows up in your News Feed automatically when you are scrolling through it. This is quite disturbing and can waste a lot of data if you are using the app on cellular internet. However to make matters worse, as of recent update Facebook has also enabled audio playback in the auto-play videos. Thankfully though from settings you can configure the app to stop auto-playing videos by changing a simple setting. You can also restrict the app to only auto-play videos when you are connected to WiFi and disable auto-play when connected to mobile internet. Read on to learn how.
Stop Videos From Auto-playing On iPhone or iPad
Open Facebook app on your iPhone and tap on the button from the button bar.
On the menu scroll down and tap on 'Settings'. From the menu that slides up tap on 'Account Settings'.
Now tap on 'Videos and Photos' option. Then tap on 'Auto-Play' option from the menu.
From the Auto-play screen you can choose how you want the iOS app to behave when dealing with videos in the news feed. You get three options. Select 'Never Auto-play Videos' to stop Facebook videos from auto-playing altogether.
Alternatively, you can also choose 'On Wi-Fi Connections Only'. When this option is selected videos will only autoplay when WiFi network is connected.
Also read: How To Stop Videos From Autoplaying With Audio On Facebook For iOS
Disclosure: iOSHacker may receive a commission if you purchase products through our affiliate links. For more visit our privacy policy page.