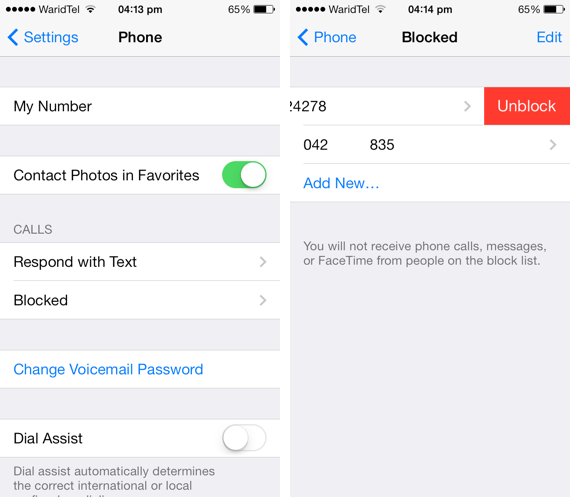 iOS 7 brings a really cool feature that enables users to block any unwanted caller from making calls, sending texts, iMessages and Facetime calls. As we explained in our earlier post using this feature to block any number is very easy. But what happens when you want to unblock the number on your iPhone, iPad or iPod touch? That is super easy to do, too. Here's how you can do it.
Open Settings app and then go to either Phone, Messages or Facetime menus. There you will find the 'Blocked' option. Tap on this option and you will be presented with a list of numbers you have blocked on your iPhone. Remember it does not matter which stock app you used to block the number as all numbers appear in 'Blocked' section of all three option menus we have mentioned here.
Now to unlock any number in iOS 7 simply swipe on that number towards the left side. Doing this will reveal the 'Unblock' option. Tap on it.
That's it. Now the number you blocked previously will be unblocked and that person will now be able to communicate with your iPhone through all modes of iOS communication including voice calls, video calls and text messages.
Also Read: How to block any number or Apple ID from calling or sending messages in iOS 7