In addition to notetaking and sketching, the iPad Pro series is ideally suited to graphic designers, artists, and professionals. Apple Pencil revolutionized freestyle sketching and notetaking on iPad forever, even though Steve Jobs disliked the idea of using a stylus with a tablet.
Old-school users, however, may say that nothing beats the feel of ink hitting paper, which the iPad's glossy and smooth surface is unable to replicate. If you want the natural friction of paper on your iPad screen, you can use the best paper feel protectors for iPad Pro 12.9-inch and Apple Pencil. The main concerns are, where do you begin? Which one should you choose?
Well, fret not!
In this article, we will show you what are the best paper-like mattte screen protectors available on the market, which are efficient in every way.
These paper like matte iPad Pro 12.9-inch screen protectors are compatible with the following models of iPad Pro.
12.9-inch iPad Pro (2018)
12.9-inch iPad Pro (2020)
12.9-inch iPad Pro (2021)
12.9-inch iPad Pro (2022)
Best Paper like 12.9-Inch iPad Pro Protectors
With a display size of 12.9 inches, the iPad Pro model is one of the largest tablets available. Make sure your big, beautiful display is protected at all times with one of these screen protectors.
1. PaperLike Matte Screen Protector (2-Pack)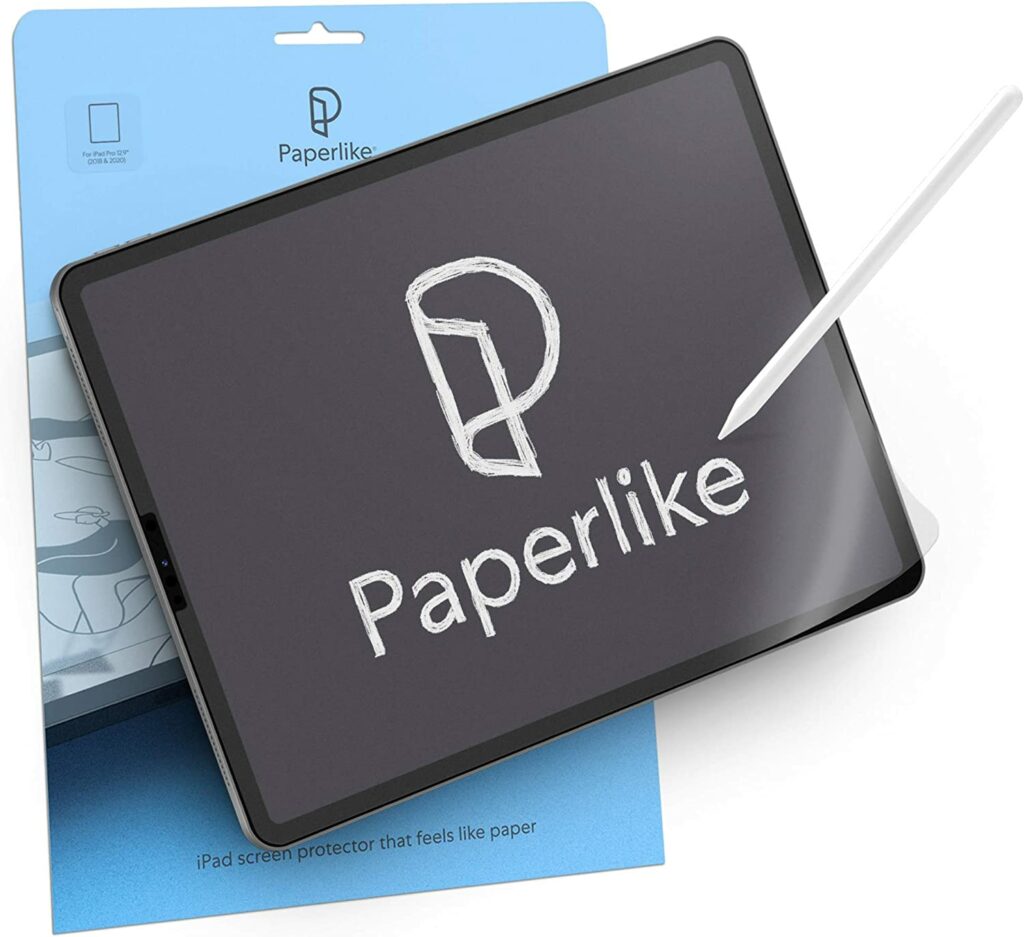 With Paperlike screen protectors, artists and designers can draw, write, and paint accurately on their iPads with greater precision and detail. You can enjoy long drawing sessions, smooth lines, and perfect accuracy with this iPad screen protector.
Paperlike adds friction and resistance to iPad glass to create a true paper feel for note-taking. In addition to being designed for Apple Pencils 1 and 2, it is also compatible with other Stylus Pens.
A unique surface texture reduces natural erosion and maximizes the life of your pencil tips. With this iPad screen protector, you can ensure that stroke recognition between your Apple Pencil and iPad is always 100% precise.
Using Nanodots technology, Paperlike ensures that your screen colors are always pixel-perfect. Besides reducing scratches and fingerprints, Paperlike also does not interfere with Face ID activation.
Buy PaperLike Matte Screen Protector for $39.99 here
2. KCT Paperfeel Screen Protector (2-Pack)
Innovation has always been the cornerstone of KCT's ability to meet the needs of its customers. Their products include silk-feel, paper-feel, and paper-glass screen protectors. And this product is no exception.
A special texture on the KCT Paperfeel screen protector reduces glare to the same extent as Glass's, providing you with exceptional reading and working experiences under bright sunlight.
The oleophobic and hydrophobic coating keeps the screen clean and clear for a long time, without affecting its texture. This product offers full coverage, prevents sharp objects from scratching, protects your screen, and is bubble-free, and hassle-free.
All in all, it keeps the same level of sensitivity as the original screen thanks to its 0.17mm ultra-thin design.
Buy KCT Paperfeel Screen Protector for $9.98 here
3. XIRON Paperfeel Screen Protector (2-Pack)
With the latest technology, XIRON specializes in iPad accessories for writing on the go. Writing and creating on an iPad is made a lot easier with a stylus and XIRON paper screen protector.
This screen protector offers no glare function to suppress light reflection. It allows easy drawing, sketching, and writing in bright sunlight.
The 3H hardness and self-adhesive features make it easy to push out the bubbles while protecting your screen from daily scratches. Additionally, this ultra-thin paper screen protector keeps iPad sensitivity.
Paper Feel Screen Protector (Not Glass) automatically attaches to the iPad screen smoothly, hassle-free, and bubble-free, and leaves no residue after removal.
Buy XIRON Paperfeel Screen Protector for $10.53 here
4. Bioton Paperfeel Glass Screen Protector
In this Bioton Paperfeel glass screen protector, you can have the best of both worlds – a paper-feel screen protector and a glass screen protector. You can write and draw more precisely with this Paperfeel glass on your iPad while maintaining better protection.
You should be able to use all iPad features without compromising the screen protector. Because of this, this special protector keeps the paperlike feel of the touch screen for writing, which is impossible with conventional glass protectors.
They are resistant to most glare reflections and can be read easily in bright light. In addition to providing a paper-like surface texture, the fine frosted surface texture can effectively prevent grease, fingerprints, hand sweat, and other stains from appearing on the surface.
Buy Bioton Paperfeel Glass Screen Protector for $16.98 here
5. Hocents. Paperfeel Glass Screen Protector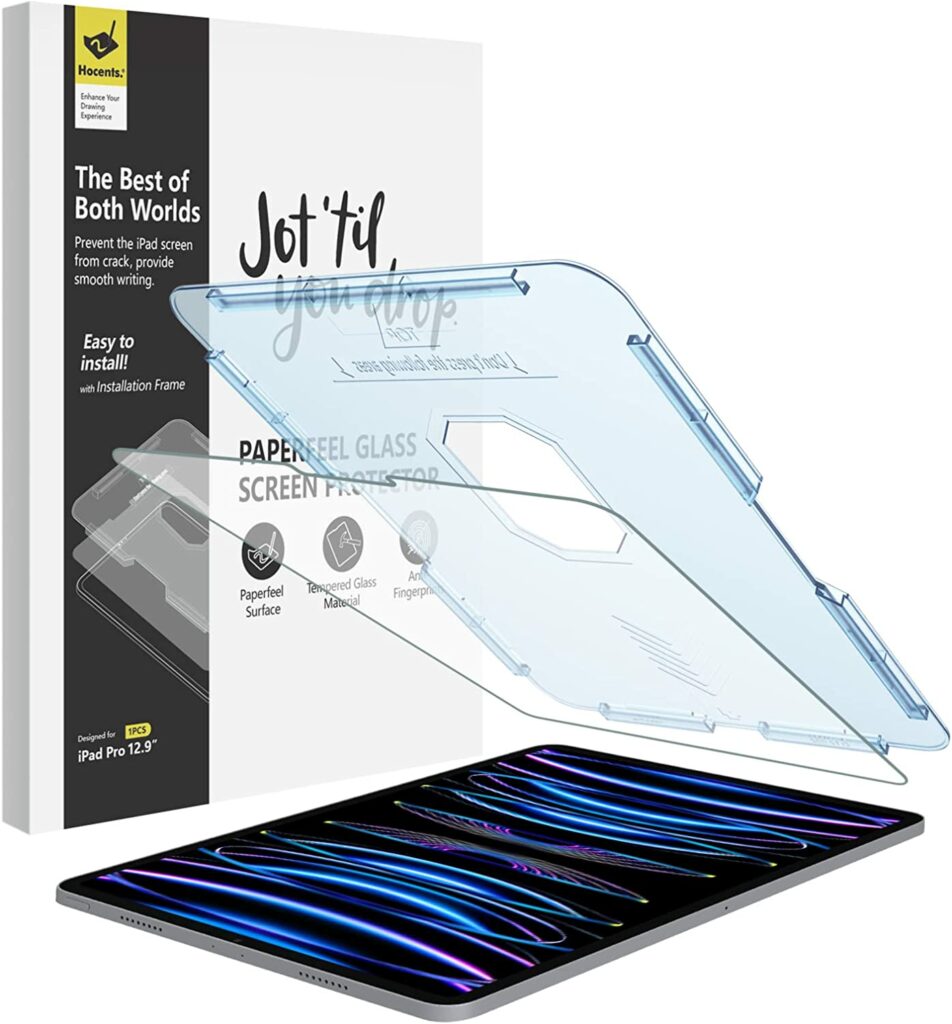 Hocents. are dedicated to creating high-quality screen protectors that are easy to install.
Japanese premium materials are used to build the surface layer, making it compatible with Apple pencils. In addition to its excellent damping, this pen gives you that "writing on paper" feeling with a rustling sound that is perfect for note-taking or drawing.
With its textured coating, the screen protector reduces glare and fingerprints effectively. You can make the screen less cluttered, keep it highly clean, and enhance the user experience.
Furthermore, it integrates the characteristics of a paper-feel film layer with a 9H tempered glass layer. You should consider this paper-feel glass screen protector if you don't like plastic film (which scratches easily).
Buy Hocents. Paperfeel Glass Screen Protector for $16.98 here
6. BERSEM Paperfeel Screen Protector (2-Pack)
With nearly a decade of experience in R&D, research, and production, BERSEM is a professional brand of screen protectors. As a company, BERSEM has always adhered to the philosophy of "high quality", "innovative", and "responsible", providing high-quality, better-designed screen protectors to customers worldwide.
With this one of the best matte screen protectors for 12.9 iPad Pro, you can draw and write without worrying about the pencil nib wearing. In addition, it does not have colorful points and rainbow lines on the surface, which do not lead to dizziness or eye discomfort when used long-term.
This product makes sure all functions of the camera work well without covering them. Besides, the Face ID works quickly and accurately.
Buy BERSEM Paperfeel Screen Protector $9.87 here
7. Esanik Paper Glass Screen Protector (2-Pack)
With Esanik, iPad users can experience the real and natural feel of writing on paper with a stylus generic pencil. Additionally, it has good sensitivity, which ensures that your drawings continue. This is the perfect tool for people who like drawing on their iPads or practicing their handwriting.
With the matte finish tempered glass, you won't have screen glare, even in bright sunlight, and no dazzling, allowing you to read whether outdoors or under the light.
The 9h hardness tempered glass screen protector can effectively protect the screen of your device from daily wear and tear.
Adding to its convenience, one of the features of the screen protector is an alignment frame that allows the screen protector to be aligned to the correct position with no bubbles.
Buy Esanik Paper Glass Screen Protector for $17.99 here
Ready to Protect Your Device?
We've only added the best screen protectors that feel like paper to this list! You can buy any of them for your iPad Pro models.
If we had to choose one, we would pick either the XIRON Paperfeel Screen Protector or the BERSEM, since both ensure hassle-free installation. The paperlike matte screen protector is recommended if you frequently use the Apple Pencil with your iPads for handwriting notes or doodling.
Keep visiting this page to find more Apple products, since we constantly scour the web to bring you the best options.
Do you have a preference when it comes to screen protectors for your devices? Let us know in the comments.