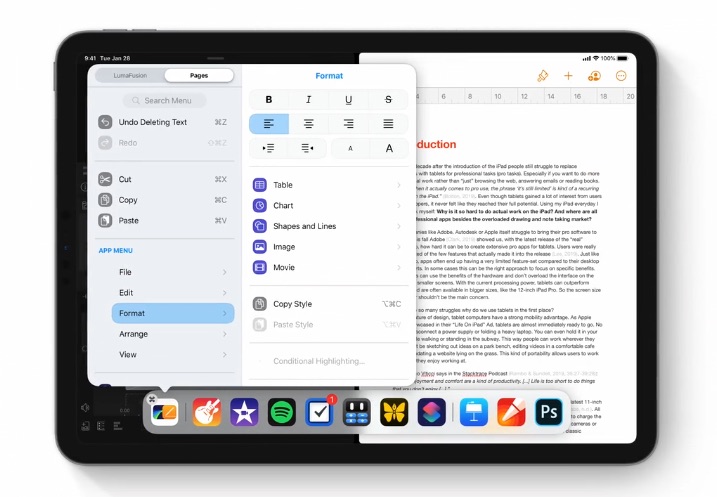 iPadOS's journey towards becoming a viable PC replacement has accelerated over the past few months. We not only saw Apple differentiating iOS that powers the iPhone from the one that powers iPads with the release of iPadOS 13, the introduction of enhanced cursor support in iPadOS 13.4 further proves Apple's seriousness into achieving this target.
While iPadOS has came a long way from its humble beginnings of being a magnified version of OS that powers the iPhone, there is still a long way to go. A new concept from designer Alexander Käßner imagines how a 'Main Menu' would look like on an iPad. We're all familiar with the main menu found on the Mac. This menu gives users quick access to certain options while also allowing apps to give contextual shortcuts to the user.
Käßner's concept reimagines the Mac main menu for the iPadOS. Accessible through the Dock this iPadOS main menu will give users access to commonly used actions and app specific menus that change based on the app that is currently being used.
Users will be able to quickly access actions like Undo, Redo, Cut, Copy and Paste. They will also get an app menu section that will change based the running app. This would include quick access to preferences, document saving, new document, export etc. The menu will also offer options that are specific to the app that is currently being used.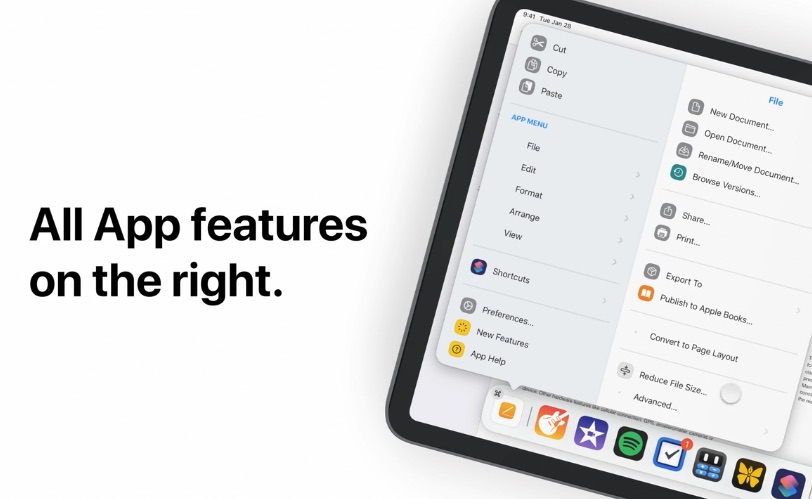 The concept shows that iPadOS main menu will split in 2 columns allowing users to expand certain menus. Users will also be able to get access to contextual menus that are typically accessed through in-app menus. In addition to this iPadOS main menu will give users a uniform way to access these settings and options without having to adjust to each app's settings.
The concept also takes care of the split view feature and offers tabbed view, which will allow users to switch contextual menus for app of their choice when they are using their iPad in split view.
We really like Käßner's approach to adding a Mac-like menu to the iPad with a modern touch. We hope Apple takes inspiration from it and add this feature to iPadOS 14.
What do you think about this iPadOS main menu concept? Share your thoughts in comments.