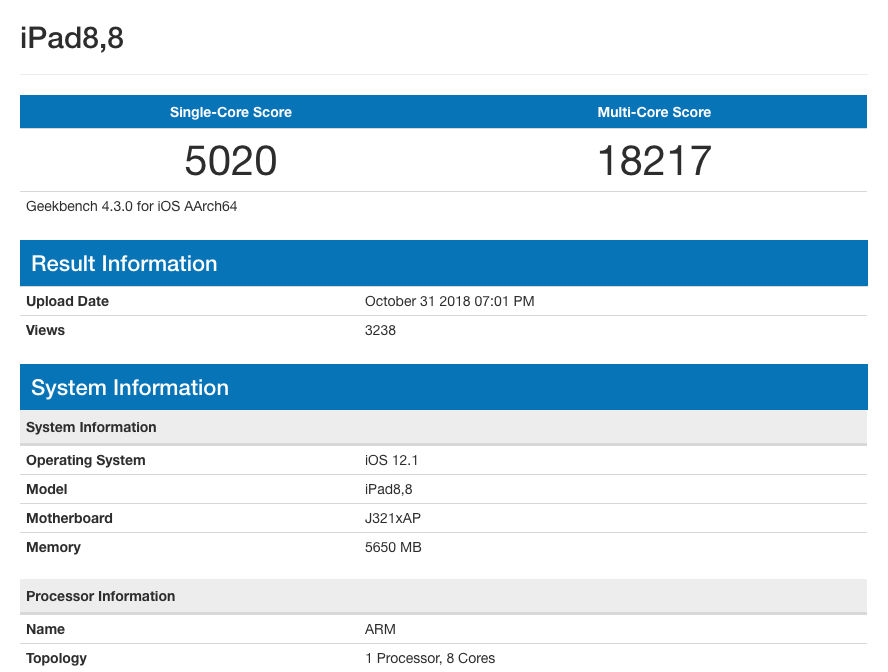 Apple has announced its brand new iPad Pro with an all new design. This new all screen design isn't the only radical upgrade with the new iPad Pro as Apple has also provided a major spec boost to its flagship tablet. Both 11-inch and 12.9-inch iPad Pros are powered by A12X Bionic chip, which Apple says has 8-Core CPU and 7-Core GPU capable of providing 35 percent faster single core and 90 percent faster multi-core performance.
Now Geekbench scores seem to confirm Apple's claims with the new iPad Pro getting a single core score of 5020 while getting 18217 score on multi-core performance. The Geekbench scores have also confirmed that there are two different iPad Pro variants, with one model having 4GB of RAM and other 6GB. The difference in RAM is between the 1TB model and lower storage options, with 1TB getting 6GB RAM. The models with 4GB RAM scored 4987 on single-core and 17928 on multi-core.
As noted by developer Steve Troughton-Smith the Geekbench scores of the new iPad Pros are comparable to that of powerful 2016 Intel i7 gaming PCs. According to the developer his i7 gaming PC scored 4314 on single-core and 14063 on multi-core, which is surprisingly lower the Apple's new tablets.
This score makes the new iPad Pro faster than the full spec'd out 2016 15-inch MacBook Pro and a PC with 2016's Intel i7 4770K processor, both of which score around 15000 on multi-core.
Holy mother of Geekbench the new iPad is faster in both single and multicore than my i7 gaming PC. By a lot. 🤯 /via https://t.co/ge9vtH6Z8F pic.twitter.com/xrAmCZbg32

— Steve Troughton-Smith (@stroughtonsmith) November 1, 2018
@stroughtonsmith Looks like the RAM thing is confirmed, 4GB and 6GB for different variant. https://t.co/a6dXmBsH4i https://t.co/w4kCRsFVWe

— Khaos Tian (@KhaosT) November 1, 2018
With the ever increasing performance capabilities of the Apple's mobile chips, it seems more likely than ever that we will see Apple designed processors in its lineup of Macs in the near future.