In just a few months Apple's iPad mini will become one year old. This means that the product will most likely receive an upgrade in which the company will boost its specs and perhaps introduce a new design for its successor model. As the expected launch of what has been dubbed as iPad mini 2 is approaching reports about what Apple is going to change in this new model have started to emerge. Today Chinese publication DigiTimes has published a new report in which it has mentioned the the changes Apple is allegedly going to make in iPad mini 2.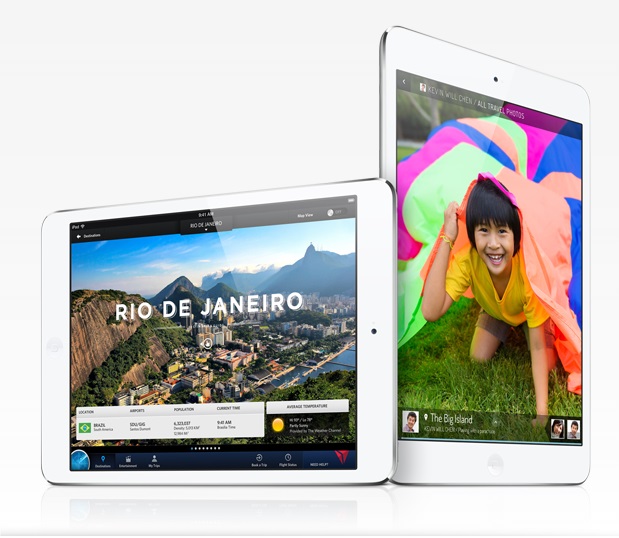 DigiTimes reports that this year's iPad mini model, which is expected to get announced in the fall just in time for the holiday season will have better technical specifications as it is expected from every new Apple product. Interestingly in the same report the online publication writes that the iPad mini 2nd generation won't feature the 2048×1536 Retina display every one thinks it will. Instead the device will have the same screen along with the same design.
Apple has allegedly delayed the release of a redesigned iPad mini with Retina Display until 2014 and will be releasing a new model with improved processor and other specs in the meantime during the second half of 2013.
Here's an excerpt from DigiTimes' report
Apple is reportedly aiming to use Retina panel technology equipped with 2,048 by 1,536 resolution in the next generation 7.9-inch iPad mini. Apple is also said to be revising the design of the chassis to give the next-generation iPad mini an almost bezel-free look.
The almost-bezel free look for the Retina Display model scheduled for 2014 release sounds a bit strange since the side bezels on the current model are already quite thin when compared to the 9.7-inch model. Even if that is the case then either the overall volume of the device would be smaller the original iPad mini or the new model will have a slightly larger display.
It looks like Apple is following the same pattern with the iPad mini as it did with larger iPad last year when it released the fourth generation model with lightning connector and better processor instead of releasing a completely revamped model.
Reporting on iPad 5 which is expected to get released later this year DigiTimes says
Additionally, the sources said that Apple's upcoming fifth-generation iPad is expected to use thin-film touch screen technology, which will be able to reduce the weight of the device by 20-30%. The device will also feature a slimmer bezel design to allow a bigger viewing area.