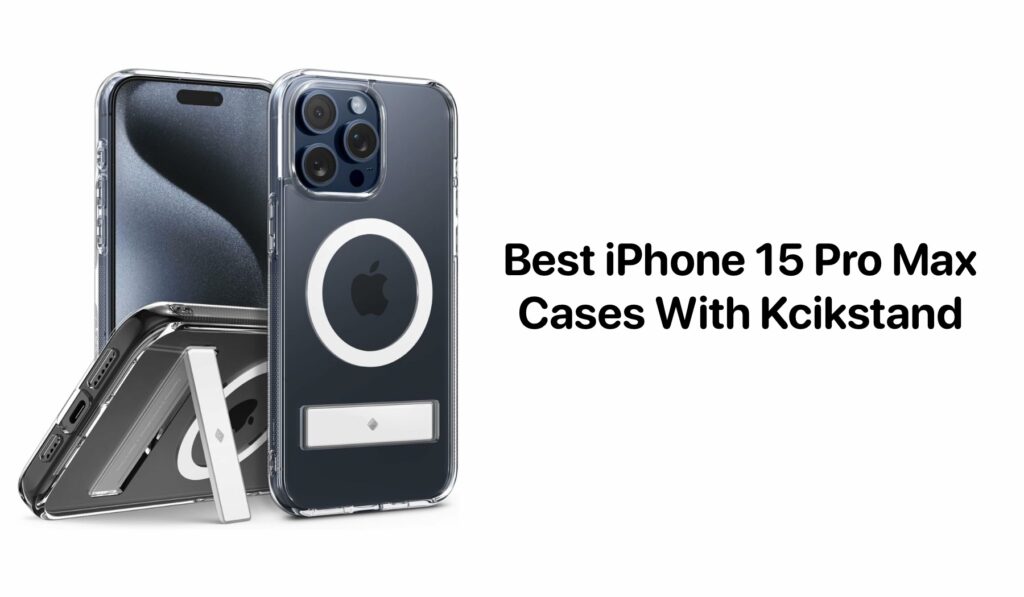 Here we have featured some of the best iPhone 15 Pro Max cases with kickstand. These kickstand equipped cases for iPhone 15 Pro Max make your life easier by letting you watch videos, FaceTime, read, and do other activities by conveniently placing your device in landscape or portrait orientations.
If you're lucky enough to own the latest iPhone 15 Pro Max, you know just how precious this piece of tech is. With its stunning display, powerhouse performance, and an array of impressive features, it's no wonder you want to protect it in style. But what if your case could do more than just shield your phone from scratches and drops? That's where kickstand cases come into play!
In this aticle, we're diving headfirst into the world of the best iPhone 15 Pro Max with kickstands, bringing you a selection of cases that not only keep your prized possession safe but also prop it up for the ultimate hands-free experience.
Best Kickstand Cases for iPhone 15 Pro Max
Say goodbye to propping your phone against coffee cups or stacks of books; let's explore the cases that make your iPhone 15 Pro Max even more versatile and enjoyable.
1. TORRAS Strong Magnetic & Flush Kickstand Case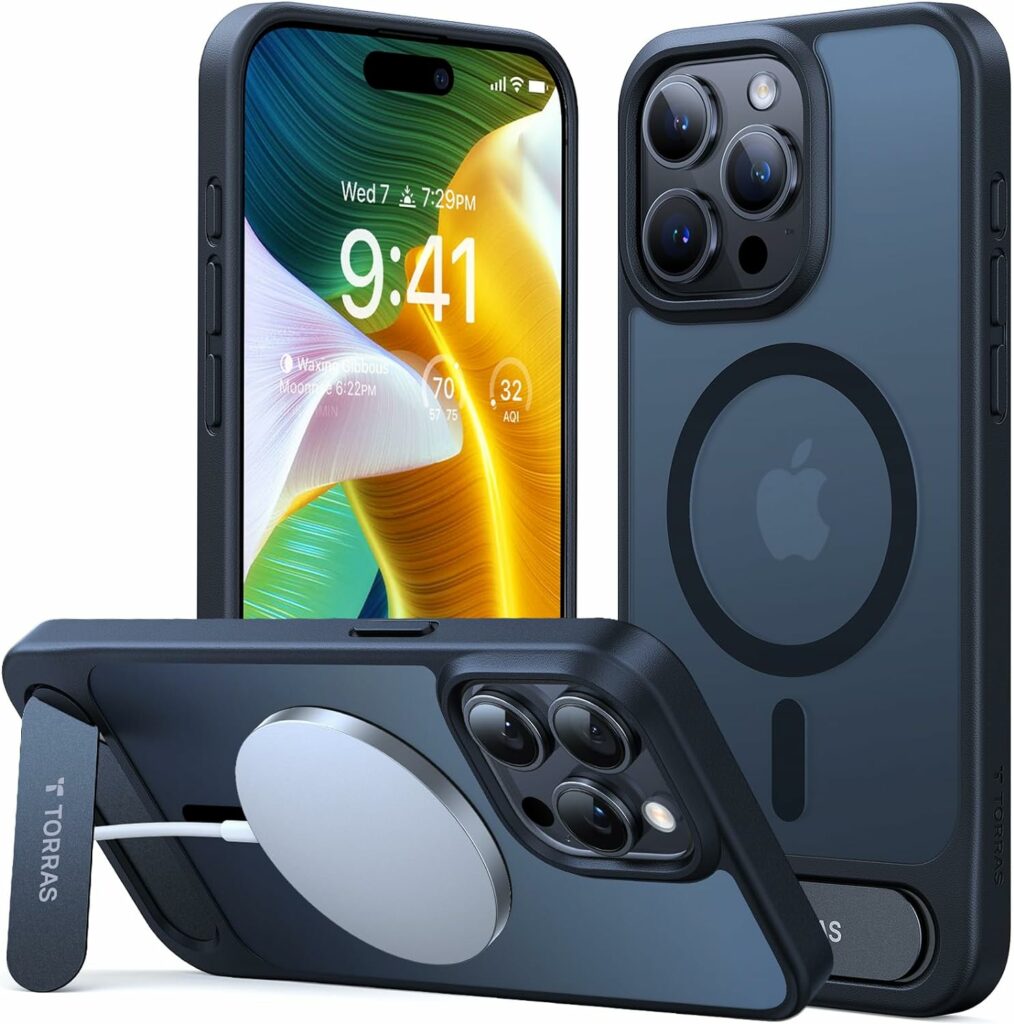 TORRAS Strong Magnetic & Flush Kickstand Case boasts a cutting-edge Halbach magnet array, offering a remarkable 60% stronger magnetic attraction compared to the official magnetic case for the iPhone 15 Pro Max. With a powerful 18N magnetic force, your phone effortlessly snaps onto any magnetic accessories.
This case is built like a fortress to protect your precious device. With TORRAS X-Shock air cushioning and highly resilient TPU material, it goes beyond military-grade standards to shield your phone from accidental shocks and drops. Even your screen and camera lens get 1.0mm and 1.5mm raised coverage, ensuring they stay scratch-free.
Constructed with high-carbon steel hinges, it's built to last. When folded, it seamlessly disappears into the back of the case, ensuring a sleek and streamlined look that won't compromise your phone's structural integrity.
Buy TORRAS Strong Magnetic & Flush Kickstand Case for $26.69 here.
2. Spigen Magnetic Ultra Hybrid S MagFit Case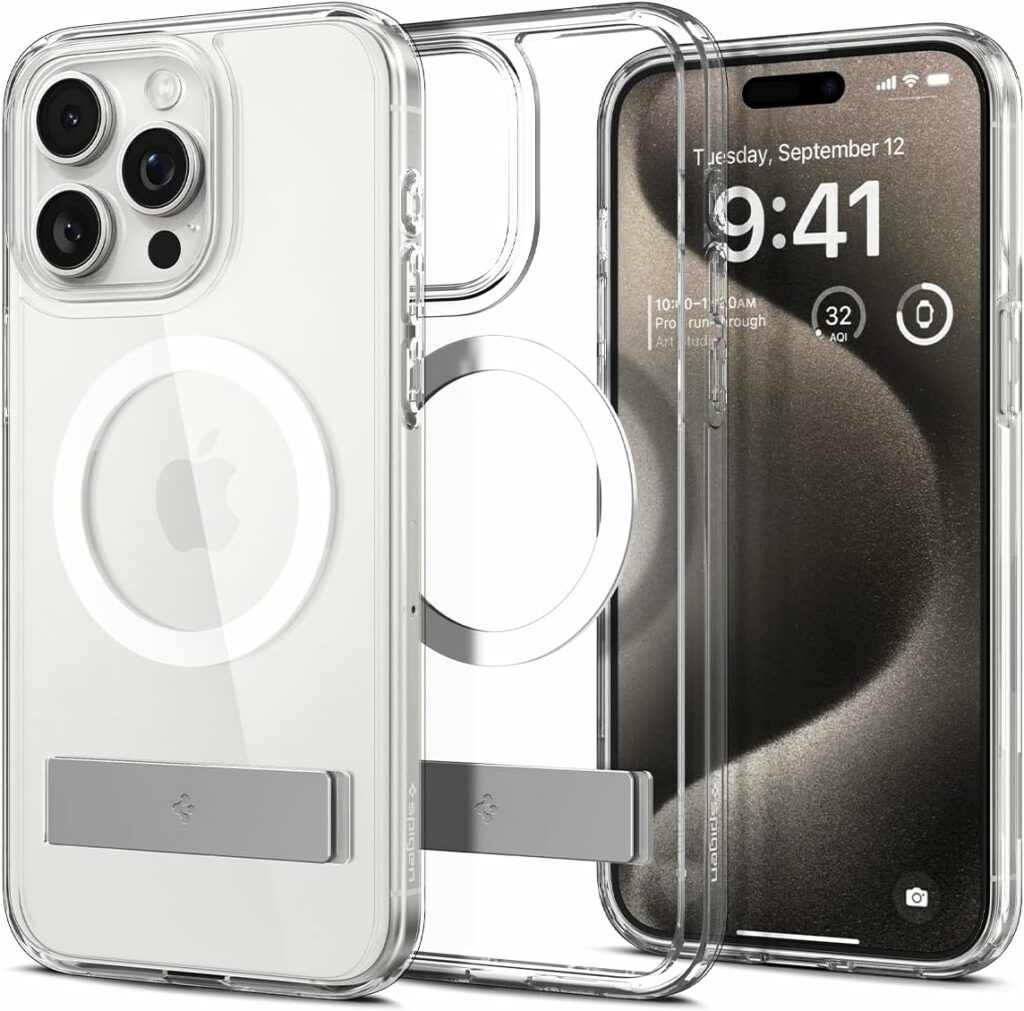 Spigen Magnetic Ultra Hybrid S MagFit iPhone 15 Pro Max Case is a fusion of rugged durability and sleek functionality! Crafted from a robust blend of PC and TPU materials, this case is built to withstand the test of time, offering ultimate protection for your precious iPhone 15 Pro Max.
This case boasts a versatile kickstand, thanks to its Active Stop Technology. It fits seamlessly, maintaining the phone's slim profile while giving you hands-free viewing options. What's more, the case is infused with a unique blue resin that ensures long-lasting clarity, keeping your iPhone's stunning design on full display.
And for those who love convenience, it's fully compatible with wireless charging and MagSafe accessories. No need to fuss with removing your case just to power up or use your favorite magnetic accessories.
Buy Spigen Magnetic Ultra Hybrid S MagFit Case for $24.99 here.
3. Humixx Case with Magnetic Stand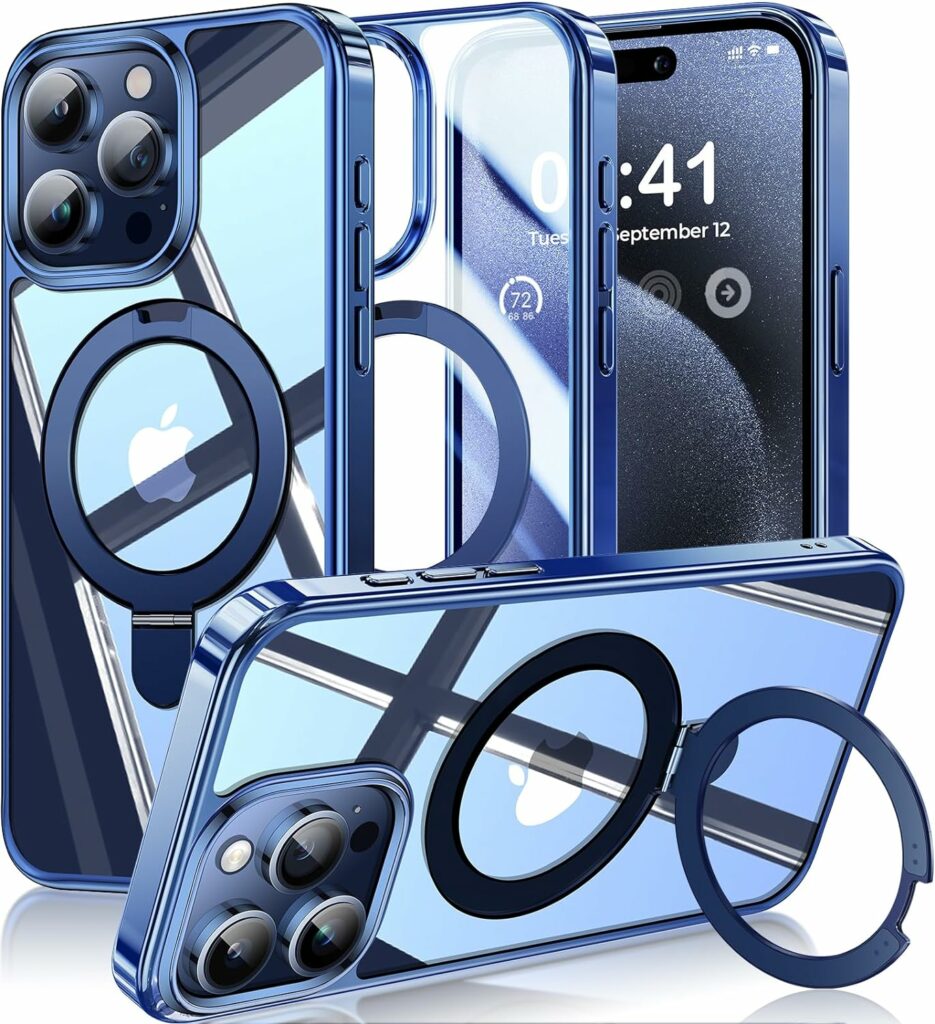 Humixx iPhone 15 Pro Max case is where innovation meets convenience! Ever wished for a phone case that not only secures your device but also makes life easier? Look no further.
This is a sleek 120° Adjustable Magnetic Stand that's both a magnet and a kickstand, neatly tucked away yet ready for action. Ten times stronger than its counterparts, it's your phone's superhero against accidental slips.
But what truly sets it apart is the tech inside. Boasting 38 advanced N52 triangle-magnet Halbach-array, this case is a magnetic powerhouse with a 4X stronger pull. MagSafe accessories? No problem. From leather wallets to wireless chargers, it's a perfect match. Plus, enjoy stable 15W charging speeds. And for the cherry on top – an AF anti-fingerprint electroplate coating, anti-oxidation coating, and Nano Oleophobic layer.
Buy Humixx Case with Magnetic Stand for $39.98 here.
4. Caseology Capella Mg Kick Stand Case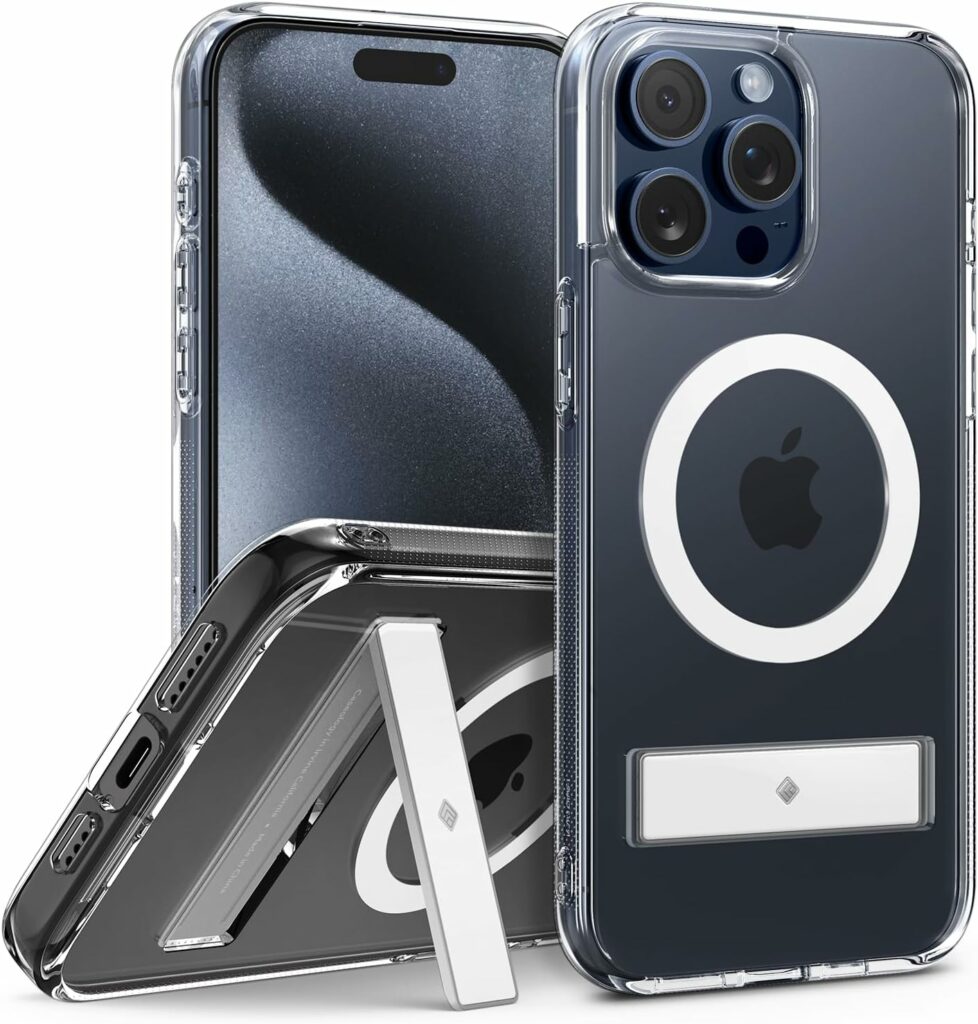 Meet Caseology, the brainchild of creative minds in sunny Irvine, California. They're all about delivering top-notch products decked out in sleek, modern designs.
What's their latest innovation, you ask? Well, they've added some nifty features to their Capella Mag case. First up, there's an integrated magnetic ring that plays nice with MagSafe chargers. So, your device stays securely attached and perfectly aligned.
The Capella Mag now boasts kickstand capabilities for those moments when you need a hands-free setup. Plus, it's made from ultra-clear TPU with anti-yellowing tech and has a tough PC layer for shock absorption. Your camera gets some love too, with a raised lip for extra protection.
Buy Caseology Capella Mg Kick Stand Case for $24.99 here.
5. LAUDTEC Silicone Kickstand Case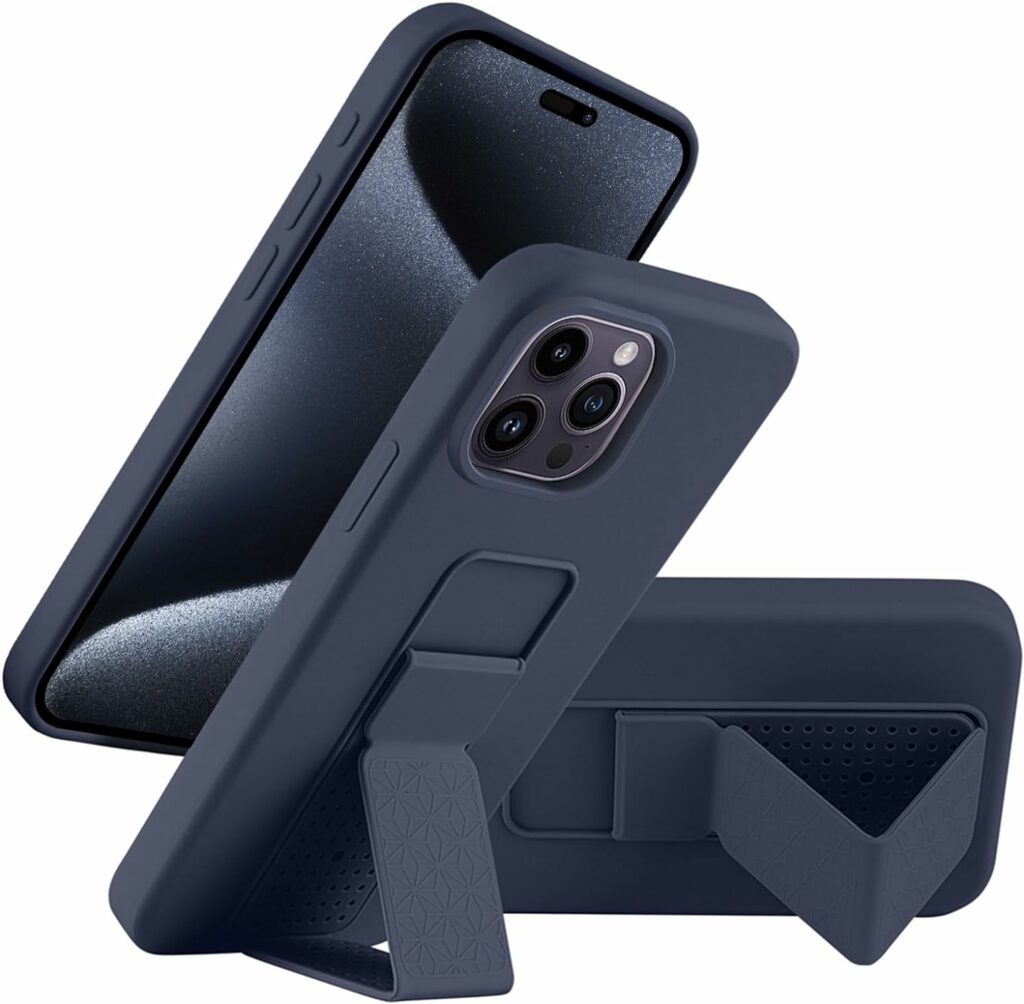 LAUDTEC Silicone Kickstand Case fits like a glove, hugging the body, buttons, and curves of your phone to ensure a responsive touch and easy access.
LAUDTEC has gone the extra mile to provide top-notch protection. Inside, you'll find a microfiber cushion that cradles your iPhone, keeping it safe from harm. The 1mm raised bezel edges surrounding the screen and camera further shield your device, reducing the impact of falls and preventing scratches.
Crafted from high-quality liquid silicone rubber, this case boasts exceptional durability, toughness, and a luxuriously smooth touch. And the best part? It's a breeze to keep clean. Any dust or dirt can be wiped off effortlessly with a damp cloth. What's more, the case is anti-fingerprint and waterproof, ensuring that your phone stays pristine and looking brand new under its reliable protection.
Buy LAUDTEC Silicone Kickstand Case for $15.99 here.
6. Caka iPhone 15 Pro Max Case with Kickstand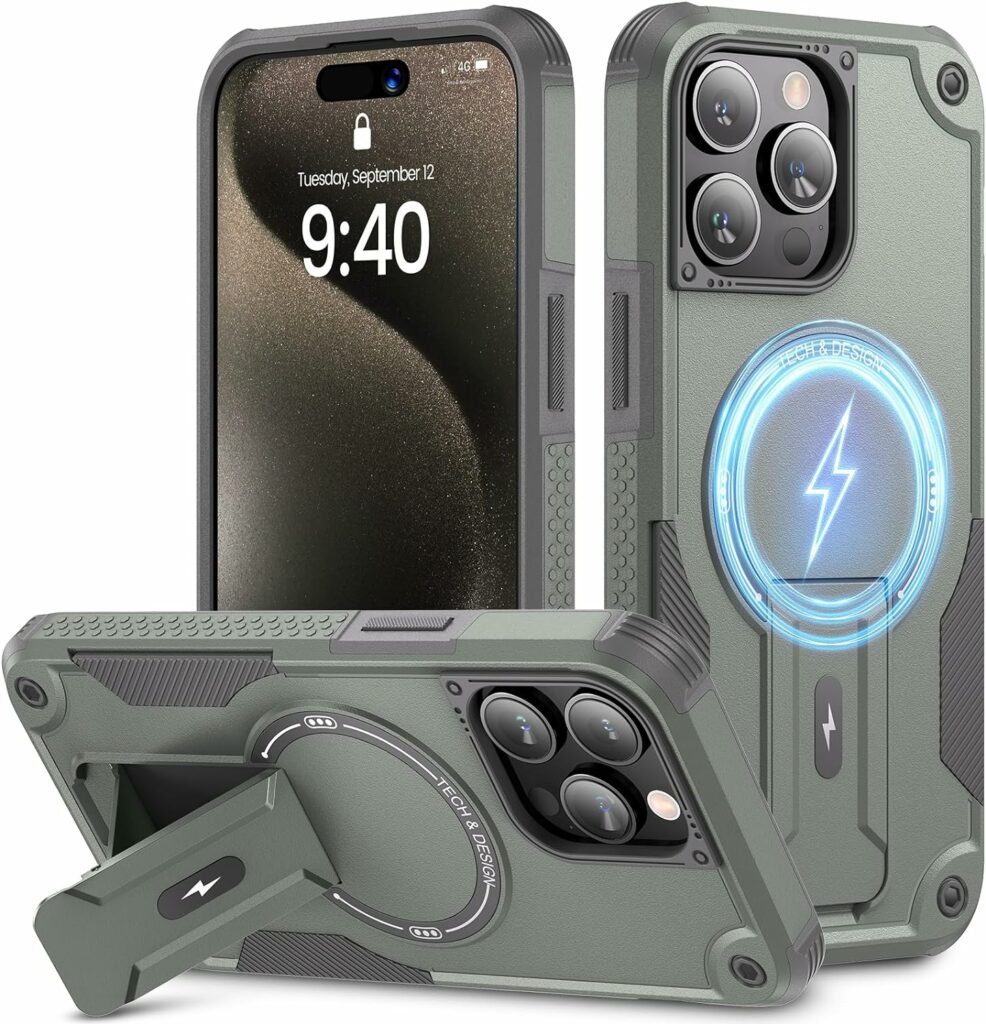 What makes Caka iPhone 15 Pro Max Case with Kickstand the best one out there? First off, let's talk about those built-in magnets. They're not your run-of-the-mill magnets; they're powerful, aligning perfectly with your phone and locking it securely in place in the blink of an eye. Plus, it won't interfere with your fast charging, so you can juice up on the go hassle-free.
The stand on this case snaps on and off effortlessly and maintains its sturdiness over time. Whether you want to prop up your iPhone 15 Pro Max in portrait or landscape mode, the ergonomic design has got you covered. It's the perfect companion for binge-watching your favorite TV shows or catching up with loved ones over video chat.
Comfort matters too, and that's why there's a frosted coating on the back for a silky-smooth feel. The cushioned texture on the sides ensures a firm grip even with one hand, and the anti-scratch and anti-fingerprint features will keep your case looking brand new.
Buy Caka iPhone 15 Pro Max Case with Kickstand for $15.99 here.
7. ESR iPhone 15 Pro Max Case with MagSafe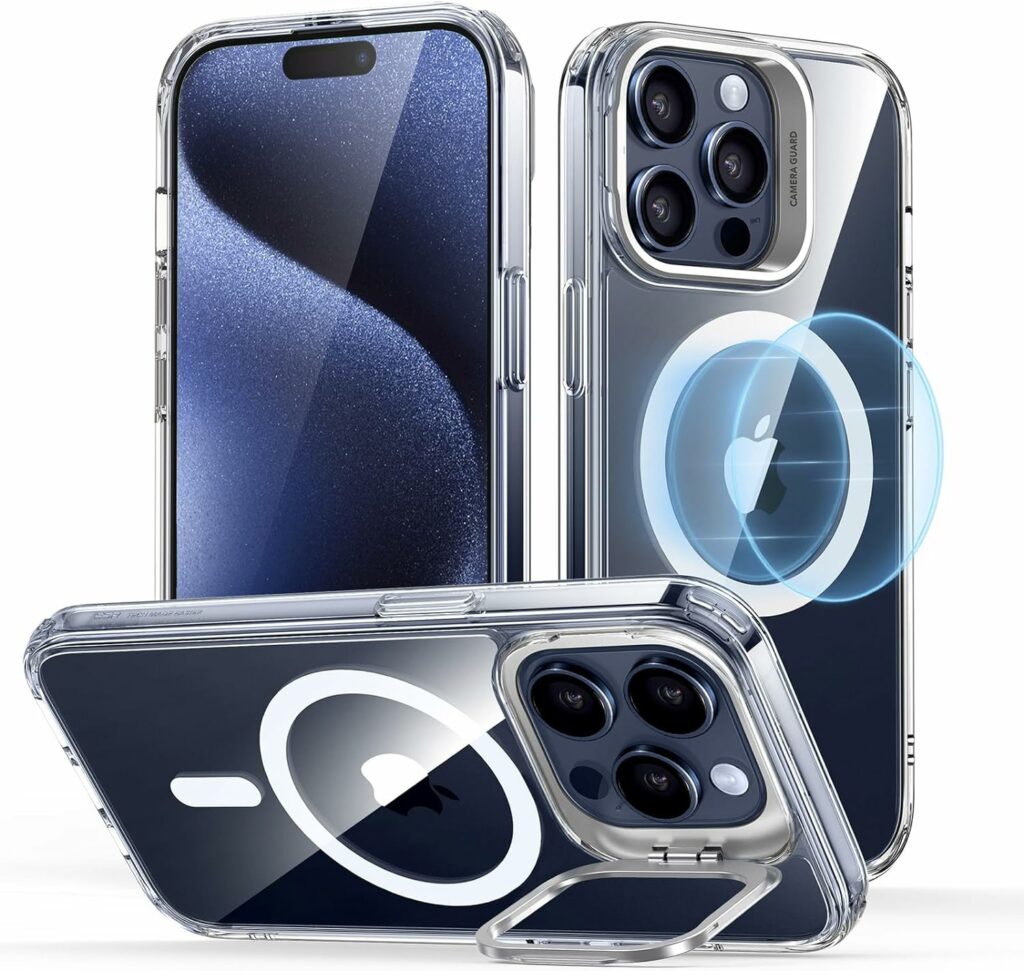 Imagine a case that not only protects your iPhone but also enhances its functionality. That's exactly what the ESR iPhone 15 Pro Max Case with MagSafe does.
The secret lies in its powerful built-in magnets, providing an impressive 1,500 grams of holding force. This means faster and easier wireless charging – just place your phone on a MagSafe charger, and it locks into place securely. And don't worry about obstructing your MagSafe ring; ESR has strategically positioned the magnets around the camera frame, keeping your MagSafe ring 100% unobstructed.
This case also transforms into a convenient stand. You can adjust it to the perfect angle for watching your favorite shows, anytime, anywhere. The stability is remarkable, ensuring you won't miss a moment of your entertainment.
Buy ESR iPhone 15 Pro Max Case with MagSafe for $26.99 here.
To Conclude
When it comes to protecting your precious iPhone 15 Pro Max while adding convenience to your daily life, these iPhone 15 Pro Max with built-in kickstands are a game-changer. Whether you're binge-watching your favorite series, participating in virtual meetings, or just catching up on the latest trends, these cases have got your back – quite literally! With a plethora of options to choose from, you can find the perfect blend of style, durability, and functionality to suit your unique needs. So, why settle for anything less?
Elevate your iPhone 15 Pro Max experience with one of these iPhone 15 Pro Max cases with stands and enjoy the best of both worlds – protection and versatility. Your iPhone deserves the best, and these cases deliver just that!
Disclosure: iOSHacker may receive a commission if you purchase products through our affiliate links. For more visit our privacy policy page.