Ready to give your shiny new iPhone 15 Pro Max the VIP treatment it deserves? Well, look no further because we've got the lowdown on the best silicone cases for iPhone 15 Pro Max that will not only pamper your precious gadget but also keep it looking snazzy in 2023.
So, why silicone, you ask? Well, think of it as the ultimate wingman for your iPhone – it's like that friend who always has your back and never fails to make you look good.
These cases not only offer top-notch protection but also come in a range of stylish designs to match your mood and style. Say goodbye to clunky, boring cases and join us as we dive into the world of soft silicone iPhone 15 Pro Max cases that are about to become your new BFF (Best Fit Friend).
Best Silicone Cases For iPhone 15 Pro Max
Here are the best silicone cases that you can buy for your iPhone 15 Pro Max in 2023.
1. Apple iPhone 15 Pro Max Silicone Case with MagSafe
Check out the Apple iPhone 15 Pro Max Silicone Case with MagSafe – it's got that smooth, silky feel on the outside that's just awesome to hold. Plus, on the inside, there's this soft microfiber lining that adds an extra layer of protection.
What's really cool about this case is that it's got these built-in magnets that line up perfectly with your iPhone 15 Pro Max. That means you get this almost magical attachment experience, and it even makes wireless charging super speedy. When it's time to juice up your phone, you can keep the case on and snap your MagSafe charger right on or pop it on your Qi-certified charger.
And let me tell you, this case isn't just about looks. Apple has put it through a ton of testing during the design and manufacturing process. So, it's not only stylish but also built tough to shield your iPhone from those annoying scratches and accidental drops.
Buy the Apple iPhone 15 Pro Max Silicone Case with MagSafe for $46.99 here.
2. elago Liquid Silicone Case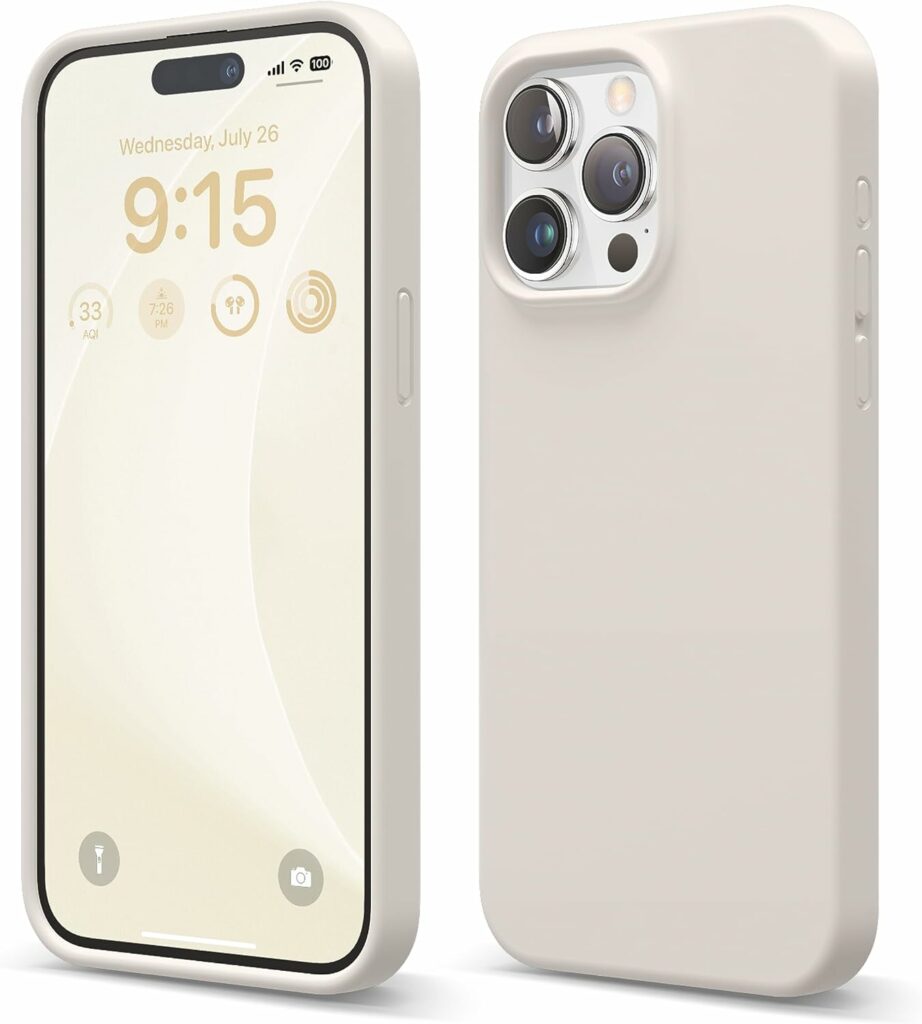 The reason why elago is on our list of the best iPhone 15 Pro Max silicone cases is that this case has been flying off the shelves on Amazon for the past four years. This amazing case has been crafted with liquid silicon, which not only offers excellent grip and protection for your phone but also adds a pop of color.
elago case is a perfect fit for your iPhone 15 Pro Max, covering all sides, including the buttons and the bottom. It even has a raised lip to shield your screen and camera from scratches caused by direct contact with surfaces. Plus, it's compatible with wireless charging – talk about convenience!
So, if you want "Simple Sophistication" with something practical and awesome, then we bet you're going to love it!
Buy elago Liquid Silicone Case for $12.99 here.
3. ESR for iPhone 15 Pro Max Case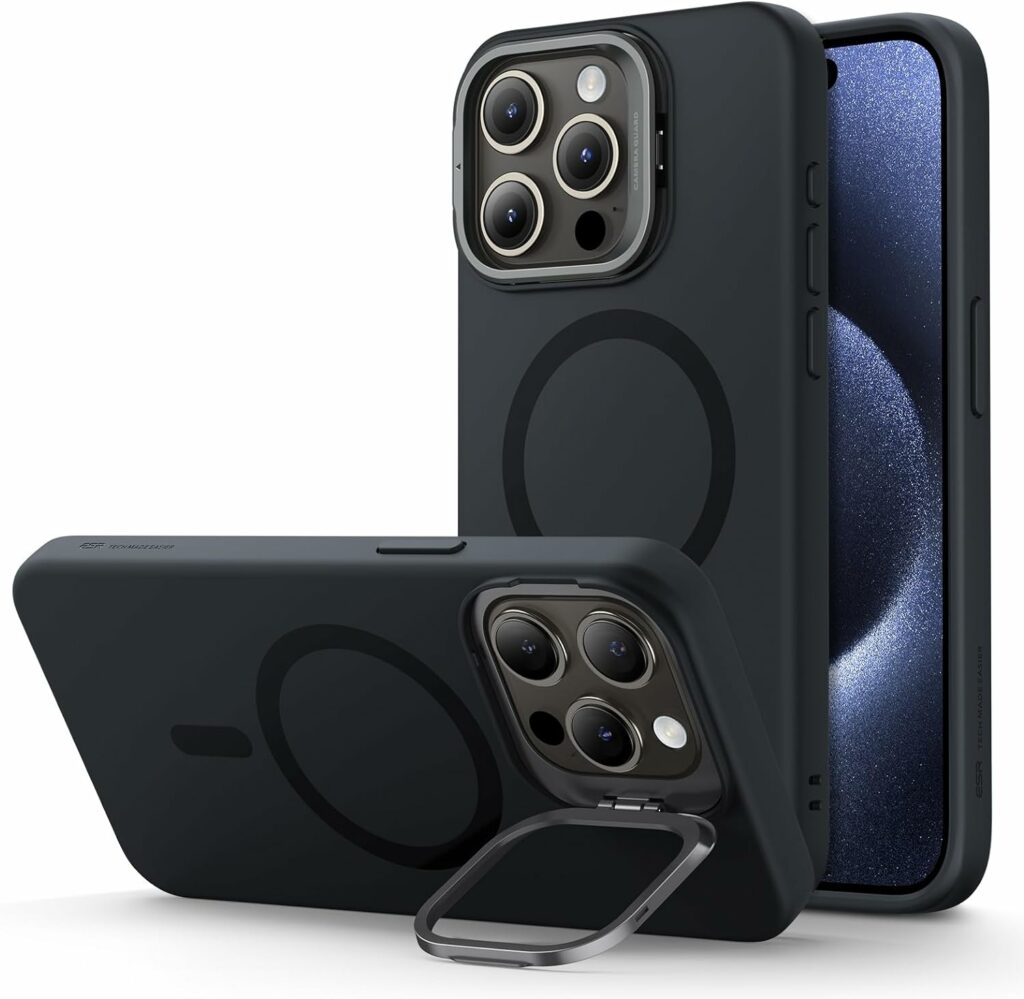 This cool case is designed only for the iPhone 15 Pro Max. It's got a smooth silicone feel that's comfy to hold and gives you a better grip. It doesn't come with camera lens protectors or have one built-in.
But here's the kicker: it is one of the best Silicone cases with MagSafe for iPhone 15 Pro Max. It's got some seriously strong magnets inside, like 1,500 grams strong. They'll make sure your MagSafe accessories stay locked in place.
Plus, it's tough as nails. The stand is made of sturdy zinc alloy that stays looking fresh even after 3,000 uses. And if you accidentally drop your phone, the rigid polycarbonate core and silicone outside will soak up the shock, while the soft microfiber lining keeps your phone from getting scratched.
Buy ESR for iPhone 15 Pro Max Case for $29.99 here.
4. ORNARTO iPhone 15 Pro Max Case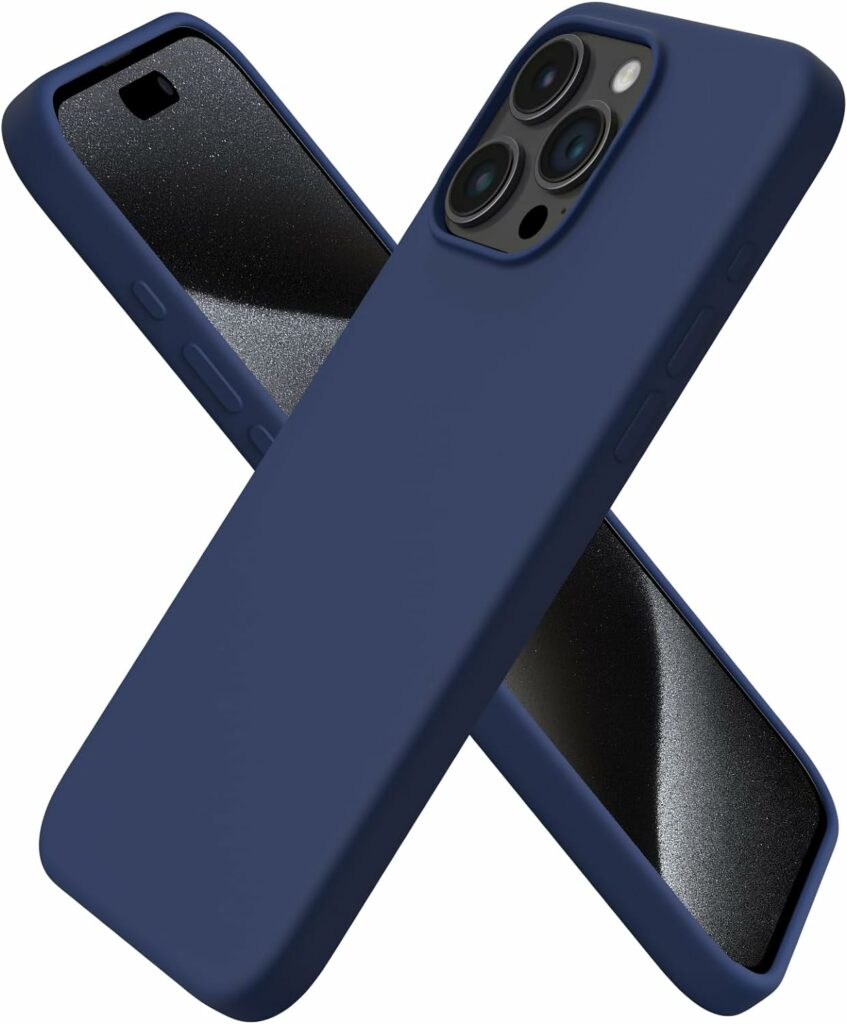 Next on our list of the best silicone cases iPhone 15 Pro Max 2023 is Ornato's Silicone Case. It's the real deal, made from liquid silicone that's not only super durable but also keeps dust away way better than most cases out there. The two-layer construction adds toughness without sacrificing that smooth touch. And it's got a microfiber cushion inside to protect your phone from any scratches.
Oh, and here's the eco-friendly bonus: it's SG5/FDA/GRS/RoHS certified. The camera area is designed with a raised bevel for extra lens protection without messing up your wide-angle shots or flashlight.
ORNARTO offers this case in various cool colors to match your iPhone 15 Pro Max's style. So you can express your personality with fresh macaron colors and keep your phone looking sharp.
Buy ORNARTO iPhone 15 Pro Max Case for $11.99 here.
5. OTOFLY iPhone 15 Pro Max Case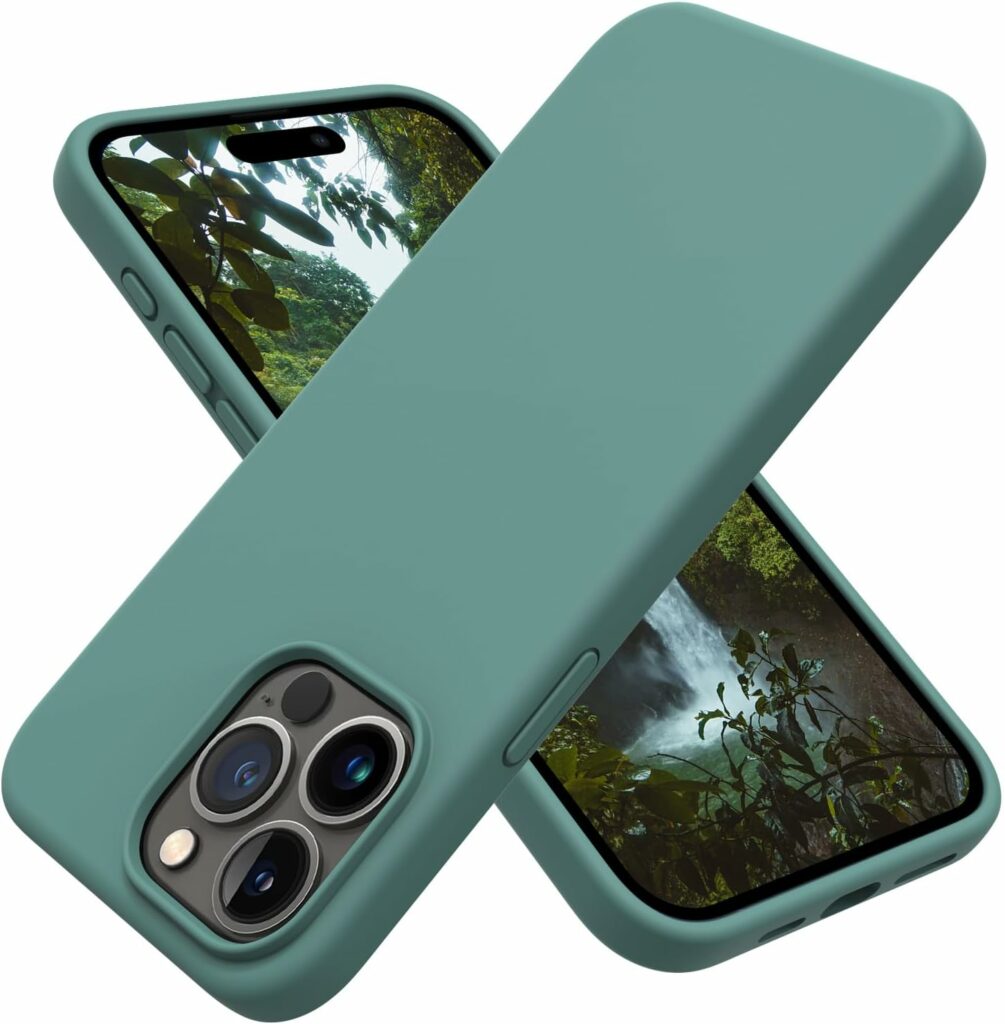 The Otofly silicone case is the perfect companion for your sleek gadget. Not only does it support wireless charging, but it also adds a pop of color to match your daily style. With a whopping 18 color choices, you can switch it up as often as you change your socks – or maybe even more frequently!
It's made of premium liquid silicone and coated with nano magic. It offers a smooth hand feel that'll have you caressing your phone more than you'd like to admit. Plus, it's anti-smudge, so you can indulge in those snacks without leaving greasy fingerprints all over your precious device.
This case isn't just about looks and feel; it's a champ in the protection department, too. We're talking 1.3 mm raised lips that play a superhero, guarding your screen and camera against drops, cracks, and even those pesky surface scratches.
Buy OTOFLY Compatible with iPhone 15 Pro Max Case for $12.99 here.
6. Miracase Designed for iPhone 15 Pro Max Case
Miracase iPhone 15 Pro Max phone case is a real game-changer! This bad boy is not only compatible with MagSafe chargers and other cool accessories, but it's also as smooth as butter with its soft silicone material. No more annoying fingerprints ruining your phone's sleek look. Plus, it's practically scratch-resistant, and cleaning it is a breeze.
With a super-strong 0.33mm tempered glass screen protector included, your phone is practically invincible. Say goodbye to those pesky scratches, scrapes, and bumps – they don't stand a chance!
And the best part? You won't have to fumble around for buttons or worry about missing calls. All your ports, controls, and sensors are easily accessible, and the buttons are super responsive.
Buy Miracase Designed for iPhone 15 Pro Max Case for $11.49 here.
7. GONEZ iPhone 15 Pro Max Silicone Case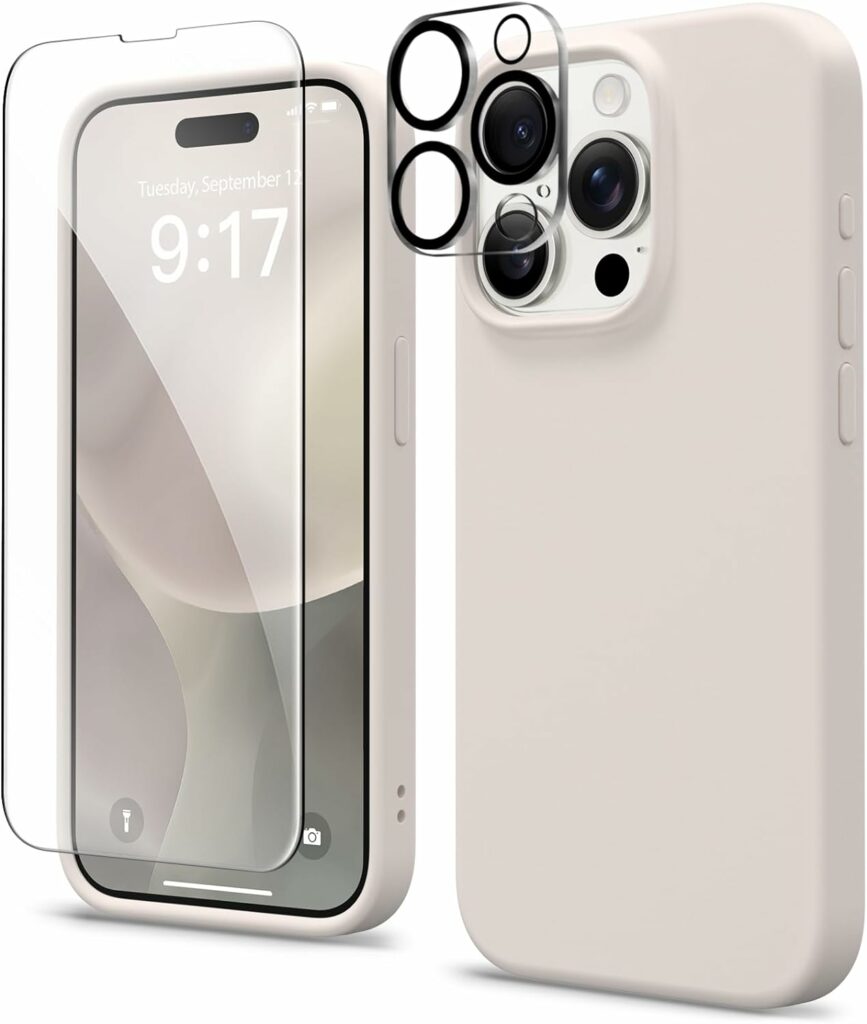 Check out this cool iPhone 15 Pro Max 6.7 inch 5G case for the 2023 release! It's not just a pretty face; it's also got your back when it comes to wireless charging. Plus, it comes in over 20 fashionable colors to match your phone's style and add a pop of color to your life!
But that's not all – this case goes the extra mile in protecting your precious device. You'll get 3 tempered glass screen films and 3 camera lens protectors in the package. They're a breeze to put on and won't leave you with any annoying bubbles.
And when it comes to functionality, this case doesn't miss a beat. All your buttons, switches, and features are easily accessible with a sensitive touch. Plus, it's got raised lips to keep your screen and camera safe from scratches without getting in the way of your wide-angle camera or flashlight. It's a win-win for your phone and your style!
Buy GONEZ iPhone 15 Pro Max Silicone Case for $12.99 here.
8. Aeska Clear Case for iPhone 15 Pro Max Ultra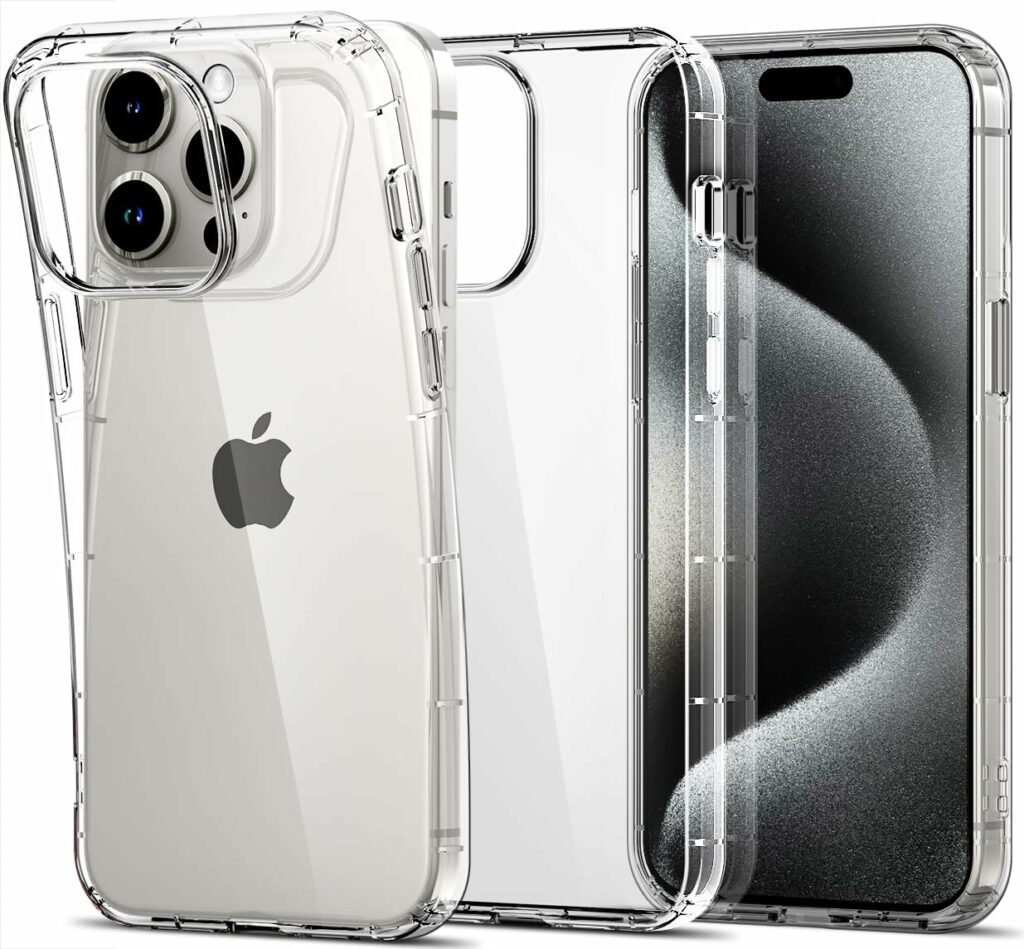 This case is like a chameleon – it's crystal clear and lets your phone's original color and design shine through. The vertical bumper interior design is like a personal bodyguard for your phone, ready to take on falls and scratches like a pro.
We're talking about top-notch quality here. It's made from smooth, high-quality, tough, yet flexible TPU material that laughs in the face of dirt and stains. Slip it into your pocket with ease – it's slim and offers a solid grip while keeping your phone safe, all without adding any extra bulk or getting all slippery on you.
But here's the real magic – it's shock-absorbent and scratch-resistant. Say goodbye to those dreaded bumps and scratches! It even reinforces those vulnerable corners and adds some side grips for extra control.
Buy Aeska Clear Case for iPhone 15 Pro Max Ultra for $9.88 here.
Go Silicone!
In a world full of phone case options, it's clear that silicone cases for the iPhone 15 Pro Max still reign supreme in 2023. With their sleek design, durability, and unbeatable protection, they're the ultimate companions for your cutting-edge device.
Whether you're all about style, substance, or a perfect blend of both, these cases have you covered. So go ahead, grab any of the above-mentioned silicone slim cases for iPhone 15 Pro Max, and keep your iPhone 15 Pro Max looking fly while staying safe – because in 2023, it's clear that silicone is the way to go!