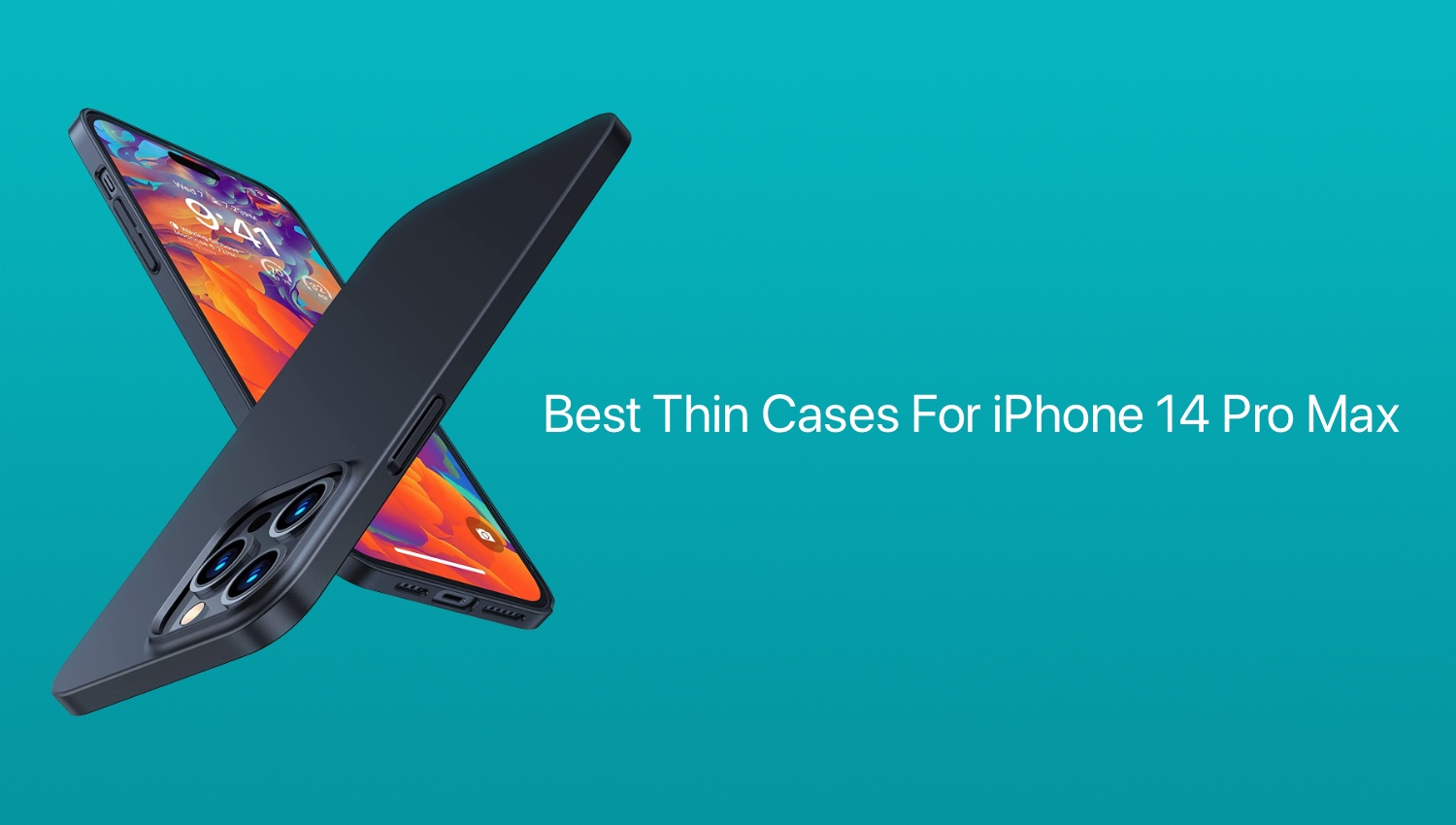 There's nothing like the look of your new iPhone to make you feel happy. However, to avoid regrets later in life, you need to protect your newly bought device. The problem arises when you add anything extra to your iPhone it becomes bulky.
This is why we are here with the list of the best thin cases for iPhone 14 Pro Max. Unlike most slim cases, the listed-below iPhone 14 Pro Max thin cases offer maximum protection.
More iPhone 14 Pro Max cases to consider:
Must-Buy iPhone 14 Pro Max Thin Cases in 2023
Lucky for you, in searching for the best thin cases for iPhone 14 Pro Max, we found a few that promise to protect your phone from drops and have additional safety features.
Check out the iPhone 14 Pro Max cases below if you just bought an iPhone 14 Pro Max.
1. PEEL Ultra-Thin iPhone 14 Pro Max Case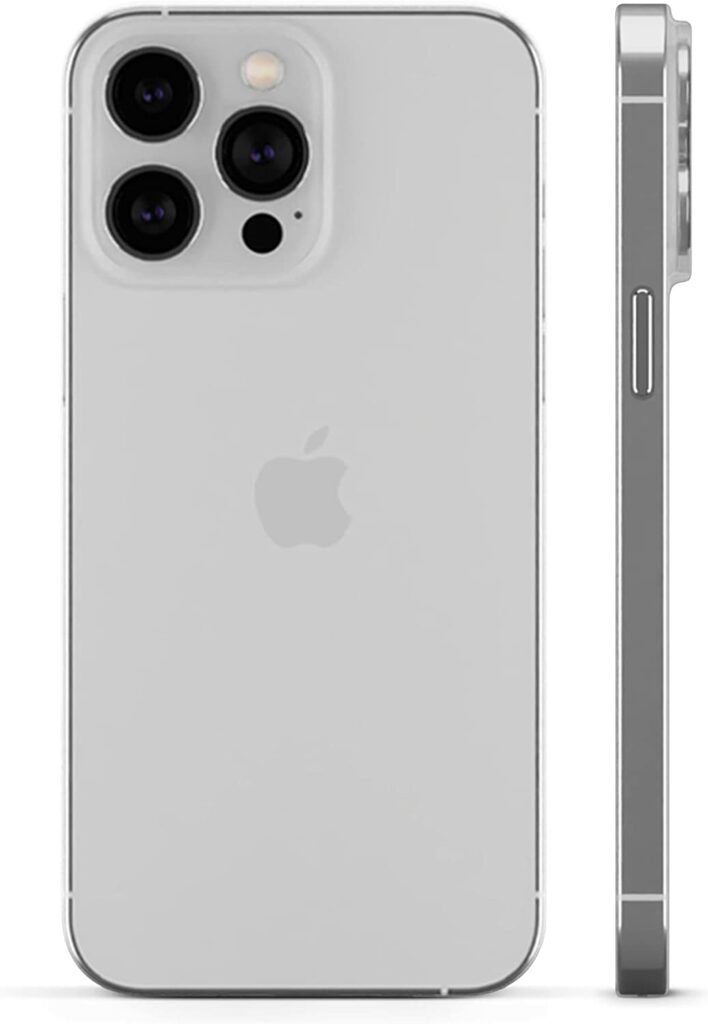 Designed at just 0.35mm, PEEL's original ultra-thin case is the first of its kind. The case keeps the original look of your iPhone 14 Pro Max while providing the protection your device needs every day.
The cover wraps seamlessly around your phone without any PEEL logos or branding. You won't even realize that your iPhone 14 Pro Max has a case on it.
The case not only protects your iPhone but also keeps your device in pristine condition. These cases are designed to prevent scratches, dents, and more!
There's a subtle lip that shields your camera lens. For maximum edge-to-edge protection, pair the case with a PEEL screen protector.
Buy PEEL Ultra Thin iPhone 14 Pro Max Case for $39 here
2. TORRAS Slim Fit Case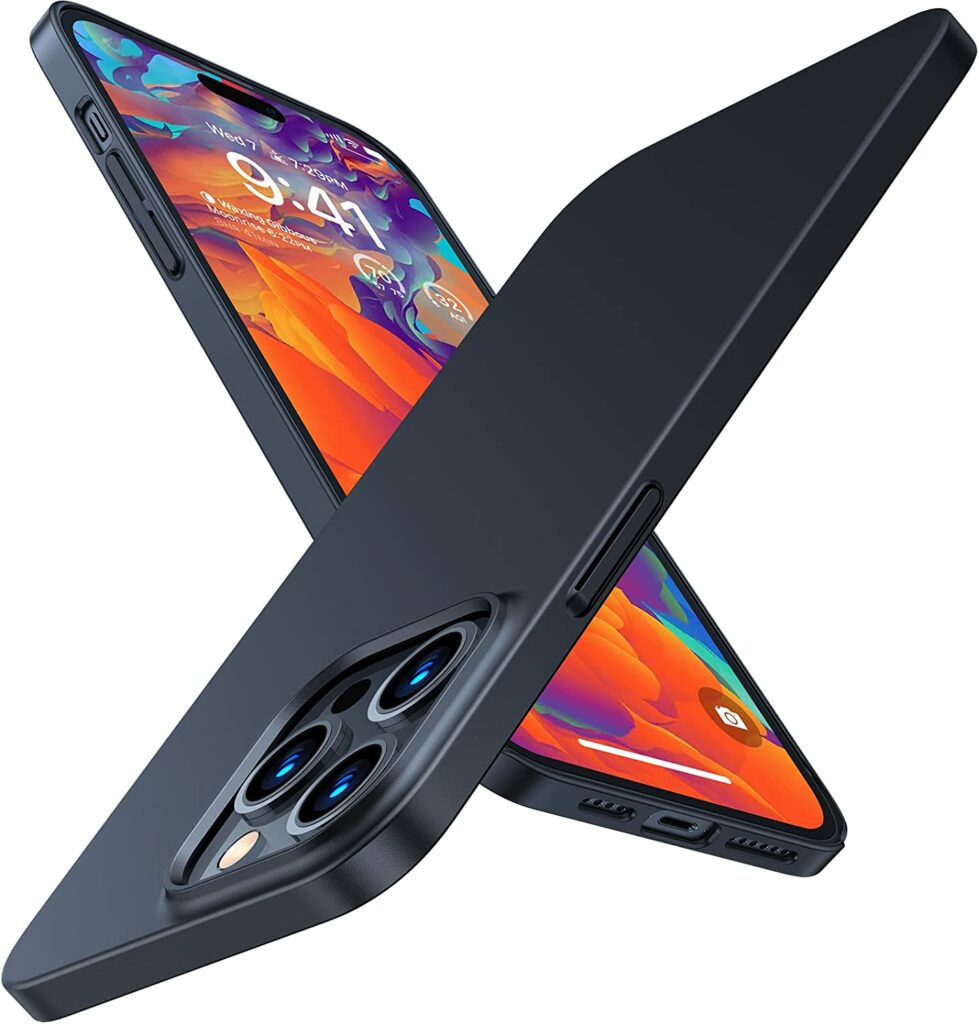 It weighs only 0.65 oz and measures only 0.03 inches thick, making it the thinnest TORRAS iPhone 14 Pro Max case. In addition to being lightweight and easy to slide into and out of your pocket, the slim case for iPhone 14 Pro Max maintains the classic iPhone shape and is easy to hold. The ergonomic design of this iPhone 14 Pro Max case will prevent wrist pain even if you use your phone for long hours.
The advanced nano-coating provides a soft yet sturdy grip, making the iPhone 14 Pro Max easy to hold with one hand without losing grip. Matte black cases resist fingerprints, scratches, lint, and even pet hair, unlike silicone cases.
You don't have to worry about accidental drops, dents, or scratches. There are raised screen edges of 1.0mm and raised camera bezels of 1.2mm to provide your phone with edge-to-edge protection throughout the day.
Designed specifically for the iPhone 14 Pro Max, this slim case fits your phone snugly without causing it to loosen and protects it at all times. What's more, using wireless charging technology is simple and convenient thanks to the snug fit and precise cutouts.
Buy TORRAS Slim Fit Case for $18.99 here
3. Spigen Thin Fit Case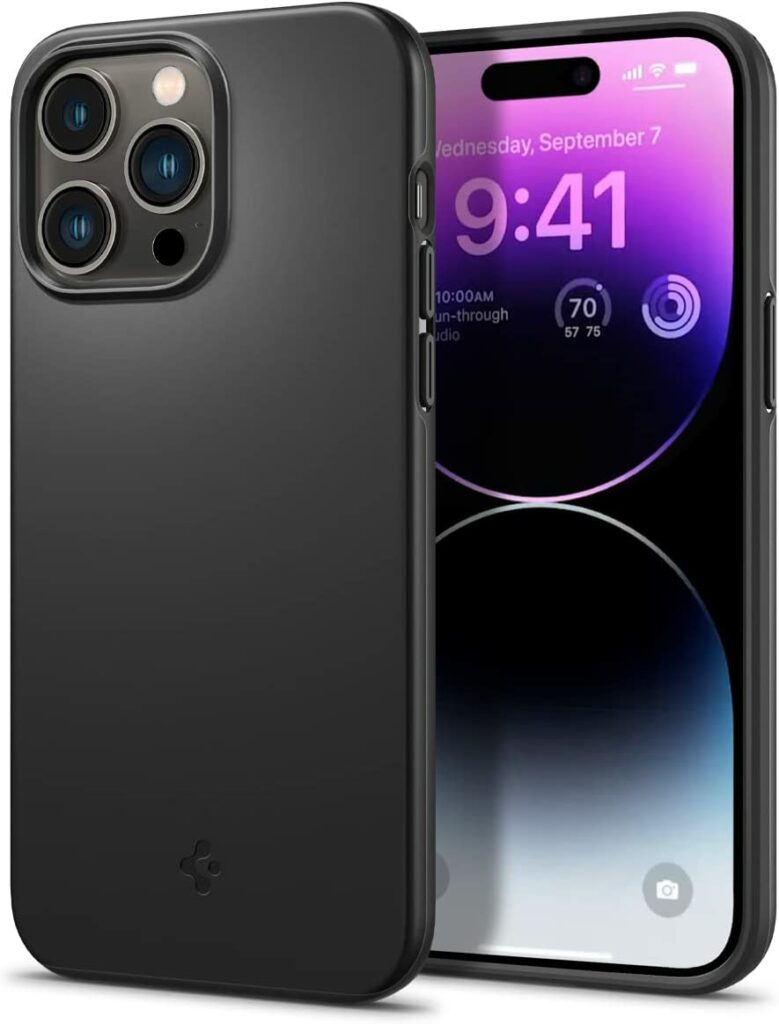 Spigen is one of the best when it comes to providing high-quality iPhone cases at a reasonable price. We have added this case to our list of best thin cases for iPhone 14 and 14 Pro because they did not disappoint us this time either.
The combination of PC and TPU, as well as Air Cushion Technology, contributes to a slim and durable design. The phone case also features a scratch-resistant PC that makes it lightweight and convenient to carry.
You will fancy the minimal design approach that Spigen has come up with. Precision cutouts ensure seamless accessibility and original click response.
Due to its slim design, it can also be mounted on any MagSafe accessory.
Buy Spigen Thin Fit Case for $16.99 here
4. JETech Upgraded Slim Case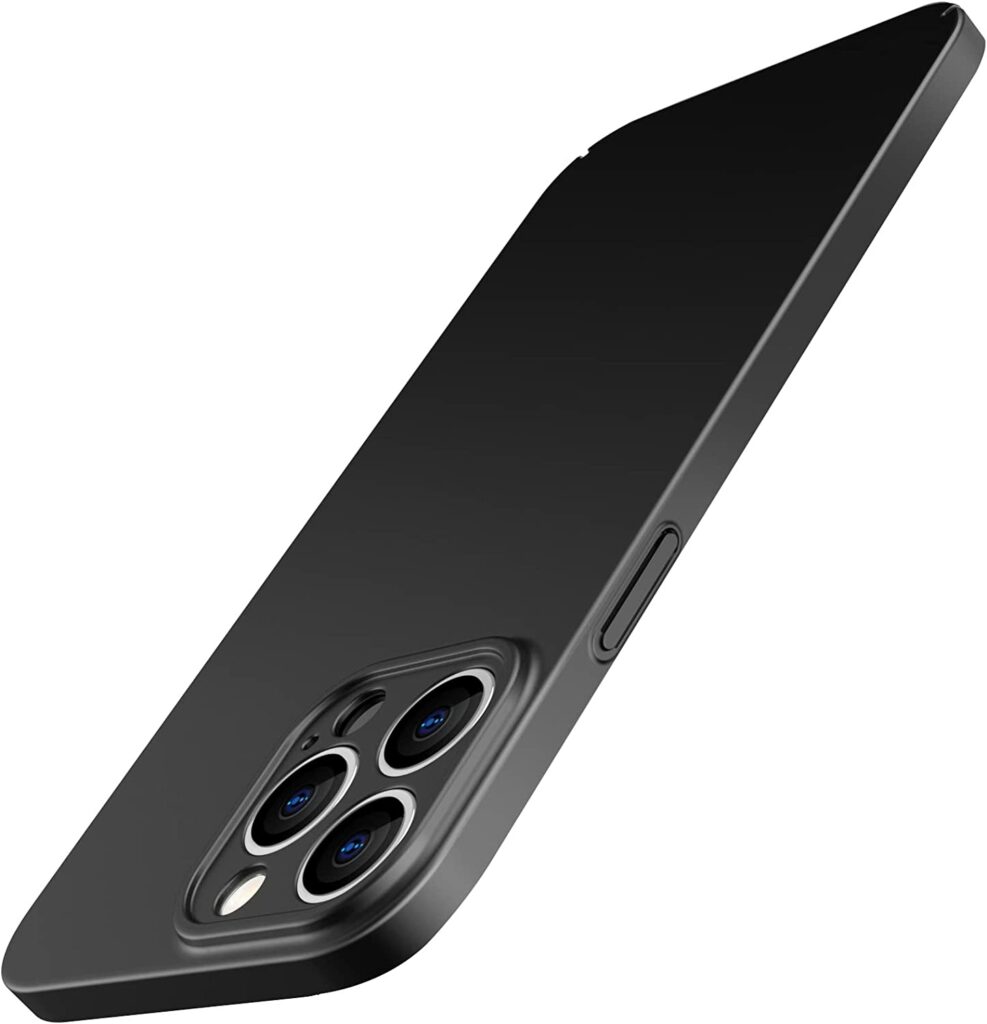 The case is exclusively designed to fit iPhone 14 Pro Max 6.7 inches, and it has a thickness of just 0.03 inches/0.85mm so that you can maintain the original feel of using your phone.
Raised edges around the screen and camera provide additional protection for the camera lens. Furthermore, the modern matte finish feels silky to the touch, is comfortable to grip, and resists fingerprints effectively.
The PC material provides the necessary protection without adding any bulk. You can easily carry it around with you in your pocket. Also, there are precise cutouts that ensure full access to the camera, speakers, buttons, and other ports on the device.
All in all, it also supports wireless charging.
Buy JETech Upgraded Slim Case for $5.99 here
5. Dataroad Slim Case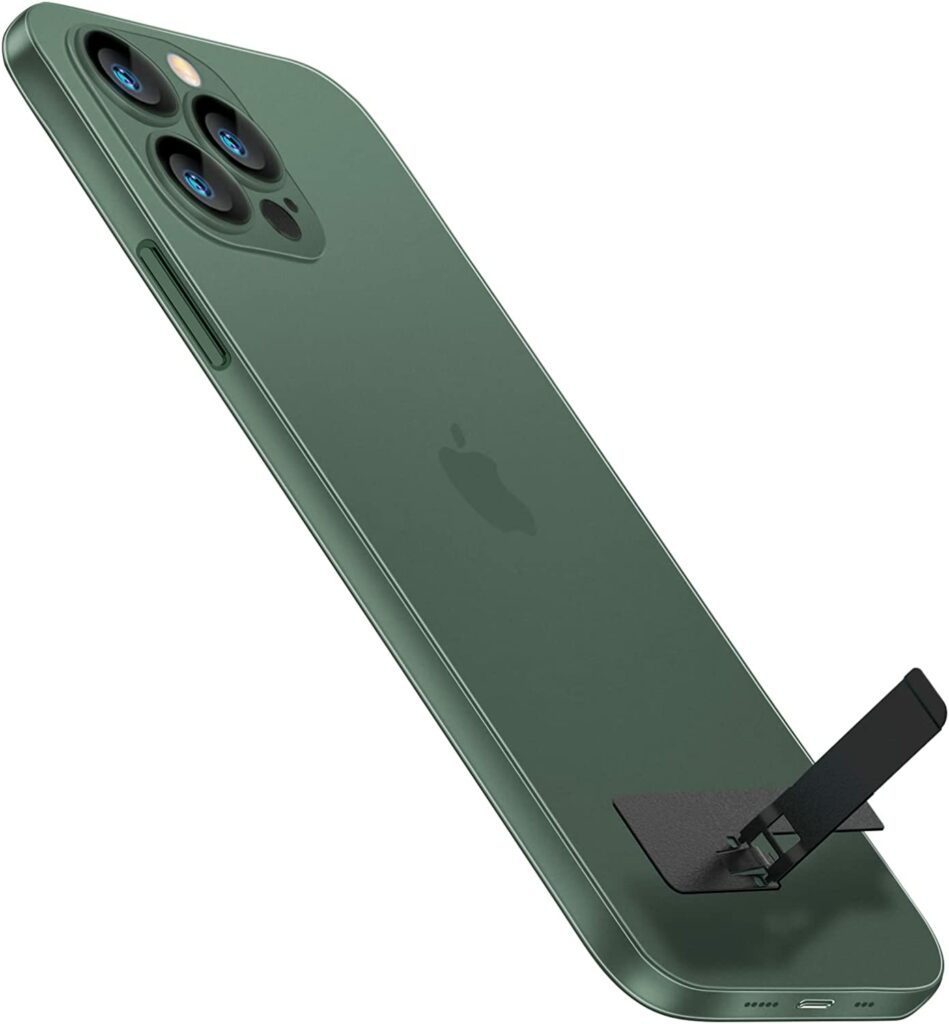 You will only find 0.2 inches and 0.25 ounces of weight, bringing back the original feel and look of the iPhone 14 Pro Max.
Designed for iPhone 14 Pro Max, this thin phone case safeguards the lens against damage and keeps dust at bay. All ports are easily accessible thanks to precise cutouts that do not interfere with the operation of the camera or flash.
With an additional 0.3mm camera lip and 0.3mm screen bezel, you get more comprehensive protection.
This case comes with a high-quality metal kickstand, which you can mount according to your preferences. Slim Kickstand is sturdy and flexible enough for conference calls, portraits, and landscapes.
Since it is only 0.02 inches thick and weighs only about 5 grams, it will not interfere with any of your iPhone 14 Pro Max's features, such as Magsafe, wireless charging, or car mounting.
Buy Dataroad Slim Case for $11.99 here
6. X-level Slim Fit Ultra-Thin Case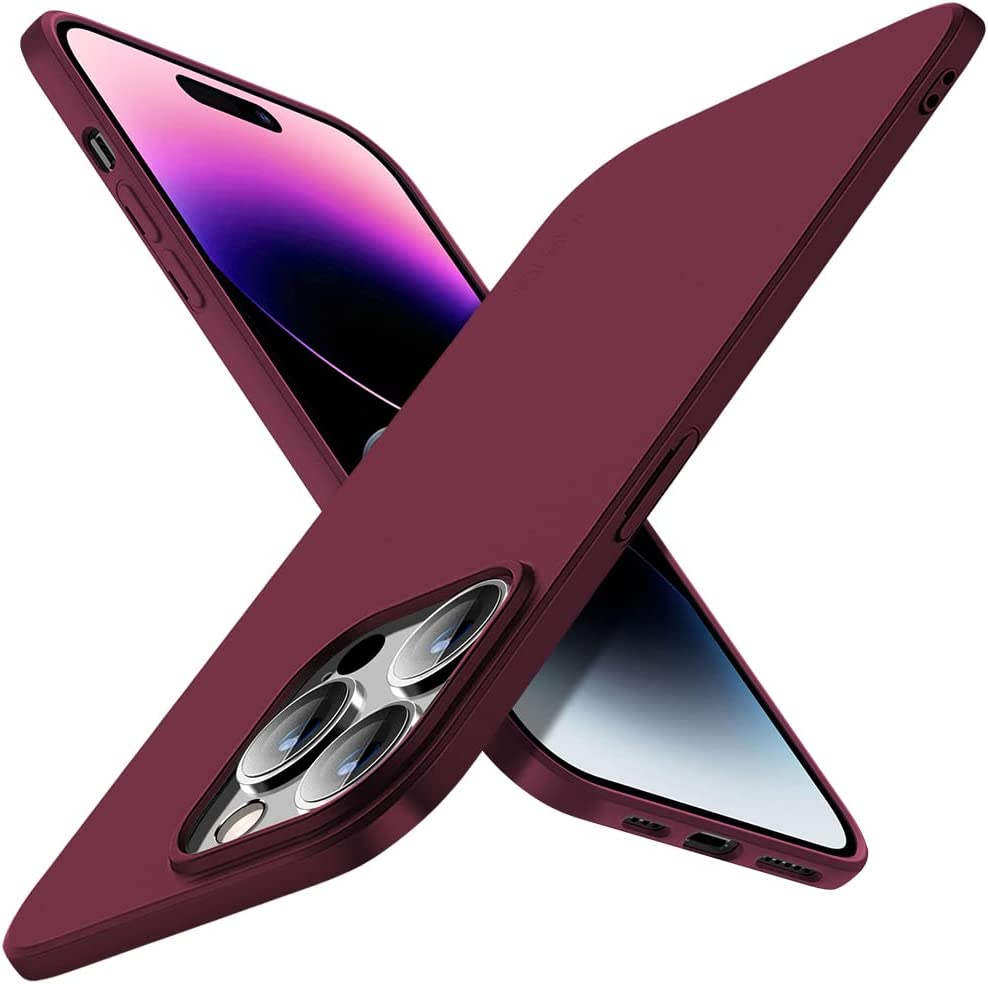 With X-level Slim Fit Ultra-Thin Case, you can keep your phone's original radian without adding bulk. Although thin enough, it does not interfere with wireless charging Qi, but it keeps your phone safe and gives you an excellent grip.
The iPhone 14 Pro max case is made of a soft material that makes it easy to wear and remove. A smooth texture makes holding the case feel like touching a baby's skin. As opposed to other liquid silicone cases, this one would not attract much dust.
This case fits your iPhone perfectly and fits closer to the 3D screen protector because of the raised edges. The camera, flash LEDs, speakers, and Lightning port are well aligned, as are the buttons.
Buy X-level Slim Fit Ultra-Thin Case for $11.99 here
7. memumi Ultra-Thin Case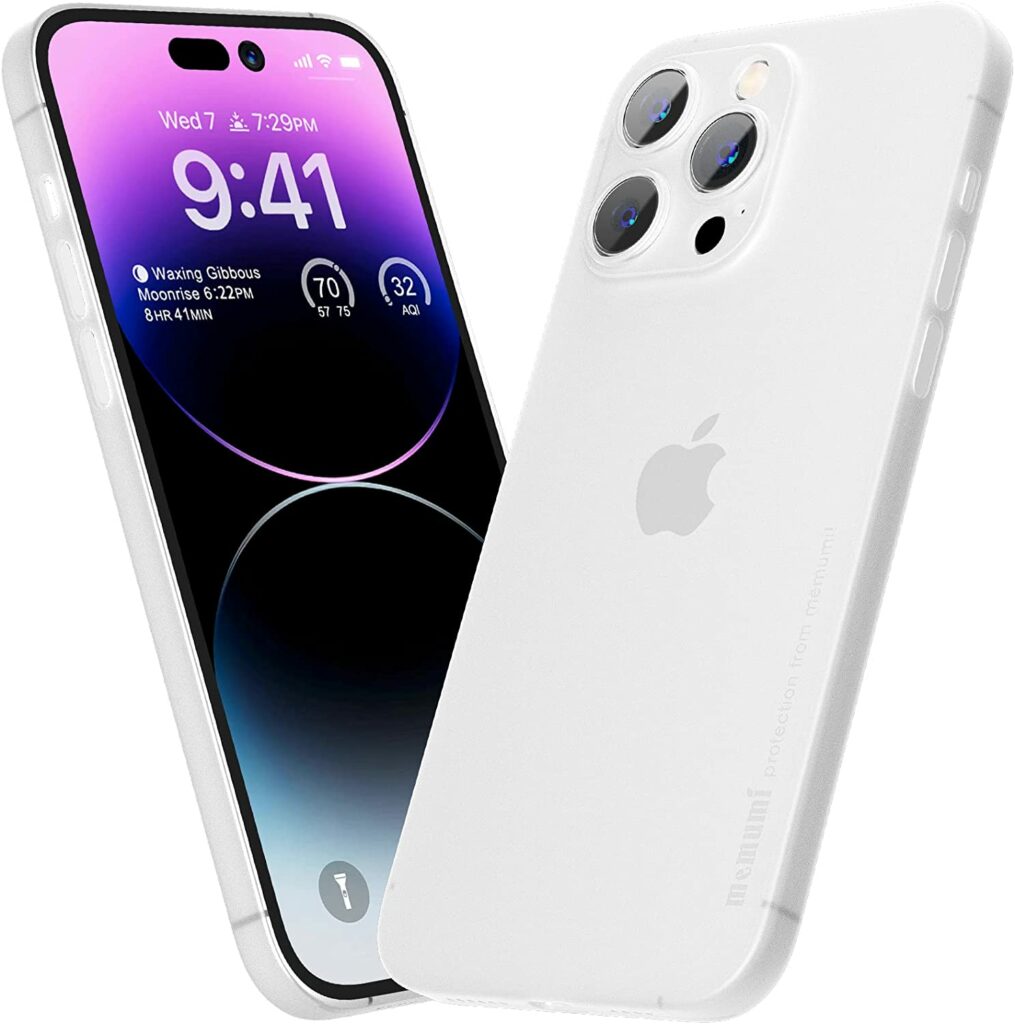 The MEMUMI Ultra Slim Case measures only 0.3 mm thick, weighs only 6 grams, and is as thin as paper. The case is almost weightless and feels like you don't even have a case on. It is the perfect fit for minimalists looking for a minimal phone case.
A raised camera lip prevents your camera from rubbing against flat surfaces. The camera lens has full coverage to keep it dust-free, and the screen edges are raised to prevent scratches.
The polypropylene (PP) semi-soft material process is easy to clean, reduces scratches, and never leaves fingerprints on the case. With a matte finish, you can expect a smooth, comfortable grip and a pocket-friendly design.
With precise cutouts for the camera, speakers, buttons, and other ports, this slim case for iPhone 14 Pro Max work like a charm with wireless charging and a magnetic wallet.
Buy memumi Ultra-Thin Case for $14.99 here
8. Dataroad iPhone 14 Pro Max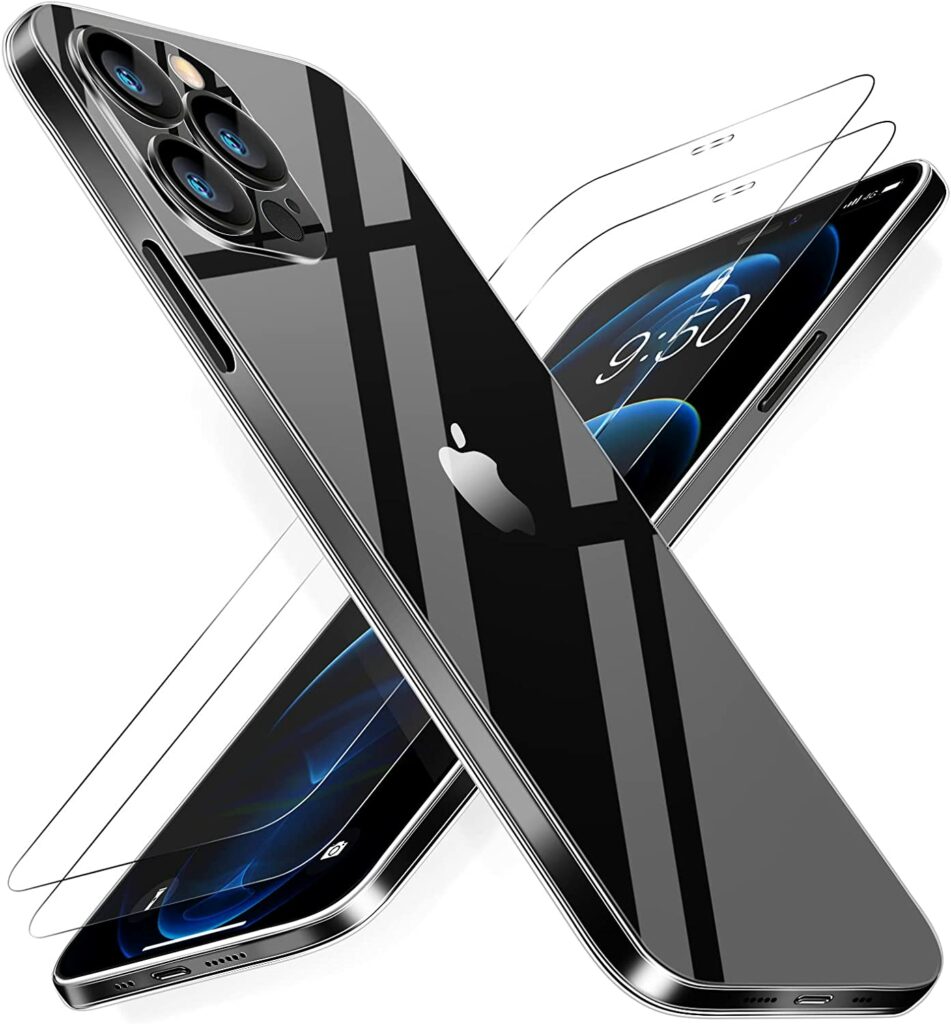 For those looking for ultra-light and slim iPhone 14 Pro Max cases, Dataroad iPhone 14 Pro Max thin case is a great choice. As thin as A4 paper and almost weightless, it is only 0.2mm thick.
With its excellent grip and amazing touch feeling, it offers a great user experience. The case uses nano-coating, which is non-yellowing, anti-scratch, and makes it easier to hold in one hand and slide into pockets.
The screen edges and camera bezels are raised by 0.03 mm to provide all-around protection. Therefore, you won't have to worry about smashed screens, dents, or scratches when you drop the iPhone with the case on.
The case comes with two Tempered Glass Screen Protectors, an arc edge design features an oleophobic coating that resists oils, preventing unwanted fingerprints that may interfere with using your phone. Easy to install and remove.
Buy Dataroad iPhone 14 Pro Max for $16.99 here
To Conclude
All the above-mentioned thin cases offer an ideal combination of aesthetics and protection. All these cases provide excellent protection against everyday damage and scratches, thanks to their sleek designs and slim profiles.
So, extend the life of your iPhone by choosing the right case.
Was this helpful? Let us know in the comments.