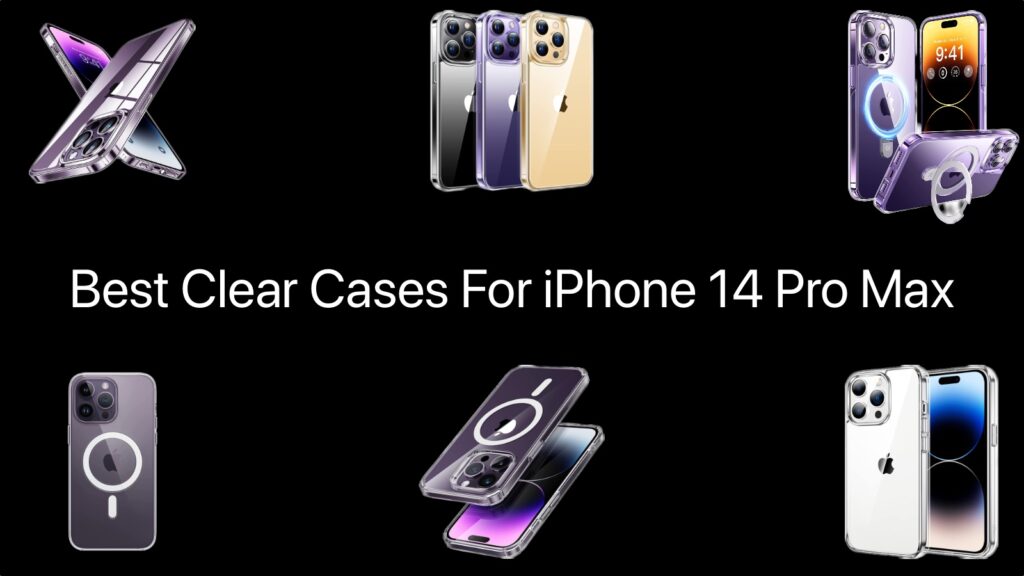 Read on to find the best clear cases for iPhone 14 Pro Max to give your device the maximum protection it asks for.
With the iPhone 14 Pro Max, you get what you pay for. A larger 6.7-inch screen, along with the upgraded Dynamic Island interface, makes this iPhone 14 Pro better than ever. However, you will need a phone case to protect your smart device. Whether your phone bumps around in your pocket or purse or is in danger of slipping out of your hand, you won't need to be worried.
We've listed some of the best clear case for iPhone 14 Pro Max with MagSafe for you. There is likely to be one that meets your needs perfectly since they all come with unique features.
So, put the highest quality clear case on your iPhone 14 pro max and continue to flaunt the original beauty of the gadget. 
Best Clear Cases for iPhone 14 Pro Max
Here are some of the best clear cases made for iPhone 14 Pro Max that you should buy in 2023.
1. Apple iPhone 14 Pro Max Clear Case with MagSafe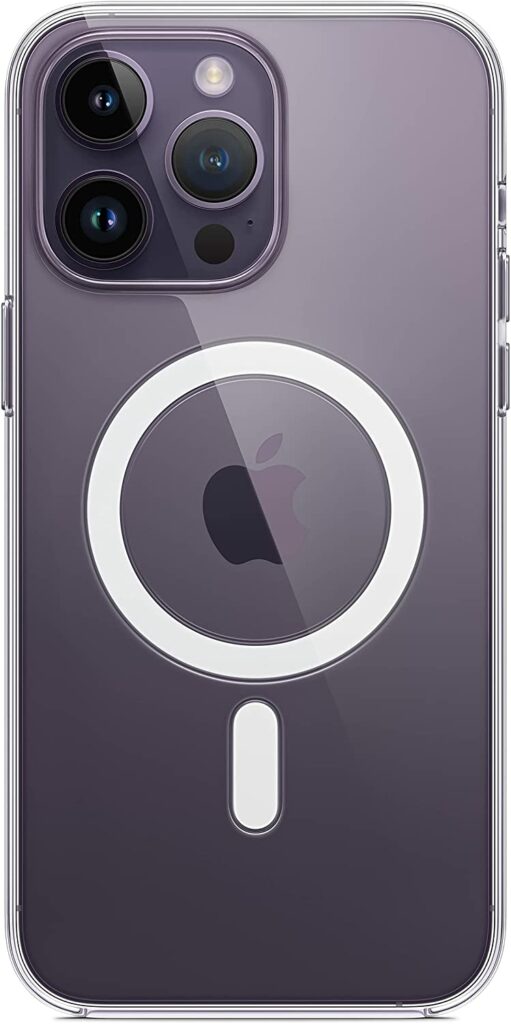 With a thin, light, easy-grip design, this Apple-designed case shows off the stunning-colored finish of the iPhone 14 Pro Max while providing extra protection for your phone.
Designed with optically clear polycarbonate and flexible materials, the case fits over the buttons for easy access. Both the interior and exterior surfaces have been coated with a scratch-resistant coating. Additionally, all materials and coatings are optimized to prevent yellowing.
A magical charging experience is guaranteed with this case, thanks to its built-in magnets that perfectly align with the iPhone 14 Pro Max. You can simply snap on your MagSafe charger or set it on your Qi-certified charger to charge your iPhone without removing the case.
The design and manufacturing processes for Apple-designed cases are subject to thousands of hours of testing. So, not only does it look stylish, but it protects your iPhone from scratches and drops as well.
Buy Apple iPhone 14 Pro Max Clear Case with MagSafe for $37.49 here
2. JETech Case for iPhone 14 Pro Max 6.7-Inch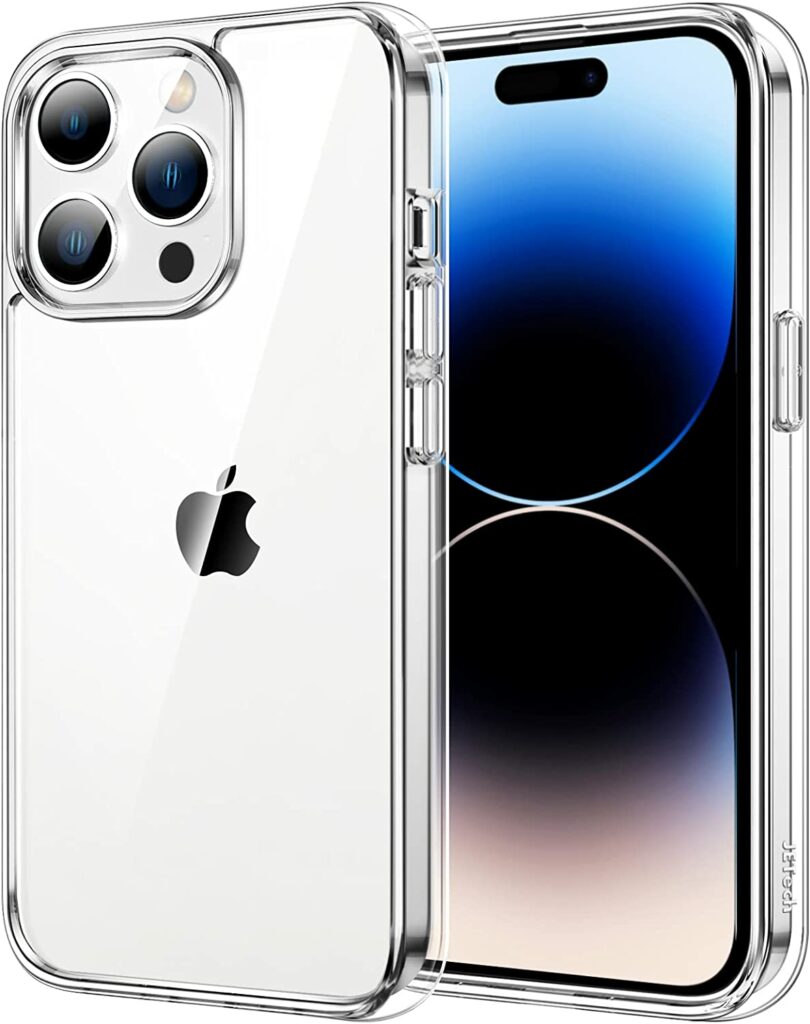 Trying to find an iPhone 14 case that offers the most protection against drops and impacts? Take a look at the JETech Case, whose name alone confirms its 360-degree protection focus. The clear iPhone 14 Pro/Pro Max case is made of recycled impact-absorbing polymer material. A shockproof bumper runs along the edges, while soft cushion corners protect your phone from nasty impacts.
The bumpers don't just provide reliable protection; they also make this JETech case stand out in a sea of transparent cases. In addition, the edges around the screen and camera are raised to prevent scratches and scuffs.
The company boasts about its anti-yellowing technology that protects against UV rays and is compatible with Qi wireless charging.
Buy JETech Case for iPhone 14 Pro Max 6.7-Inch for $5.99 here
3. Spigen Ultra Hybrid (MagFit)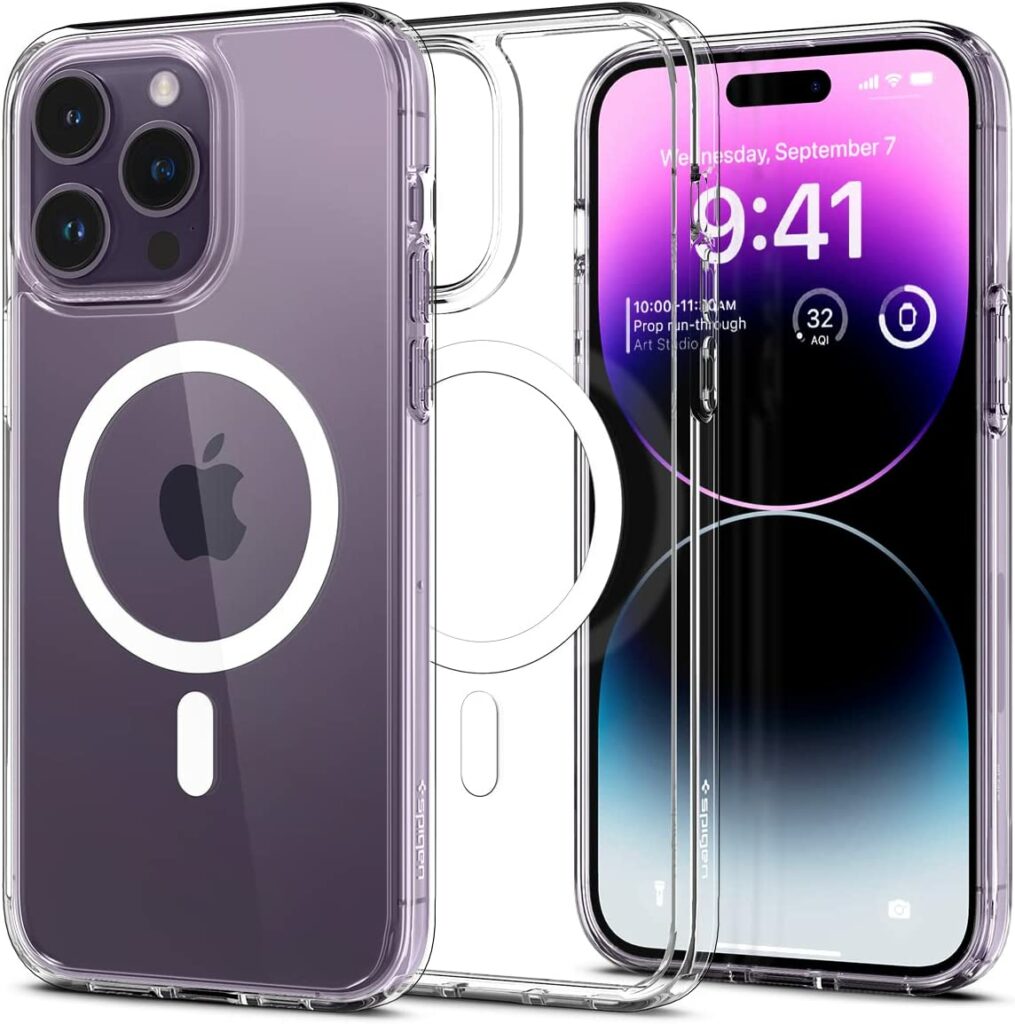 Another excellent clear case you can buy for your iPhone 14 Pro or 14 Pro Max is the Spigen Ultra Hybrid. There is no need to introduce Spigen to Apple users. Evidently, this is one of the most trusted accessory manufacturers that understand the needs of its users.
There are TPU bumpers and polycarbonate back on this cover, much like other covers on this list. It gives you a crystal clear view of the glass back and aluminium edges, and it won't yellow easily.
As for protection, there are air cushions at the corners and raised bezels around the camera cutout and screen. In other words, you can be sure that this case will protect your phone from accidental drops and scratches. In addition, the case is designed with precise cutouts and tactile buttons, and it does not interfere with wireless charging.
Similarly, Spigen's Ultra clear case is also reasonably priced, making it an excellent choice if you don't want to spend a fortune.
Buy Spigen Ultra Hybrid (MagFit) for $24.99 here
4. TORRAS Diamond Clear Designed for iPhone 14 Pro Max Case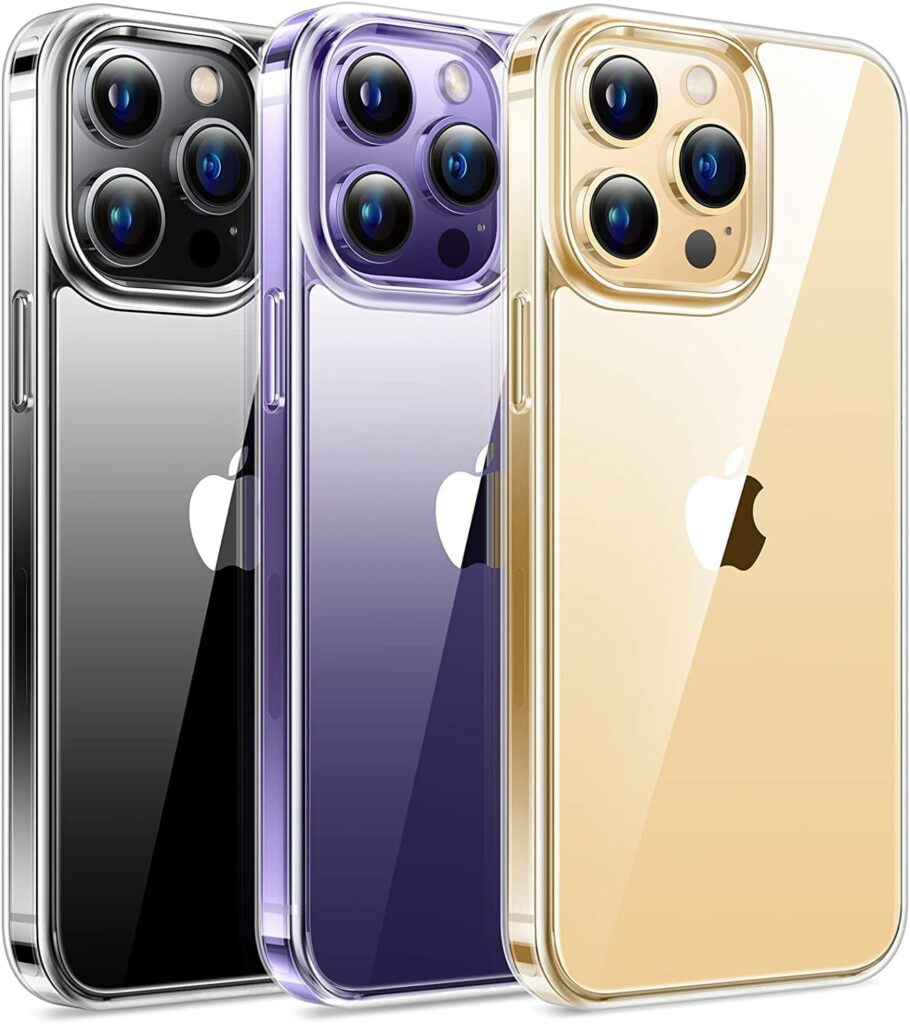 Do you drop your phone often or perform adventure activities with it? A slim clear case may not provide sufficient protection for your iPhone's screen or back in such a case. This is where the TORRAS Diamond case for the iPhone 14 Pro Max comes in.
Featuring exclusive blue-molecule technology and a nano antioxidant coating, this case is 99.9% UV resistant. The iPhone 14 Pro Max case keeps its clarity as good as new even as time passes.
The third generation of X-Shock provides 1.5 times more protection. With a sturdy PC back, this case can withstand shocks up to 50.16 Mpa.
The camera screen is protected by firm lips that are raised 1.5mm to improve its resistance to daily drops and grinds. 30% more cushioning force has been added to the lens airbag.
The soft TPU side provides an exceptional grip as well as a comfortable touch. With the slim iPhone 14 Pro Max case, the phone can easily be slipped into and out of pockets.
Buy TORRAS Diamond Clear Designed for iPhone 14 Pro Max Case for $19.99 here
5. Simtect Ultra Clear Designed for iPhone 14 Pro Max Case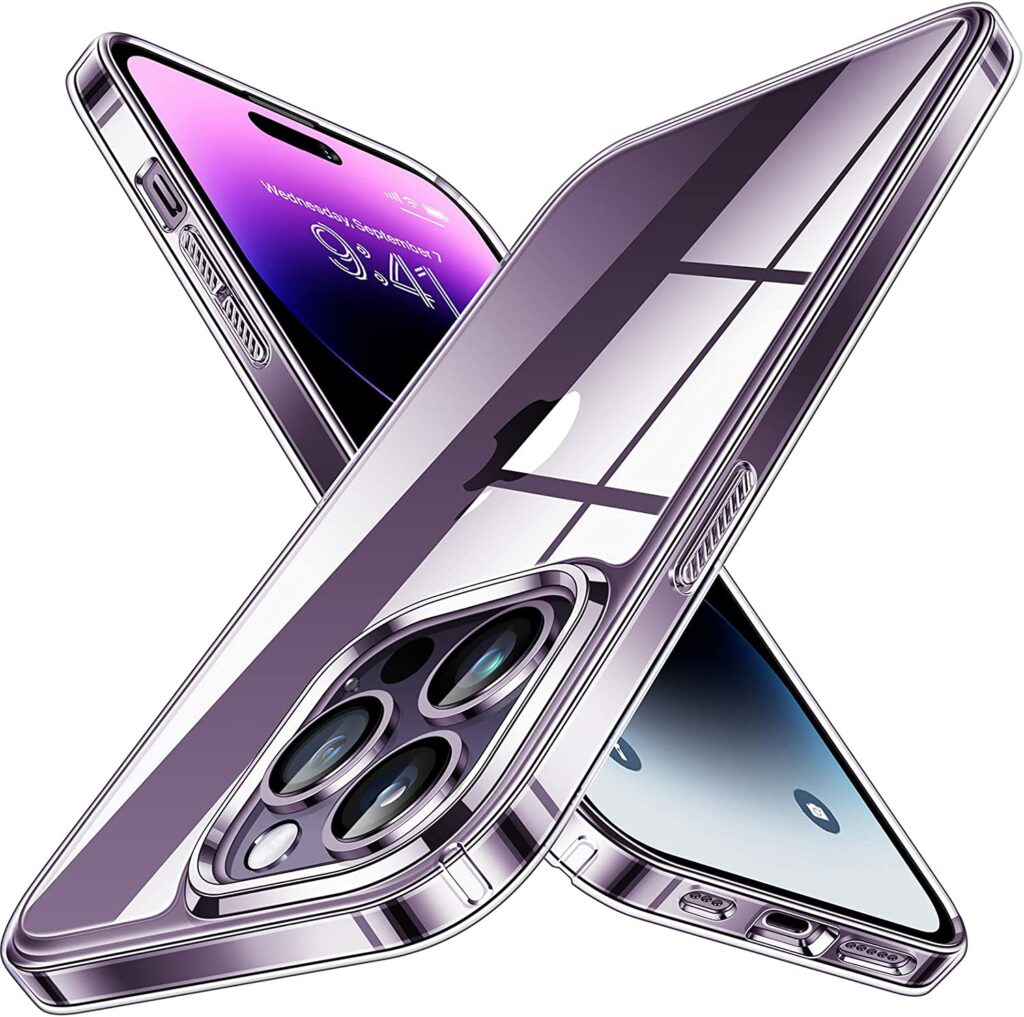 Designed specifically for the iPhone 14 Pro Max, this case is made of premium DE Bayer materials that are ROHS and SGS-certified for safety. The Simtect iPhone 14 Pro Max case uses exclusive micro-dot laser craft and 2% Blu-ray molecular injection to ensure 100% light transmission, which reveals the original color more clearly.
This iPhone 14 Pro Max clear case is crafted with an anti-fingerprint electroplate coating, anti-oxidation coating, and Nano Oleophobic layer, providing long-lasting clarity without yellowing over time, blocking 99.9% of ultraviolet rays, stains, fingerprints, and sweat. It will save you money since you won't have to replace transparent cases as often.
The raised bezel protects the screen and camera from scratches and friction. A 2.5 mm raised camera bezel and a 1.2 mm raised screen bezel ensure an additional level of protection. As a bonus, the backboard is made of rigid anti-scratch polycarbonate.
Buy Simtect Ultra Clear Designed for iPhone 14 Pro Max Case for $19.99 here
6. ESR Krystec Clear Case with HaloLock Compatible with iPhone 14 Pro Max Case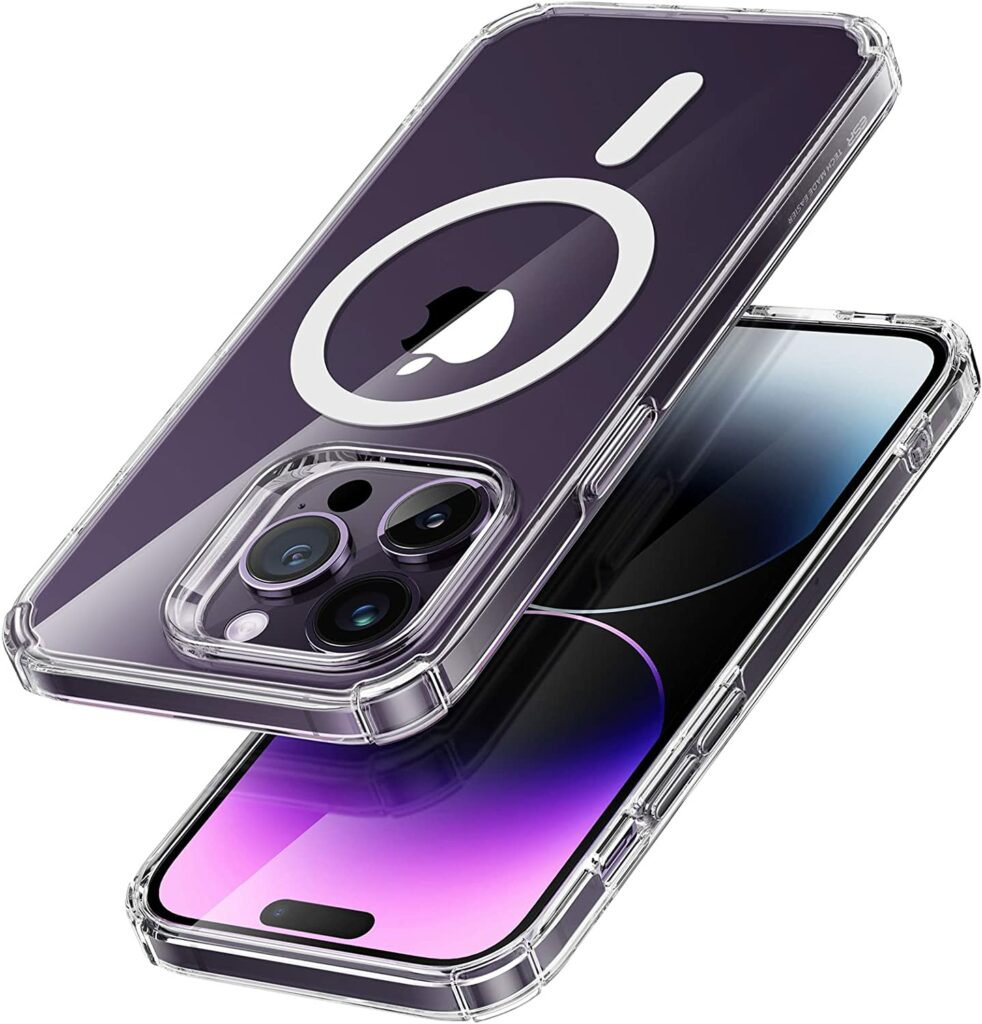 Featuring a Magnetic Lock that offers powerful magnets with 1,500g of holding force, this case enables wireless charging on the go and secures any HaloLock or MagSafe accessory.
You won't have to worry about your phone yellowing, because this case is made almost entirely from ultra-clear polycarbonate, which is the strongest and clearest material available.
Through shock-absorbing corners and a polymer bottom edge, the case provides powerful 360° protection from drops and bumps. Raised screen edges and Camera Guard lens frames prevent scratches as well.
The thin coating of polymer around the sides enhances shock absorption and gives you a better, firmer grip.
Designed exclusively for iPhone 14 Pro Max; precise speaker and port cutouts and easy-press polycarbonate buttons ensure full phone functionality.
Buy ESR Krystec Clear Case with HaloLock Compatible with iPhone 14 Pro Max Case for $24.99 here
7. CASEKOO Magnetic Clear for iPhone 14 Pro Max Case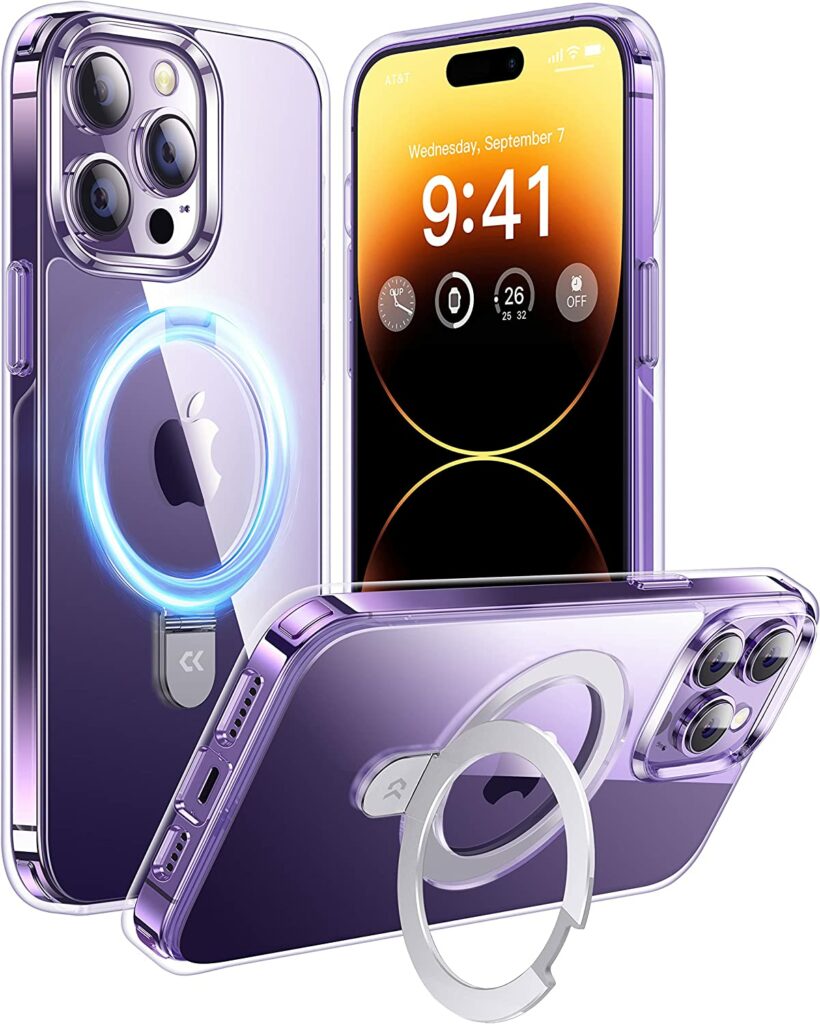 It took the CASEKOO R&D team 365 days and 46720 debugging hours to create the MagicStand. The idea is to create a portable, easy-to-use accessory that simplifies your life, enabling you to move anywhere and live life at the moment—with a magnetic ring, stand, and more—all embedded in a minimalist clear case iPhone 14 Pro Max.
A permanent magnet will help you level up your MagSafe. A powerful magnet holding force of 2400g guarantees 200% higher adsorption than bare phones or MagSafe cases, ensuring secure attachment to all MagSafe-style accessories and true power in an instant. A precise alignment of the design achieves a fast and safe charging experience with a 1:1 maximum output.
By utilizing a filter-fill-reclear system, ClearPrime Ecosystem offers the most advanced anti-yellowing technology available. Patented Premium Material CRYS-GEL resists 99.9% of yellowing caused by ultraviolet rays and sweat, keeping your iPhone bright and clear as if it were DAY 1.
Buy CASEKOO Magnetic Clear for iPhone 14 Pro Max Case for $34.99 here
When All is Said
You can now buy the most reliable clear cases for iPhone 14 Pro and iPhone 14 Pro Max to ensure protection. From thin or grip cases to rugged cases with sturdy edges and reinforced corners, you can choose from a variety of different case types. It's safe to say that everyone will find something to like on this list.
Can you suggest any reliable clear cases for the iPhone 14 Pro series? Feel free to let us know in the comments section, and we'll take a look at it.