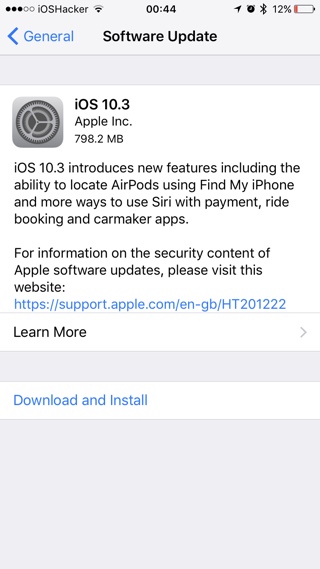 Apple has released iOS 10.3 software update for iPhone, iPad and iPod touch and it is now available for download. The update is available through multiple download sources including over-the-air, iTunes as well as direct IPSW, download links to which are given below. iOS 10.3 mainly focuses on improvements however a number of new features have been introduced in this release.
One of the notable features include the addition of Find My AirPods feature, which has been added to Find My iPhone app. This feature allows AirPods users to locate their headphones in case they lose them. Another new feature added in this update is Apple File System (APFS), which is essentially a new files system for the operating system that will allow better security. The only difference for users with the introduction of this new feature is that it will free up some space for the users since the size of iOS system files will be reduced.
Other minor features introduced in this update include reduce motion support for Safari, a dedicated Security section in Settings, Siri support for Cricket events and scores, new widget for Podcasts app, 3D Touch support to view Weather data in Maps app, quick access feature for CarPlay status bar allowing access to Media, Communication and Travel apps and new Music shortcuts and a new Up Next screen.
Direct Download Links for iOS 10.3 for iPhone, iPad and iPod touch
Download iOS 10.3 for iPhone
Download iOS 10.3 for iPad
Download iOS 10.3 for iPod touch