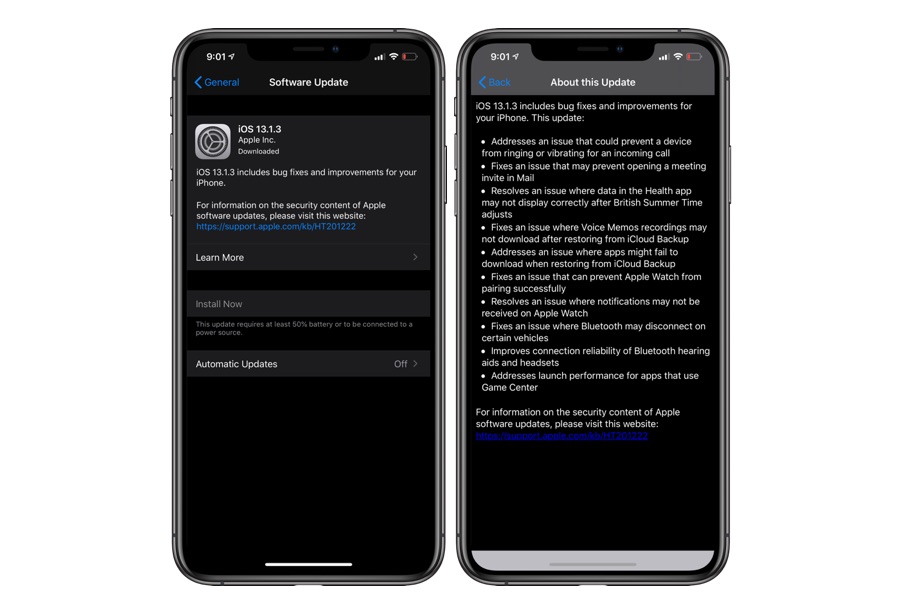 Apple has recently released iOS 13.1.3 and iPadOS 13.1.3 software updates. Both operating systems are now available on iOS 13 compatible models of iPhones, iPad and iPod touch. If you have not updated to iOS 13.1.3 already, then you can do so by going to Software Update section of your device.
Alternatively, you can use the direct IPSW download links for iOS 13.1.3 and iPadOS 13.1.3 for your device and use Finder on Mac, and iTunes on Windows to clean install iOS 13 on your device.
iOS 13.1.3 as you would expect is a minor software update that brings a number of bug fixes and improvements to the devices.
Among the bugs that have been fixed in this release is the issue that caused the device to not ring or vibrate during an incoming call. The update also fixes the issue that prevented users from opening meeting invite in Mail, it solves the issue that prevented the Health app from displaying correct data after British Summer Time adjustment and fixes the bug that caused voice memos to not download after an iCloud backup.
That's not it as iOS 13.1.3 and iPadOS 13.1.3 also solve the issues related to Apple Watch that prevented the Watch to pair successfully and caused notifications to not appear on the Apple Watch. Other fixes improve Bluetooth reliability on vehicles, hearing aids and headsets. Lastly this update improves launch performance for apps that use Game Center
Download iOS 13.1.3 IPSW for iPhone
Download iPadOS 13.1.3 IPSW for iPad