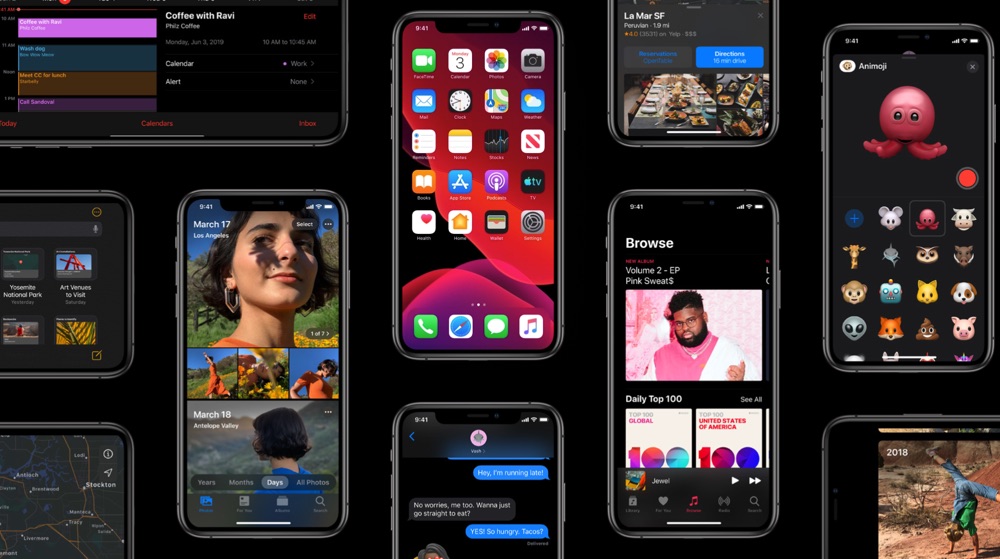 iOS 13 finally brings the dark mode to iPhones. The new dark mode feature can be easily activated through the Control Center or at a user specified time through out the day. There are many benefits to having the dark mode feature on iOS and no we are not talking about how beautiful the interface looks. In addition to being easier on the eyes in darker environments, a dark user-interface also contributes to increasing the battery life of a device, especially on OLED screen devices such as the iPhone X, XS and XS Max.
Currently iOS 13 dark mode feature is limited to stock apps and various sections of the operating system, while many third-party apps like Twitter, Reddit, YouTube and Facebook Messenger have been offering optional dark modes even before Apple's announcement. More apps are expected to follow soon as dark mode has now become a system feature, with future apps also expected to have the ability to automatically switch to dark themes while system dark mode is activated.
Coming back to dark mode's benefits to iPhone's battery life, having the dark mode enabled at all times can significantly reduce the power consumption of your OLED iPhone and result in iPhone's battery lasting longer. This happens because the OLED screen found on some iPhone models is capable of displaying the true black color by turning off individual pixels. When screen has to display content that is predominantly black, a large part of the screen is simply turned off while the part displaying other colors stays on. This results in lower power usage since a section of the screen is off and not using any power. Now imagine using a text heavy application such as the Mail app in dark mode, while the dark mode is on. In most cases you will only have text on the screen while about 80-90% of the display will be black. This would mean this huge portion of the screen is not using any battery while you are getting a richer looking black color on your screen.
This of course is different than LCD panels found on iPhone XR or all current models of iPad, which cannot display true black by simply turning off part of the screen meant to display the black color, as with LCDs the whole display is on at all times and the black you see on the screen isn't the screen turned off but a simulated version of the black color.
Dark mode's benefits have been detailed in a Google study that reveals an OLED device running on dark mode uses more than 60 percent less battery than the same device running on light mode. Their test was conducted on Google Pixel, which has an AMOLED display however similar results can be expected from OLED based iPhones with iOS 13 dark mode. Interestingly the benefits were limited to OLED devices, as Google conducted the same test on LCD equipped iPhone 7, which didn't show any difference in power consumption on dark or light modes.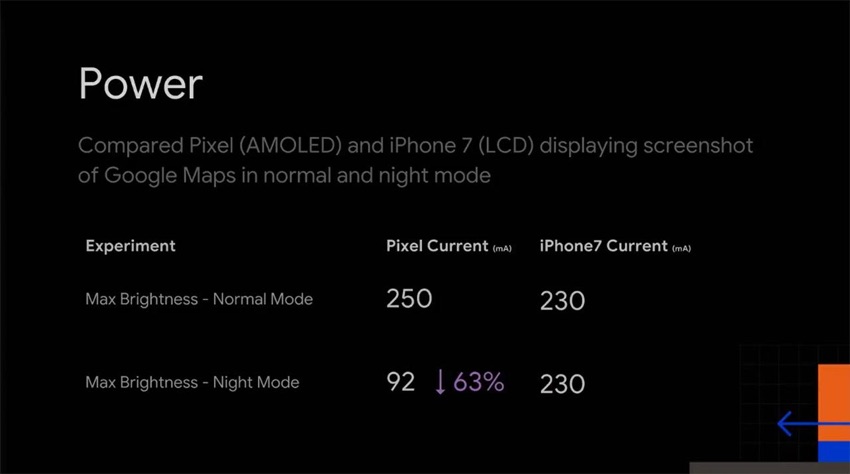 Google also conducted a test on Google Pixel running the YouTube app in light and dark modes, at 50 percent brightness and at 100 percent brightness levels. As you can see when dark mode is enabled the phone uses similar amount of power at both 50 percent and 100 percent brightness. On the other hand the power consumption increases dramatically to 60 percent when brightness is increased from 50 percent to 100 percent while the light mode is enabled.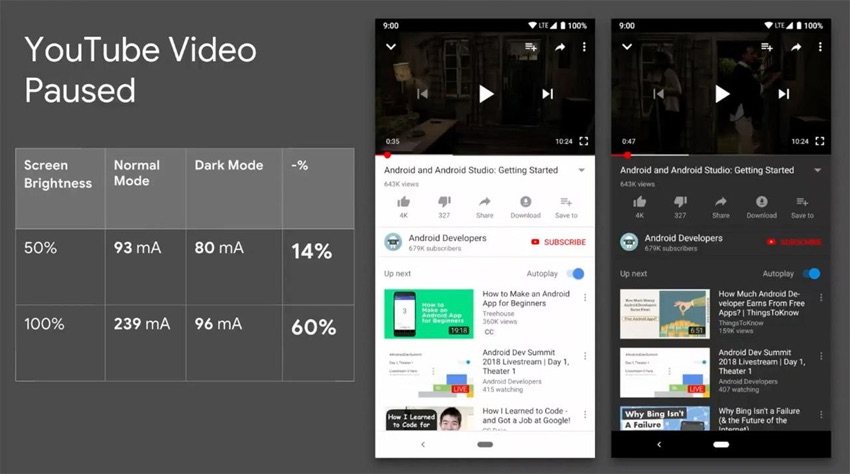 To summarize, yes the addition of dark mode to iOS 13 will noticeably increase the battery life of your device. Google's study found using dark mode reduces a smartphone's power consumption to around 60 percent even at 100 percent battery. Apple has yet to make any claims regarding the benefits of dark mode to battery life in iOS 13 however we expect that the company will boast about them during iPhone 11's announcement, which is also expected to feature an OLED screen.