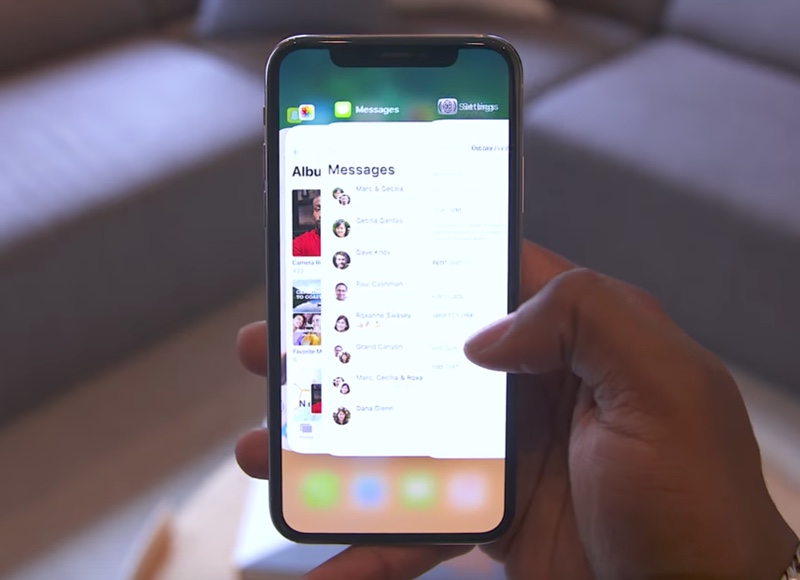 Apple has always pushed gestures based controls on all its devices. However with iPhone X the company takes gestures to the whole new level, as they take the center stage allowing users perform basic functions like returning to the home screen, accessing app switcher, Notification Center, Control Center and more. Since there's no longer a home button present on the iPhone, the iPhone X Gestures are the primary way to interact with the device.
If you are an iPhone X user, then it is handy to know all these gestures for a complete X experience. Read on to learn about iPhone X gestures and what you can do with them.
Swipe Up To Unlock

Once Face ID has performed its magic and unlocked your iPhone X, you can access the home screen or the last app you were using by swiping up. To perform this gesture put your finger on the Home bar and swipe up.
Swipe Up For Home Screen
If you are in an app and want to return to the home screen, you can do so by simply swiping up from the bottom of the screen. This will make the device return to the home screen and give you access to app icons.
Half Swipe Up And Hold For App Switcher
While you double press the home button on iPhone 8, iPhone X lets you access the app switcher screen by swiping up from the bottom and holding your finger for second. When you swipe up don't just lift your finger, keep it on the screen until the app switcher appears. Once it has it will let you switch between running apps.
Swipe Left/Right On Home Bar To Jump Apps
With iPhone X Apple has introduced a brand new gesture, which allows you to jump to previous and next apps by swiping left or right on the home bar. Just swipe left to access the previous app you were using, or swipe right to go back to the first app. This makes multitasking super fast and efficient.
Long Tap To Force Close Apps
iPhone X does not allow users to swipe up on an app switcher card to close the app right away. If you want to force quit an app, access the app switcher with swipe up gesture and hold. Once you are on the App Switcher screen tap and hold on any app card. Once you do a red close button will appear. Tap on it to quit the apps on iPhone X.
Pull down from Right Side for Control Center

Pull down from the right corner of the screen to access the Control Center. Just like on iPhone 6s or later, you can force tap on different Control Center items to reveal more settings.
Pull Down From Left Side For Notification Center

You can access the Notification Center by pulling down from the center of the screen.
Swipe Down To Access Spotlight
You can still access the Spotlight feature just like you did on previous iPhones. When on the home screen swipe down to reveal the Spotlight search bar.
So there you go folks, these are the iPhone X Gestures that you will be using with your new device. What do you think the iPhone X gestures? Do they make user experience better or worse? Let us know in the comments section below.
[
Images courtesy of Apple And UrAvgConsumer
]