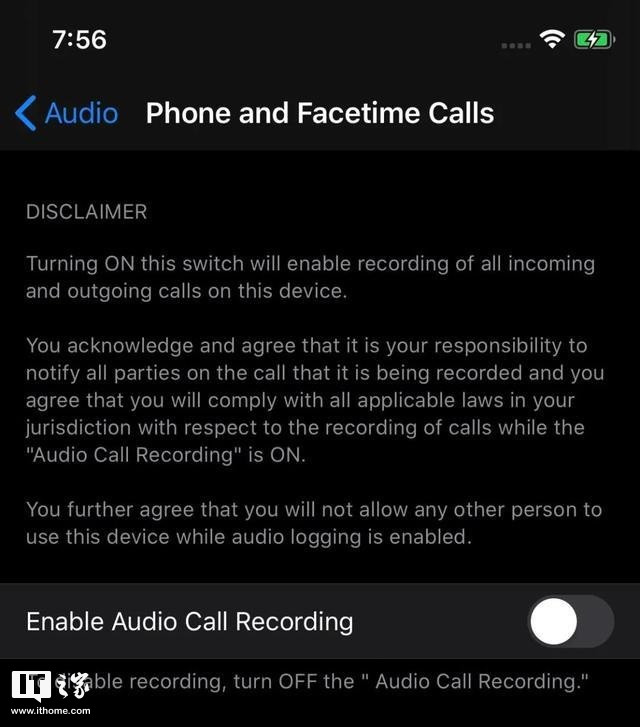 iPhone users have long wanted a call recording feature on their devices. However we always assumed that this is one of the features that Apple will never allow on the iPhone as it has privacy repercussions for people on the other end of the call.
Now it is being reported that an iPhone call recording feature exists in iOS 14. Chinese website ITHome first reported about this feature and has also shared an alleged iOS 14 screenshot that shows a toggle for Enable Audio Call Recording feature.
The Audio Call Recording settings page also has a disclaimer that tells the user that if the toggle is enabled all incoming and outgoing calls will be recorded. The disclaimer continues asking the user to notify all parties on the call that the call is being recorded.
Feature not meant for public release
After the revelation of this screenshot, 9to5Mac has also confirmed that such a feature exists in iOS. However the website notes that this feature is not intended to become public. Instead this feature is meant for Apple engineers for internal use only and is used for debugging purposes.
This is further proven by the warning under the disclaimer which warns the user of the device to not allow any other person to use the test device while audio recording is enabled.
The fact that Audio Call Recording feature of iPhone is only available internally and will not be part of iOS 14 will disappoint many users, who want to have this feature on their device.
While Apple may not have plans of adding a call recording feature to iOS, there are many third-party jailbreak tweaks that bring this functionality to jailbroken iPhones.
We have reported about such hacks that includes Call Recorder X tweak, which allows users to record incoming and outgoing calls on iPhone.
Apple is going to announce iOS 14 along with other software and hardware products at WWDC20, which is scheduled to take place on June 22.
Read about more iOS 14 leaks below: