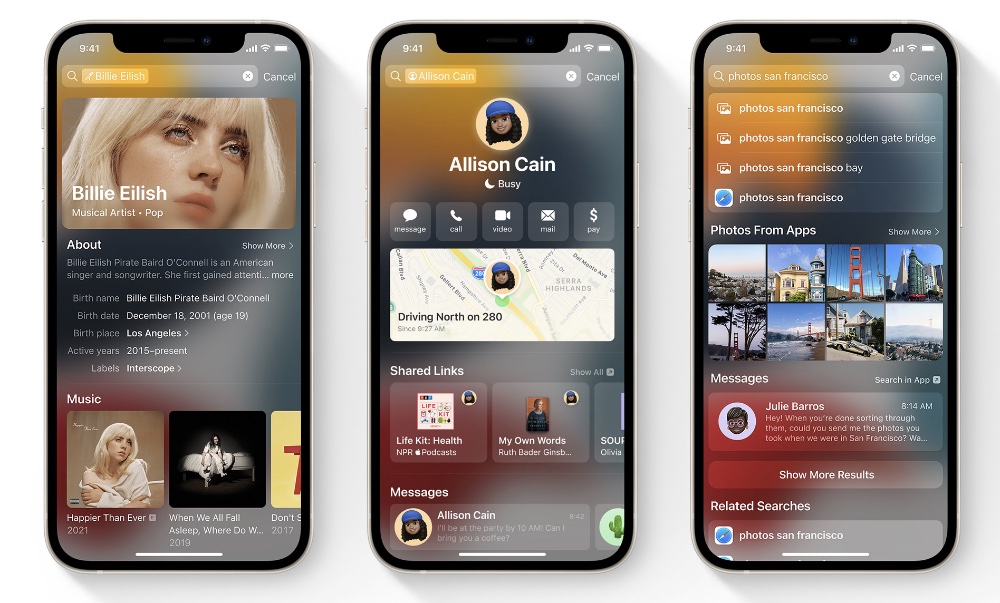 With iOS 15 and iPadOS 15 Apple has made big and meaningful changes to the Spotlight search. All of these new Spotlight features make sure you can find more stuff using Spotlight as they are designed to save user's time and effort.
6 New Spotlight Features In iOS 15
So without any further delay, let's take a look at the new features Apple has introduced in iOS 15 Spotlight.
1. Access Spotlight Right On Lock Screen
One of the biggest changes that will make Spotlight search more accessible and as a result of that more useful is its availability on the Lock Screen. Now users can access the Spotlight search by right on the Lock Screen.
To access Spotlight on Lock Screen users have to unlock their device with a Face ID scan and swipe down in order to access Spotlight. With this new feature Spotlight has become more accessible as you don't have to unlock the device first in order to reach it.
2. Rich Results With More Information
iOS 15's enhanced Spotlight search allows users to get all the information they are looking for in one rich result. Users can get rich results for their Contacts, Actors, Musicians, Movies and TV Shows. This makes searching for content easier.
3. Direct install apps from Spotlight
Spotlight has always allowed users to quickly initiate App Store search by tapping on the 'Search App Store' button. With iOS 15 Spotlight search is getting more powerful, as it will allow users to quickly install apps on their device without opening the App Store and leaving the Spotlight search.
4. Search images on the web
New Spotlight search makes it more convenient for users to search for images online. Now users can search for images on the web and find images of people, monuments, people and much more directly from Spotlight.
5. Powerful image search for photos in library and iMessage
Enhanced web image search isn't the only new feature introduced in Spotlight. The new update also offers far better Photos search than what was available before.
In iOS 15 Spotlight uses information from the Photos app and searches your photo library by people, location, scenes and more.
You can even type things like cat, car etc and Spotlight will display relevant images from your Photos library to you. Images shared by your iMessage friends will also show up in the Spotlight search.
6. Access App Clips for Maps Results
If a business offers an App Clip, that will be shown as an action button on the Spotlight result for Apple Maps. With the App Clip action button you will be able to access useful information for a business including Appointments, takeout, Availability, Pricing, Parking and much more.
There you go folks, these are some of the awesome new features iOS 15 brings to Spotlight. What do you think about these new features? Share your thoughts below!
More new iOS 15 features:
Disclosure: iOSHacker may receive a commission if you purchase products through our affiliate links. For more visit our privacy policy page.