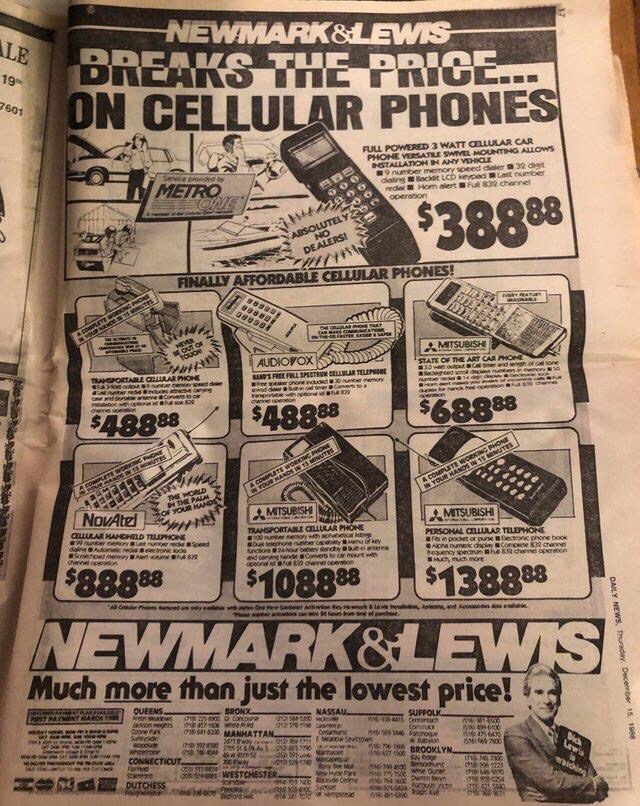 Over the past few years smartphones have gotten ridiculously expensive. Following Apple's lead after the company released $999 iPhone X last year, other manufacturers have also released devices in this price range with some even exceeding this particular price range.
Most people think this is the first time ever that smartphones have gotten this expensive, however very few know how much cellular phones costed when they were first launched back in the 80s. A newspaper ad from 1988 has surfaced on Reddit, that shows how much cellular phones made by Japanese manufacturer Mitsubishi cost. While Mitsubishi is the most notable brand mentioned in the ad (sadly it doesn't make smartphones) other companies mentioned in the ad include AudioFox and NovAtel. None of these are players in the phone world of today.
The ad that carriers the tagline "Finally affordable cellular phones!" promotes cellular phones that are priced between $388 to a whooping $1,388. Do keep in mind that this pricing is in 1988 dollars, so when adjusted for inflation the $1,388 phone will cost between $2,800 – $3,000 in today's dollars, which is insane.
While the pricing of these cellular phones would seem ridiculous nowadays back in 1988 cellular phones were still a bleeding edge technology and was affordable for a lucky few. Considering how owning such a device would elevate your status, the price tag doesn't seem that bad.