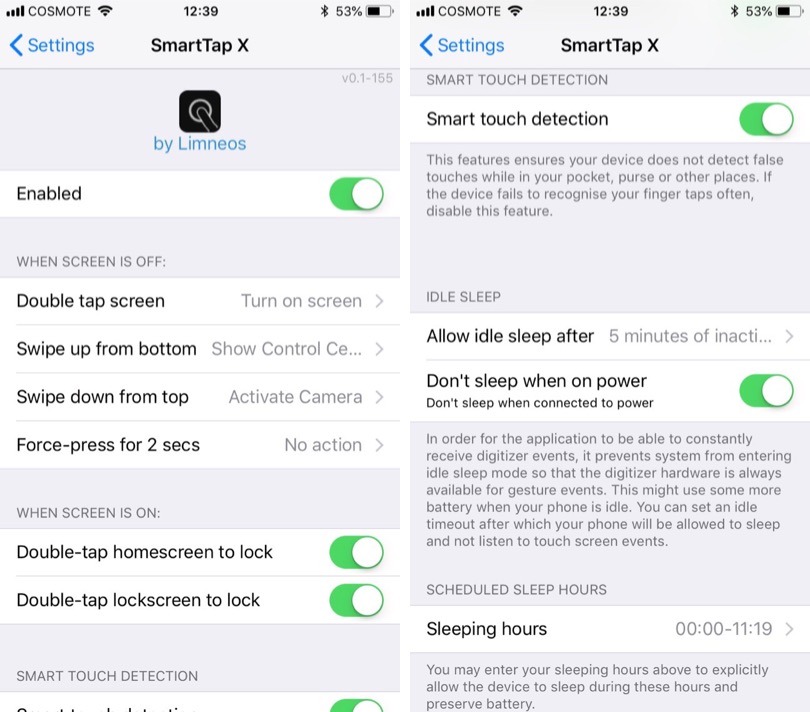 Newer iOS devices lack the home button. To compensate for the lack of home button iOS allows users to turn on their device's screen by tapping on the screen. This is very useful and works quite well. Sadly Apple has kept the Tap to Wake feature limited to iOS devices that don't have the home button, so if you have an iPhone 8 or older as well as iPads with home button you don't get this cool gesture.
Don't worry though as the SmartTap X tweak by developer Elias Limneos brings this missing functionality to older and unsupported iOS devices. After installing the SmartTap X tweak you will be able to wake your iPhone or iPad's screen by simply tapping on it. This is similar to how you can turn on an iPhone X or newer iPad Pro's display.
Of course while the tweak is installed you will also be able to turn on the display by pressing the Home Button just like normal, tap to wake will be added as an extra feature.
While turning the display on is great, SmartTap X tweak goes even further than Apple's own implementation by incorporating other gestures including double tapping, slide up from button or slide down from top or force touch, all while the display is off. You get to assign all these gestures to different actions, so you can perform these gestures to make the device to unlock, open Camera, open an app, show Control Center, call a number, play music or assign it to an Activator action all while its screen is off. The other shortcuts add a totally different dimension to performing actions while the screen is still off.
SmartTapX also offers functionality while the display is on as it makes it possible for users to easily lock the device by simply double tapping on the lock screen or home screen. This eliminates the need of pressing the lock button again and again.
The tweak has smart checks that prevent the screen to turn on while the device is in user's pocket. It takes advantage of pocket touches detection and uses the digitizer sensor when the screen goes off without keeping the screen on.
While the tweak is ideal for bringing tap to wake to older devices, it can also be used on devices like iPhone X that already support tap to wake feature. You can use this tweak to bring additional gestures to devices like iPhone X, which is pretty cool.
You can download SmartTap X tweak from Cydia where it is available for $2.29. SmartTap X works with iOS 11 or later.