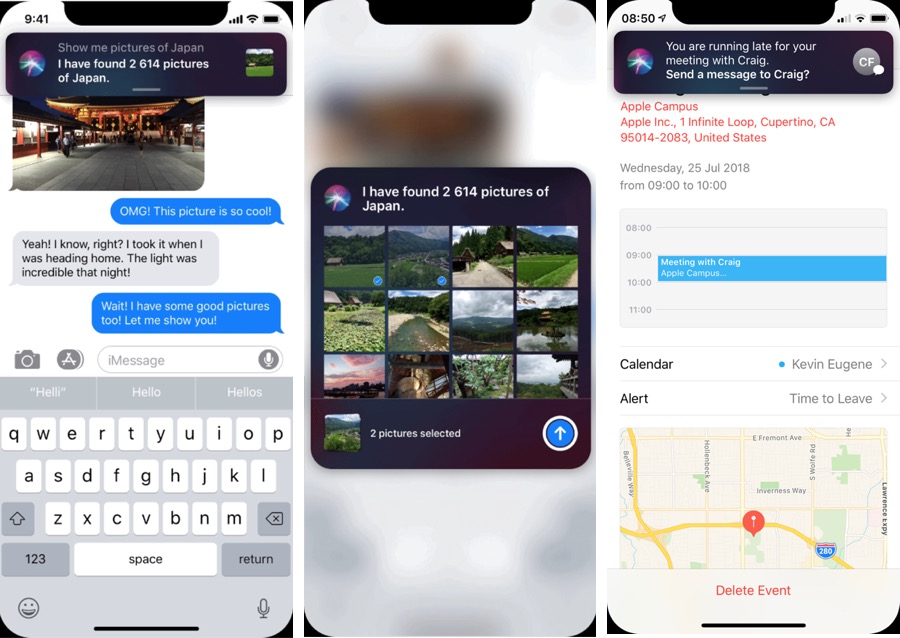 One thing most iPhone users can agree on is that Siri needs a lot of work. While most of the debate around Siri revolves around the fact that it needs to become more useful and powerful when it come to performing tasks, one designer thinks it also needs a design overhaul.
In a beautiful concept created by Kévin Eugène the designer imagines a non-obstructive Siri that has a user-interface not larger than an iOS banner notification. This new Siri UI allows users to interact with the virtual assistant while still be able to see the app they are using. Eugène calls this Siri concept 'parallel help'. The concept also imagines a Siri that is context aware and knows what's on the screen, allowing it to display content in relevant way.
For example you can be in a conversation with a friend and decide to share your photos from a trip to Japan. You can ask Siri to search for photos you took in Japan, and once it finds the photos you can expand the Siri interface by pulling on the Siri banner, view the images, and finally drag and drop an image to the conversation screen in order to share it.
In the concept Siri also has an idle mode, which means the virtual assistant will minimze its interface and appear as a small bar on top. When user wants to return to Siri and see the result again, he or she can simply pull down on the bar.
The concept also imagines other Siri powers that can be facilitated with the new minimal interface. For example, users can ask Siri to scroll down on the app that is on screen. This can be a useful accessibility feature. You can also open different sections of iOS by simply asking Siri, such as "I want to write to John" can open your iMessage conversation with John.
You can read more about the parallel help Siri concept here.