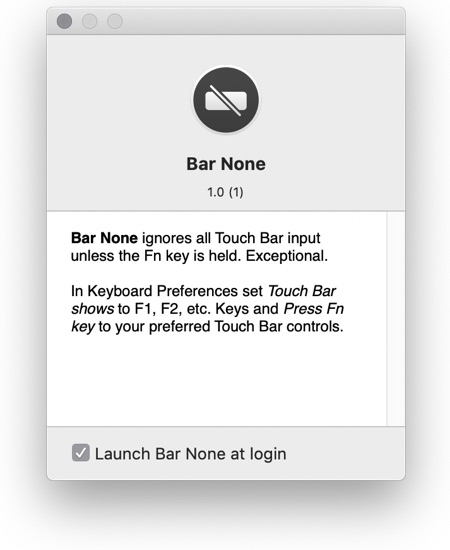 If you own a MacBook Pro with a Touch Bar, then chances are you are well aware of Touch Bar's quirks. One such quirk makes using the MacBook Pro hard for some, as they keep on touching the Touch Bar and performing unwanted operations unintentionally. Sounds familiar? Then you have to try the Bar None app on your MacBook.
The Bar None app has been created by developer Shaun Inman, who like many others found himself touching the Touch Bar more often than he would like to. So to solve this problem he created this app, and has offered it as a free download for all others who are also suffering.
Bar None has a simple function, it blocks all Touch Bar inputs unless the user is holding the fn key on the keyboard. This means you won't be able to use the Touch Bar and as a result trigger accidental actions while the app is running. As soon as you have a need to use the Touch Bar you can simply press and hold the fn key to make it functional again.
One thing to note here is that when Bar None is running you will no longer be able to access the function keys, that normally appear when you tap on the fn key.
You can download the Bar None app for free from the developer's website here.