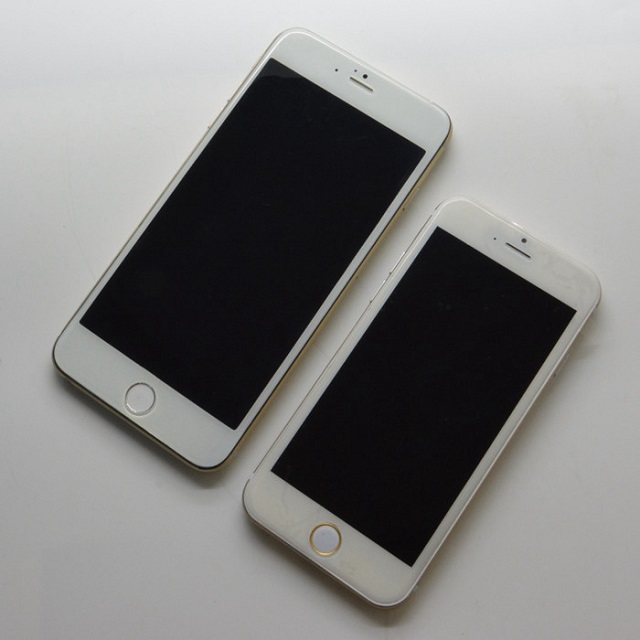 As we have already seen the announcement of iOS 8, now is the time for iPhone hardware. Apple is expected to unveil the new models of its wildly popular iPhone lineup in the months of September or October. This year's hardware update is going to be a lot more significant than last year's as the company is expected to fully redesign the hardware of iPhone, and even increase its size than the previous generations.
According to rumors circulating on the web from past several months Apple is going to release two separate models of iPhone this year including 4.7-inch model and a 5.5-inch phablet model. Up until now we had seen several leaks claiming to 'confirm' the existence of these unannounced products. In continuation of that trend even more photos of alleged iPhone 6s have appeared on the web as posted by 9to5Mac (Courtesy of Sonny Dickson). The photos show the dummy versions of iPhone 6 models in different sizes sporting space grey and gold models.
The devices as seen in these alleged iPhone 6 photos have iPhone 5(s) inspired looks but sport a much thinner body. They also have a new antenna cut design as see on the sides of these dummies. Another interesting thing visible in these dummies is the appearance of LED flash, which appears to feature a circle shape rather than the pill shape found on previous models.
The credibility of these leaks as with any other leak on the internet is questionable but the fact is that they are in line with the reports we have been hearing for months. Based on what we already think we know, featured in the photos above could be the closest thing to next generation iPhone we have seen yet.