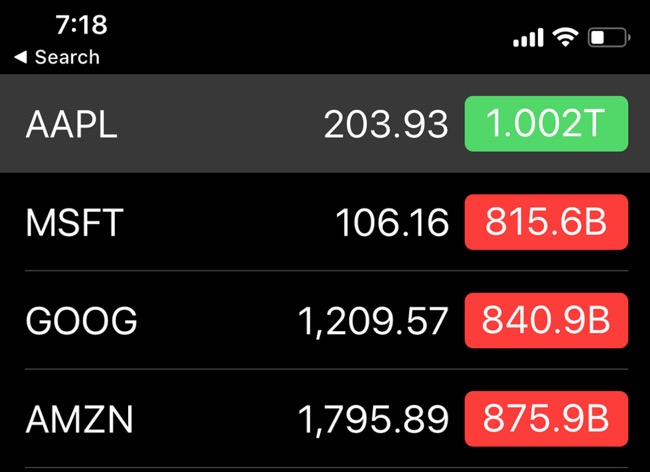 If you believe the iOS Stock app, then Apple has become the first ever company to reach $1 trillion dollar market cap. While most people won't be interested in this milestone and it has little to no affect on how the company operates, it is still a major news for those interested in the world of finance and Apple's fans.
Before you start celebrating the milestone achieved by your favorite tech company it is important to note that while Apple's own Stock app, which takes its finance data from Yahoo! Finance is reporting the $1 trillion market cap for AAPL, other sources contradict. According to Google Finance, AAPL's current market cap is $950 billion. It reports that Apple's current share price is $203.64, which puts it at 1.7 percent shy of trillion dollar market cap. Other sources also report a figure shy of the magical $1 trillion market cap.
Even though the Stock app has already declared Apple to be worth $1 trillion, other sources also put it just under 2 percent below this figure. With the rising AAPL value, Apple is expected to be worth 1 trillion in all sources sooner than later.
Update: AAPL has finally passed the $1 trillion mark and has become the first company in history to achieve this milestone.
Disclosure: iOSHacker may receive a commission if you purchase products through our affiliate links. For more visit our privacy policy page.