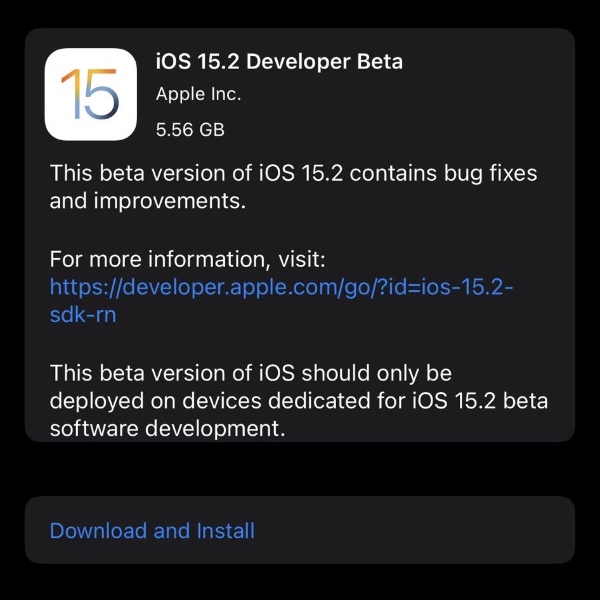 Just a few days after release iOS 15.1 update to public, Apple has started to beta test iOS 15.2 and iPadOS 15.2. If you're a registered Apple developer who wishes to install the new beta on your device, then you can do so right now.
iOS 15.2 beta 1 can be installed on any compatible iPhone or iPad that has the beta configuration profile installed.
iOS 15.2 brings a number of new changes and features to iOS. This includes the App Privacy Report feature that was introduced at WWDC but was delayed.
Those who are on iOS 15.2 beta 1 can head over the App Privacy report in Settings -> Privacy and see which stock and third-party apps accessed their data. Users can check which apps accessed which device sensors, data and Internet access, all in one place.
In addition to finally bringing the full App Privacy Report feature, iOS 15.2 also changes how Auto Call works in Emergency SOS feature. Now users can initiate auto calls by holding the side button together with a volume button or by pressing the side button rapidly multiple times.
The ability to initiate auto call by pressing side button multiple times has been added in this release. Users can choose which option they want to have on their device.
Apple has changed the duration of counter that runs before an emergency call is made. iOS 15.2 increases the timer from 5 seconds to 8 seconds.
Apple is expected to beta test iOS 15.2 and iPadOS 15.2 with developers for a few weeks before releasing it to public. A public beta of iOS 15.2 is also expected to get released in a few days, which will allow normal users to beta test iOS 15.2 on their devices.