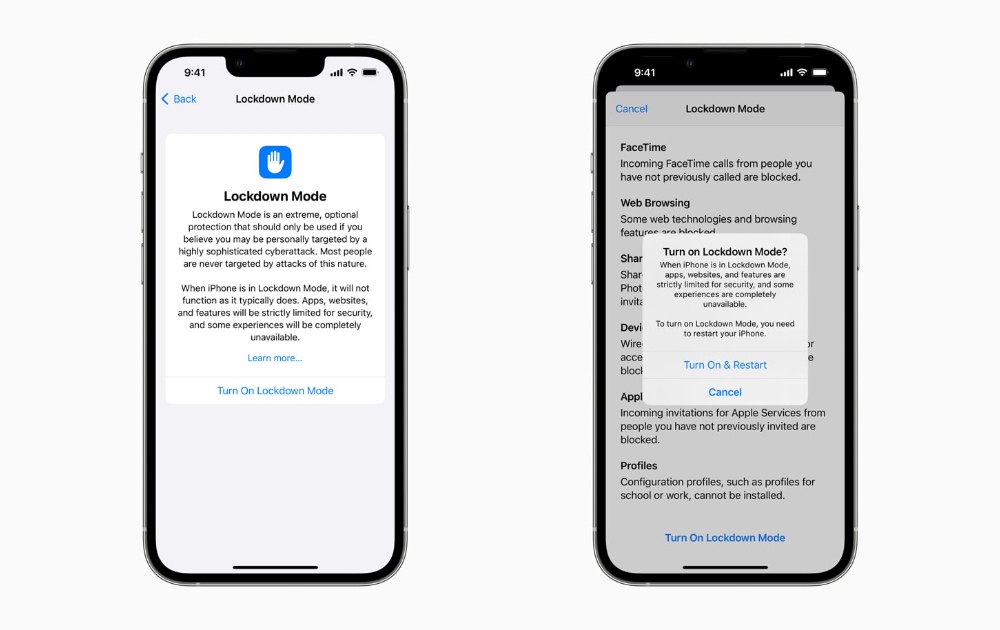 Apple has announced a new 'extreme' security feature for iPhone users that will be available with iOS 16. The new feature that is called iPhone Lockdown Mode will enable users to opt-in if they want to boost their iPhone's security.
Lockdown Mode is not limited to iPhone only, as Apple will also be launching it on iPad and Mac with iPadOS 16 and macOS Ventura.
The Lockdown Mode will provide extreme level of security to iPhone users and is designed to protect individuals who face high level threats from state sponsored spyware and sophisticated attacks like Pegasus.
When Lockdown Mode is enabled on iPhone, iPad or Mac the device's functionality is limited and it will not functional as it normally does. With this mode on apps, websites and features that are available on the device will be strictly limited in order to boost security. iOS will also make many features unavailable to the user while the Lockdown Mode is active.
Apple says this optional protection feature is only for those individuals who believe they are vulnerable to highly sophisticated cyberattacks and is not meant for everyday users.
Users will be able to turn on Lockdown Mode on their device from Settings. When they activate this feature they will be required to restart the device before the feature can be activated.
In order to activate Lockdown Mode on iPhone or iPad users can perform these steps.
Step 1. Launch Settings app and go to Privacy & Security.
Step 2. Scroll down towards the bottom and tap on Lockdown Mode.
Step 3. Next tap on 'Turn On Lockdown Mode'.
Step 4. Then tap on Turn On & Restart.
You can turn off Lockdown Mode on your iPhone by following the same steps.
During Lockdown mode the following actions are taken by iOS:
Incoming FaceTime calls from unknown contacts are automatically blocked.
Some web technologies are blocked. This includes just-in-time (JIT) JavaScript compilation.
Incoming invitations for Apple Services from unknown people are blocked.
Configuration profiles for schools, work etc cannot be installed on a device that has Lockdown Mode enabled.
Wired connections with a computer or an accessory are blocked while the iPhone is locked.
Shared albums are removed from the Photos app and new Shared Albums invites are blocked.
Lockdown mode will be available with iOS 16, iPadOS 16 and macOS Ventura, which are expected to get released in the fall.
Disclosure: iOSHacker may receive a commission if you purchase products through our affiliate links. For more visit our privacy policy page.