If you're looking for the most secure end-to-end encrypted messaging apps for iPhone, then we have the perfect options for you. These secure messaging apps for iPhone give users peace of mind by protecting their chats and media.
These days government backed snooping and hacking by rogue elements of society is commonplace. One important thing that you can do in order to protect yourself is to use secure messaging apps that provide end-to-end encryption.
Basically, a secure texting app provides you with end-to-end encryption so you can communicate without any fear. This way, the messages you send or receive only stay visible to you and the recipient, as the third parties cannot see them. These apps increase security and privacy concerns for users.
You never know about the app developers, certain government agencies, and hackers who can quite possibly access your private conversations. In such a case, it is wise to use the most secure messaging apps on your iPhone.
Best Secure Messaging Apps For 2022
But how would you decide which app can best serve the purpose to meet your privacy needs? Well, hang in there, we have put together the list of the most secure messaging apps 2022! Let's dive right into it!
1. Telegram Messenger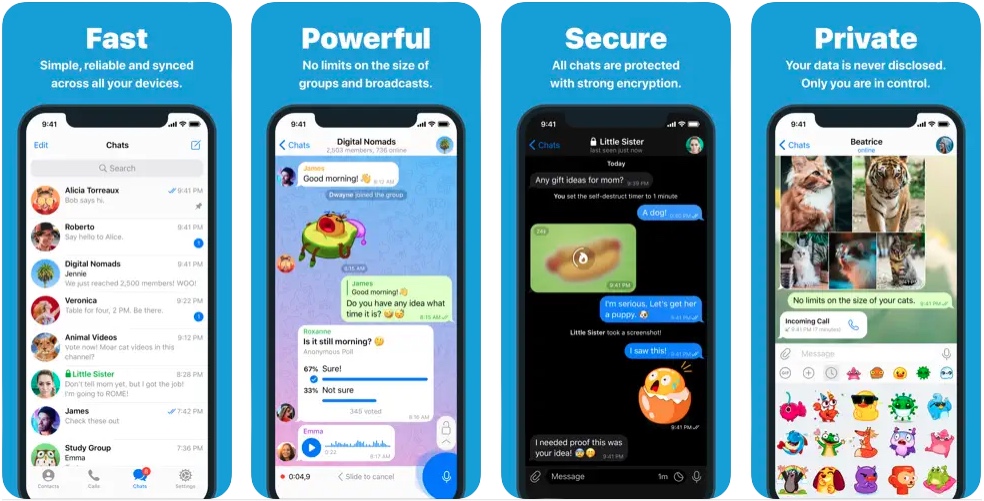 Telegram Messenger is one of the most downloaded apps with more than 700 million users worldwide! It is an ideal tool for hosting online communities and coordinating teamwork.
Whether you want to send a text message, image, video, or document files this app is for you as Telegram provides the best security along with various easy-to-use features. You can even create groups to chat with over 200,000 members at a time.
There are three types of encryption used on Telegram security, including 256-bit symmetric AES encryption, 2048-bit RSA encryption, and Diffie–Hellman secures key exchange.
If you want to maximize your privacy, you can even try out their Secret Chats feature as it is programmed to automatically destruct the messages for both participants. Send all types of disappearing or sensitive content including text messages, snapshots, videos, and even files without thinking twice.
Download Telegram Messenger on iPhone or iPad for free in the Apple Store.
2. Signal – Private Messenger
Signal Private instant messenger is yet another app that offers instant communication globally!
Signal provides you with hi-tech end-to-end encryption that keeps your every chat, call, or other content safe and secure at all times.
Install Single encryption app to send and receive messages, talk via HD voice/video calls, and enjoy a lot more exciting features to stay connected with your near and dear ones. You can even use the built-in photo editing features to add text, crop, sketch, and flip your outgoing images.
Whether your friends or family live across the city or the ocean, with Signal's state-of-the-art audio and video quality you can feel them closer. Besides, the app offers the fastest message delivery, even on slow internet connections.
Download Signal Private Messenger on iPhone or iPad for free in the Apple Store.
3. Wire • Secure Messenger
Want to collaborate seamlessly with your teammates? Wire Secure Messenger got your back!
Be it a school or a work project, Wire makes it convenient for you to increase your productivity while keeping all the shared information private.
You can communicate and share documents, files, and important links with your teams anywhere anytime in a private chat, in unique guest rooms, or in groups. Wire also allows you a one-click conference all you need to do is press the call button to attend voice or video meetings.
The app is officially recognized by IDC as leasing privacy and security approach through end-to-end encryption, open Source, public audits, and forward secrecy.
Download Wire Secure Messenger on iPhone or iPad for free in the Apple Store.
4. Wickr Me – Private Messenger
Wickr is one of the best encrypted messaging apps trusted by people, teams, and corporations. Since the app is powered by the most innovative multi-layered encryption and ephemerality, it is trusted by millions globally.
This app makes privacy accessible for every user and secures their most valuable communications!
With Wickr Me, you can get connected with your friends privately or in groups instantly. The app supports fully encrypted voice memos and voice calling.
Above and beyond, a lot of updated features and new additions allows you to share files, images, and videos securely with trusted end-to-end encryption. You can even take full control over the content accessibility and the time it remains accessible.
Download Wickr Me Private Messenger on iPhone or iPad for free in the Apple Store.
5. WhatsApp Messenger
WhatsApp is a widely known and used instant texting and video calling App by Facebook.
With WhatsApp, you can stay in touch with your close ones via end-to-end encrypted one-on-one or group chats. The App lets you share text and voice messages, images, videos, current and live locations, plus documents across multiple devices without any subscription fees.
You don't need any login ID but your contact number to get connected with anyone from your contact list who uses the app.
You can even share your everyday stories as status in the form of text, photos, videos, and GIFs that disappear in 24 hours. The app also allows you to choose with whom you want to share status posts and even display pictures.
Download WhatsApp Messenger on iPhone or iPad for free in the Apple Store.
6. Viber Messenger: Chats & Calls
Viber messenger is a secure app that makes texting and calling fun and connects more than a billion individuals around the world.
All the personal and group chats are end-to-end encrypted which allows you to communicate freely with whoever you want with the option of disappearing messages. You can set a timer for each message you send by choosing how long the recipient can read your message from 10 seconds to up to 24 hours!
In the app, you can also find the content you wish to see and connect with others who have similar passions, including news, sports, travel, cooking, or entertainment. You can even start your own, and keep your subscribers engage!
Viber Out offers low-cost international calling from $4.99 to $9.99 using any landline or mobile phone. You can purchase and renew in-app monthly or weekly subscriptions for Viber Out.
Download Viber Messenger on iPhone or iPad for free in the Apple Store.
7. Skred Messenger
Skred is the first-ever secure messaging app that protects your identity because you won't be required to share your email address or contact number to use the app.
Skred leverages the highest levels of authorization encryption based on privacy-by-design. The app enables an anonymous and secure connection with each individual from your contacts. So, get connected through messages, images, videos, voice calls, and video calls using Skred.
Besides, group chats allow you to exchange with multiple friends simultaneously. All exchanges are encrypted entirely, from mobile to mobile. There is no server in the App that can store your valuable data. Because as part of the Guardian Project, hackers and hacktivists have developed open-source encryption technologies.
Download Skred Messenger on iPhone or iPad for free in the Apple Store.
Ready to Chat?
That's all folks! Use any of the above-mentioned secure messaging apps and stay connected with the world confidentially as well as, confidently.
Tell us what app you use the most in the comments section.