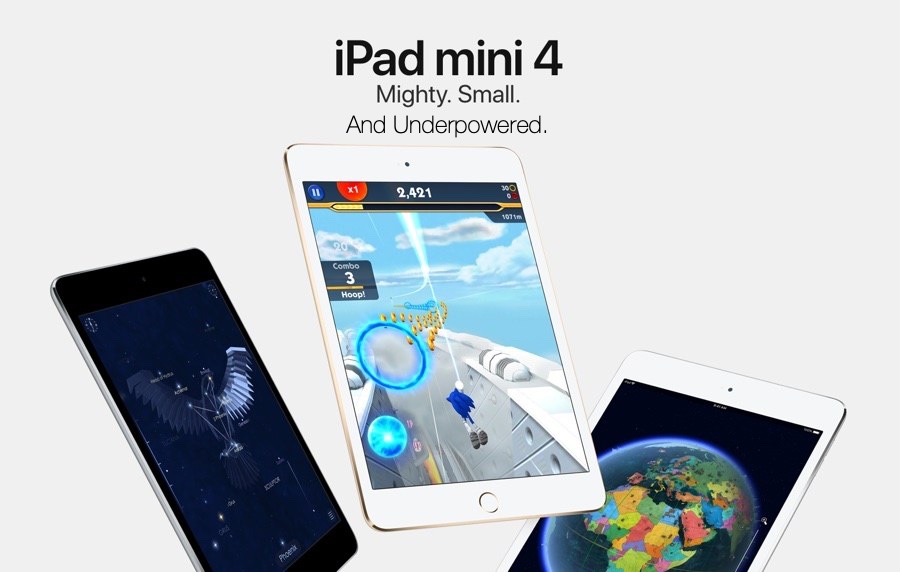 As we head towards 2019 it is mind boggling to even think that Apple would sell an iOS device that has specifications from 2015, and yet the iPad mini 4 is continually available on Apple's website and elsewhere. Nothing has changed since March, 2018 when we wrote this and recommended users not to buy it. Until a few months ago iPad mini was one of several devices that were part of Apple's neglected lineup of products, those that the company didn't care about and didn't bother to update for a long time.
Apple's neglected lineup had long included the Mac mini, MacBook Air and iPhone SE along with the iPad mini. Fast forward to present where Mac mini and MacBook Air have been upgraded with new specs and design while the company is no longer selling iPhone SE, leaving iPad mini the only major product on its stores with outdated specifications.
Just to remind you iPad mini 4 is powered by 2015's A8 chip, which is the same chip found on the now discontinued iPhone 6. Since A8 chip, Apple has released 5 iPad specific processors and has dramatically improved the performance of its chips. You get the complete idea about the performance difference when you compare the Geekbench scores for the chips found in these devices, for example iPad mini 4 scores 1663 on single-core and 2854 on multi-core. Compared to this the recently released iPad Pro 11-inch gets a single-core score of 4979 and multi-core score of 17525.
Granted people don't buy the iPad mini for performance as much as they do with the Pro models so it is unfair to compare its specs with the iPad Pro, which costs almost twice as much. However things get worse when you compare iPad mini 4's performance with Apple's 2018 budget iPad, which is available at a lower price point. Here's a comparison between the two devices.
| | | |
| --- | --- | --- |
| | iPad mini 4 | 2018 iPad |
| Processor | A8 | A10 Fusion |
| Geekbench Single-Core | 1663 | 3478 |
| Geekbench Multi-Core | 2854 | 5923 |
| Price | $399 | $329 ($429 with 128GB) |
As you can see there's a massive difference between the two devices in terms of Geekbench scores, which translates to real world performance. A lower score means the device has low processing power and you will notice the lack of power in your day to day use, especially if you are doing power intensive tasks like playing games, using photo editing apps etc.
Despite the massive performance difference between the two iPad models what's even more surprising is the pricing. With its ancient specifications the iPad mini 4 sells for $399, while the 2018 iPad with modern specifications and a larger display is available for just $329. Granted the iPad mini 4 comes with the base storage of 128GB, however if you upgrade to 128GB on the 2018 iPad it will cost you $429, which is just $30 more than iPad mini 4's price. With the $30 extra you are also getting a larger size, much better specifications and ability to use Apple Pencil on the iPad, something iPad mini does not support.
So What Should Apple Do?
I am certainly not in favor of killing iPad mini as a product as I know there are many people out there who like its small form factor. And I can see why Apple isn't interested in updating iPad mini. It is definitely not a popular product for Apple, so the company does not want to invest in making a better version, especially in an environment when smartphones are getting larger and larger every year. Having said that there's really no excuse for Apple to sell the current iPad mini 4 with its current specifications and price tag, and in my opinion the company is ripping off those who want a tablet with smaller screen size. iPad mini 4 with its current specifications and price should have been discontinued long time ago.
People who buy iPad mini buy it because of its size and convenience of carrying it around. However they should either have a better choice in this form factor or an iPad mini 4 that is priced significantly lower at around $200.
Apple should reduce the price of iPad mini 4 effective immediately or release iPad mini 5 with upgraded specs to give users a product that is suitable for the price they are paying for it.
What do you think should happen to iPad mini? Should Apple stop selling the smaller tablet altogether? Let us know in the comments section below.