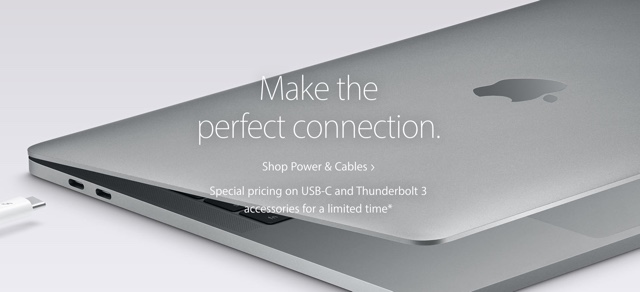 It seems like Apple has bowed down to the criticism it has faced after the announcement of the new MacBook Pros. The new MacBook Pros not only cost more but as they lack the most popular ports, users have to purchase separate adapters in order to make their current accessories work with their new notebook. Following the justifiable backlash Apple has announced big discounts on the official USB-C adapters that are available from its store. This includes Apple's own accessories and the ones available from third-parties in its stores.
Apple also issued a statement related to this price drop noting that the company recognizes that many MacBook Pro users rely on legacy ports and to help them make a transition to USB-C they are offering the discounts through the end of the year. Here's the official statement given by an Apple Spokesman  "We recognize that many users, especially pros, rely on legacy connectors to get work done today, and they face a transition. We want to help them move to the latest technology and peripherals, as well as accelerate the growth of this new ecosystem. Through the end of the year, we are reducing prices on all USB-C and Thunderbolt 3 peripherals we sell, as well as the prices on Apple's USB-C adapters and cables,".
So what items can you buy from Apple at a discounted rates? We have got the full list below.
1 Meter USB-C based Lightning cable (Price drop from $25 to $19)
2 Meter USB-C based Lightning cable $25
The Thunderbolt 3 to Thunderbolt 2 Adapter (Price drop from $49 to $29)
USB-C Digital AV Multiport Adapter $20 discount
USB-C VGA Multiport Adapter $20 discount
USB-C Charging Cable $19
SandDisk Extreme Pro SD UHS-II Card USB-C $20 discount
29W USB-C Power Adapter ($49)
61W USB-C Power Adapter ($69)
87W USB-C Power Adapter ($79)
Apple is limiting the number of units a single user can purchase, allowing users to buy maximum of 5 Apple branded items and two third-party peripherals at a discounted rate.
Disclosure: iOSHacker may receive a commission if you purchase products through our affiliate links. For more visit our privacy policy page.