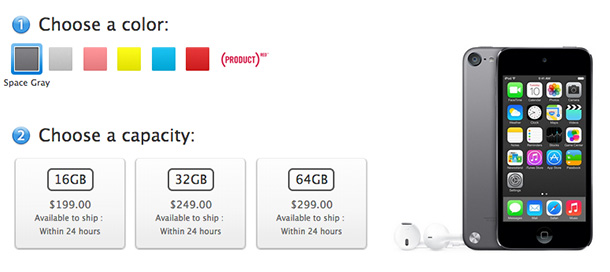 Apple has silently updated it's iPod touch line up cutting prices and adding a new budget friendly model. iPod touch 16GB with rear camera is now available for $199 only. However this model features same old specs of the 32GB iPod touch 5th generation that was released back in September 2012 with a highest price tag of $299 in the history of iPod touch. Later in May 2013 Apple launched another variant of iPod touch 5th generation by removing the rear camera and cutting space to 16GB and priced that to $229. But it seems like that didn't work so well for the company, hence this change.
Now a days competition is very high when it comes to smartphone industry. Although iPod touch doesn't fall in the 'smartphone' category but everyone compares it to other available devices before making a decision to purchase. Android phones with almost same specs are already available with a sub $150 price tag. So it seems like there were hurdles in the sale of $229 model that was made available without rear-camera. Another reason might be the fast advancement of technology that makes it possible to cut the prices of the components that were expensive at the beginning.
According to Apple Store, $199 model customers will need to buy the iPod loop separately if they want. The $199 model comes in 6 colors unlike the $229 model that was limited to silver color only. Besides this lower priced model, the prices of 32GB and 64GB models have also been slashed down to $249 and $299 from previous $299 and $399 respectively.
Apple US Store is showing the 24-hours shipment time for all the updated models.