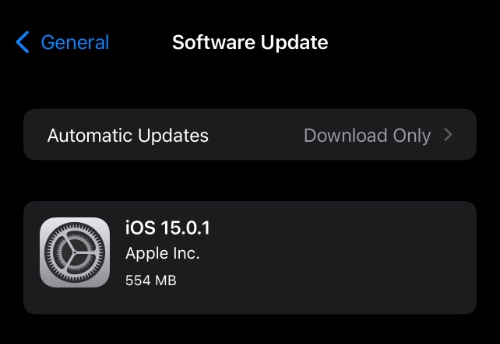 Apple has recently stopped signing iOS 15.0.1 and iPadOS 15.0.1. This essentially means iPhone and iPad users will no longer be able to downgrade their device to iOS 15.0.1 in case they had updated to iOS 15.0.2 or iOS 15.1 beta.
Those who are already running iOS 15.0.1 can continue to run this version of iOS until they upgrade their device to a more recent release. If you plan on doing so, then we recommend turning off Automatic Software Updates by going to Settings -> General -> Software Update.
iOS 15.0.1 update was released on October 1 and mostly featured bug fixes and improvements. iOS 15.0.2 was released 11 days later to also fix bugs.
While iOS 15.0.2 is the only stable version of iOS that is currently being signed by Apple, users can also expect Apple to release iOS 15.1 soon, as it is being beta tested with developers and public beta testers.
Staying on iOS 15.0.1 or having the ability to downgrade to iOS 15.0.1 was important due to the possibility of an iOS 15.0.1 jailbreak. Recently we reported about a vulnerability iOS 15.0.1 that could result in development of a iOS 14.4 to iOS 15.0.1 jailbreak.
Staying on iOS 15.0.1 was crucial for those who were interested in jailbreaking their device, as Apple has closed the said vulnerability in iOS 15.0.2.
While downgrading is no longer an option for those who had already upgraded, if you are currently on iOS 15.0.1 or lower, then it is advisable that you stay on it and do not upgrade to iOS 15.0.2 or iOS 15.1 when that is released. Doing so will significantly improve your chances of jailbreaking iOS 15 once its jailbreak is released.
An ETA or details on whether an iOS 15 jailbreak is being worked on are not available yet.